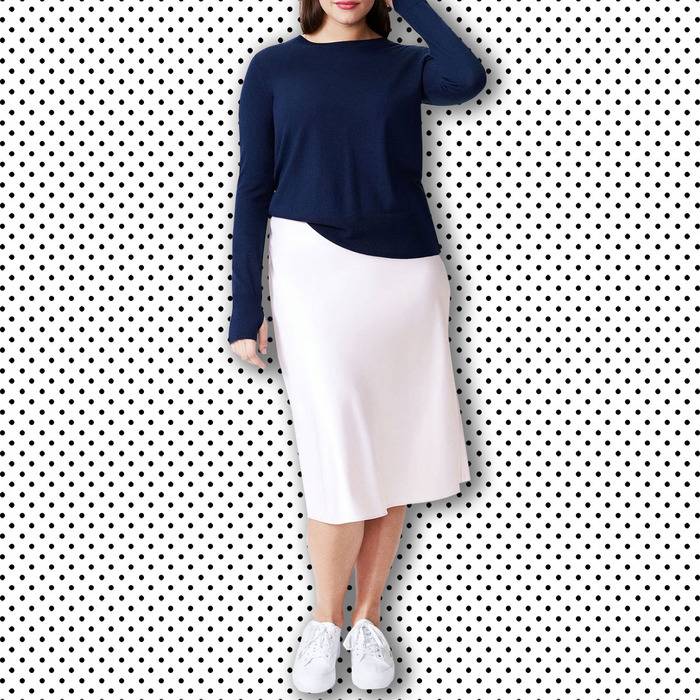 Photo: Courtesy of Universal Standard
As a curvier woman, I'd always accepted that shopping for clothes was going to be a demoralizing experience. I'm used to navigating a world where stores don't necessarily carry your size — and where you have to wonder if that's a hint that they don't want you there. So when I found myself in Universal Standard's sunlit fitting room, looking at myself in a mirror that stretched from the floor nearly to the ceiling, with a personal stylist asking me what I wanted for my spring wardrobe, I found myself experiencing something I'd never experienced before: a store that was actually taking me seriously as a consumer.
Universal Standard has come a long way since launching a collection offering sizes 10 to 28 in 2015. Founders Alexandra Waldman and Polina Veksler want to radically change the way people shop. To that end, they offer a fit liberty initiative, which allows you to exchange an item of clothing for a new size if your weight fluctuates (free of charge). Their website just debuted an online feature where you can view items modeled by women in your exact size. And recently, they did something unheard of: Every single item of clothing online and in their stores is now available in sizes 00 to 40.
The prospect of these initiatives sounded exciting for someone like me, who's in between sizes and constantly trying to squeeze into Zara denim. So I headed to the Universal Standard Pop-Up in Soho to see if the "most size-inclusive brand in the world" could deliver on its starry-eyed promise.
The store lets you book a one-on-one session with one of its stylists to help guide your experience. Mine was with senior stylist Taylor Dennis, an easygoing Californian wearing the brand's olive-green jumpsuit. She started by asking me what I wanted for my spring wardrobe, and I explained that I'm on the hunt for some good statement pieces. I have plenty of basics — what I want is to splurge on unique items.
Dennis left me in the fitting room for a few minutes and came back laden with skirts and jumpsuits. I have to say there is something particularly glamorous about having your wardrobe chosen by a stylist. Normally, I'm not a big fan of anyone shopping on my behalf because they don't know my body like I do. But Dennis surprised me. Everything she picked looked great on me, and she struck a perfect balance of pieces that fit my style and ones I would never have pulled off the shelf. After I tried each item, she told me what worked and what didn't, often adding styling tips that made me see the clothes in new ways.
Below, here are the six items she helped me find.
The Midi Skirt
The Jumpsuit
The Gathered Dress
The Statement Skirt
The Bandeau Top
The Jeans
If you buy something through our links, New York may earn an affiliate commission.