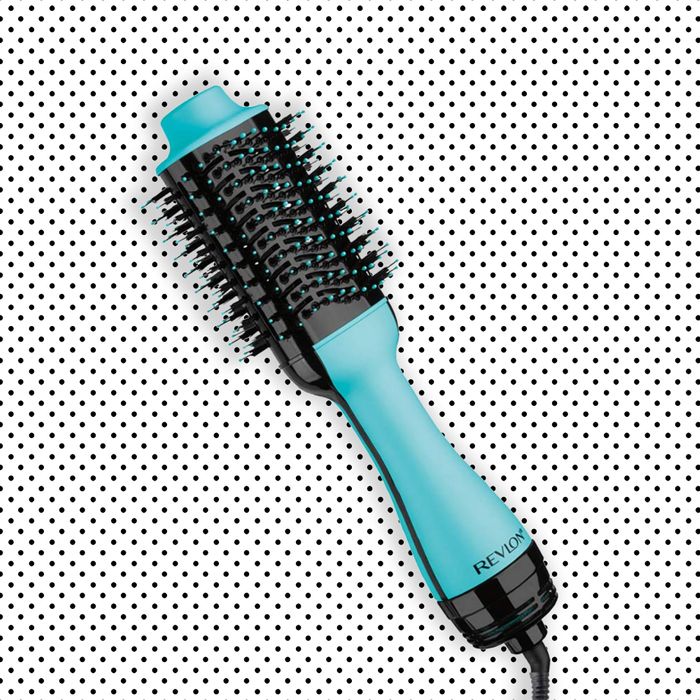 My hair will never be the same.
Photo: Amazon
My relationship with blow-dryers has been suffused with dread since day one. When I was 12, I cut off my long curls, walking out of the neighborhood Super Cuts with a blown-out bob that required an absurd amount of maintenance for a sixth-grader. Like any good mom who doesn't want to see her child unhappy, mine tried to make things right by purchasing the only hair dryer my tiny hands were able to hold: The InfinitiPro by Conair, which had three attachments that would allegedly detangle, straighten, and volumize my curls. For a girl who didn't know her way around a round brush, the InfinitiPro was a godsend — all I had to do was brush my hair for an hour and 15 minutes, every single day.
Since then, I've been desperately tied to the blower — and to professional blowouts at places like Drybar and Blo. I thought I was doomed to spend my life either blasting hot air at my head or paying other people to do it for me. But then I found the Revlon One-Step Hair Dryer and Volumizer.
I say "found," but really I was instructed to buy the dryer by my hairdresser, Gjoko, who once owned a salon on 5th Avenue in Manhattan and now owns a salon in my suburban neighborhood. The first time I went to see him, he explained that there was a one-handed brushlike tool that would keep my hair straight and healthy. It sounded suspiciously like the Infinity Pro.
I ordered the Revlon One-Step on Amazon for a $44 promotion (roughly the same cost as a blowout plus tip these days). It had 3,286 reviews, so I'm not sure how I hadn't heard of it before. But now that I was paying attention, I started noticing women in my yoga class and book club chatting about it. Moms in my meet-up group all seemed to use it, too. Not shockingly, it is Amazon's No. 1 seller under their Beauty & Personal Care category, and the only hair dryer on its Most Wished For list. Having launched in 2016, it really took off in the fall of 2017 when people began posting YouTube videos singing its praises.
I found more praises in my favorite Facebook mom's group: "OMG THIS IS LIFE CHANGING. My hair is super long, crazy thick and curly. It takes a stylist 30 minutes to blow it out straight. I did it myself in 15!"
Another mom posted, "Ladies, you NEED THIS BLOW DRYER IN YOUR LIFE!" A third gushed, "I am 100 percent not making any money off of this post, I just really love this blow dryer and think everyone should know about it."
Finally I sat down at my vanity with my new $59 tool, damp hair ready to go. I lathered my hair with serum, pinned half of it up, and started the process with one eye on the clock. (Normally a blowout takes me 25 minutes.) The One-Step doesn't look like a traditional hair dryer — more like an oval brush. I ran it underneath a chunk of my wet hair, and after three swipes — yes, three — the whole thing was frizz-free and completely dry.
When my blowout was done I shook my head like they did in a Garnier commercial and my hair literally bounced off my shoulders, then back into place in a sexy, wavy kind of way. Twelve friggin' minutes.
The magic of this blower is in the design. The sides of the brush are lined with nylon bristles with ball tips, while the curved edges have a combination of boar bristles and nylon ones, giving you the benefits of two different kinds of brushes at the same time. At 1,100 watts, it's not the most powerful blower, but the ionic technology and the overall air flow mean you don't need more than that. And the large, airy shape disperses air quickly and evenly, which is perfect for my curly hair type.
After a handful of blowouts, I've learned a few tricks. The brush is a bit top-heavy, so I always place it under my hair rather than hold it on top like a traditional blower. (Hitting your hair with air from underneath also lifts every strand from your roots, giving you salonlike volume.) Also, it won't work if your hair is soaking wet. Let it air dry or use your standard dryer to give it a quick blast of air for a minute or two. And note that it gets pretty hot, so you can't use your free hand to guide the dryer down your head.
The more I use this thing, the more I like it. Those 3,286 reviews were right: You need this dryer in your life.
If you buy something through our links, New York may earn an affiliate commission.