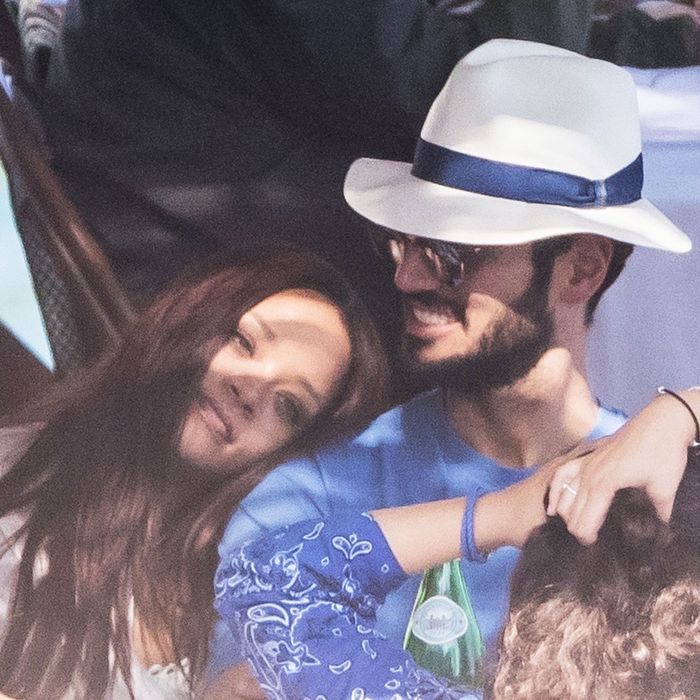 Rihanna and Hassan Jameel.
Photo: XPOS/Cobra Team / BACKGRID
Love is real, thank God. In an Interview magazine interview published on Monday, singer, mogul, and preeminent wine-glass-accessorizer Rihanna told her Interview interviewer, her Ocean's 8 co-star Sarah Paulson, that she is dating someone (Who? "Google it," Rihanna responded), and that "of course" she is in love. When asked if she is going to get married, she responded with a long pause, and "Only god knows that, girl. We plan and god laughs, right?"
Who is the lucky, Google-able man? Rihanna's boyfriend of two years, Saudi billionaire businessman Hassan Jameel. The pair were first linked when they were spotted making out in a pool in Spain in June 2017. Since then, the couple have been spotted fighting about soccer in Spain, hiding under umbrellas in London, and, most recently, enjoying a romantic vacation on an absolutely enormous boat off of Italy's Amalfi coast.
"It's hard for her to get close to anyone, but she seems very happy," a source told People about the relationship in summer 2017.
Here are roughly 1 billion things we know about Jameel, after we Googled him.
1. His full name is Hassan Mohammed Abdul Latif Jameel.
2. He is from Saudi Arabia.
3. He was born on October 22, 1988 (according to the website allstarbio.com), making him a 30-year-old Libra. Which means that …
4. He and Rihanna, a Pisces, are astrologically compatible. According to astrology.com, "When Libra and Pisces come together in a love affair, theirs is a congenial and even-tempered romance. These two Signs are very compatible, making for a truly smooth-sailing love affair."
5. He is six feet tall.
6. His family owns the Abdul Latif Jameel Co., which was named after his late grandfather, and that secured the exclusive rights to distribute Toyota in Saudi Arabia. They are the 12th richest Arab family, according to Forbes, and have an estimated net worth of $1.5 billion.
7. Also, they own a soccer league. The company has a six-year sponsorship deal with the Saudi Pro League, now known as "Dawry Jameel."
8. But that doesn't mean Jameel knows more about soccer than Rihanna.
9. In 2001, Jameel received a B.A. in international economics from Sophia University in Tokyo. He then went on to get an M.B.A. from the London Business School.
10. He is fluent in Arabic, English, and Japanese.
11. Currently, Jameel is president of Abdul Latif Jameel Co.'s Community Jameel Saudi Arabia, a consortium of philanthropies which, according to its website, coordinates programs focused on "the social, cultural, educational, and economic development of individuals and communities in the Middle East region and beyond."
12. From 2012 to 2017, Jameel was married to Lina Lazaar, a Tunisian art critic and art curator who founded Jeddah Art Week. They divorced in 2017. She seems, objectively, cool as hell.
13. Before he was linked to Rihanna, Jameel was reportedly dating supermodel Naomi Campbell.
14. When news of Rihanna and Jameel's relationship first broke, rumors swirled that Campbell was furious — which were compounded by the fact that Rihanna and Campbell had unfollowed each other on Instagram a few months before the pictures of Rihanna and Jameel surfaced.
16. BUT!
17. Campbell insists there was no "beef" between the two. "I don't have beef, especially with black women that I think are powerful. We're out there doing the same thing, and doing the same struggle," she told Andy Cohen when he mentioned the unfollowing.
18. Us Weekly reported that Jameel dressed as a penguin for Halloween in 2017. Rihanna reportedly dressed as Kylo Ren. They went bowling with friends, and were in Boston, for some reason.
19. Of that Halloween, one source told Us, "Rihanna and Hassan were canoodling all night. She ordered extra pasta to take home because she said she often gets hungry around 2 a.m."
20. Here is a song I wrote for them:
Rihanna and Hassan

Sitting on a mega-yacht

C-O-U-N-T-I-N-G-M-O-N-E-Y

First comes making out in a hot tub

Then comes dodging questions about marriage

Then comes the baby in the baby carriage, because that's what Rihanna told Interview she wants, "more than anything in life."
21–1 billion. He and Rihanna are in love.