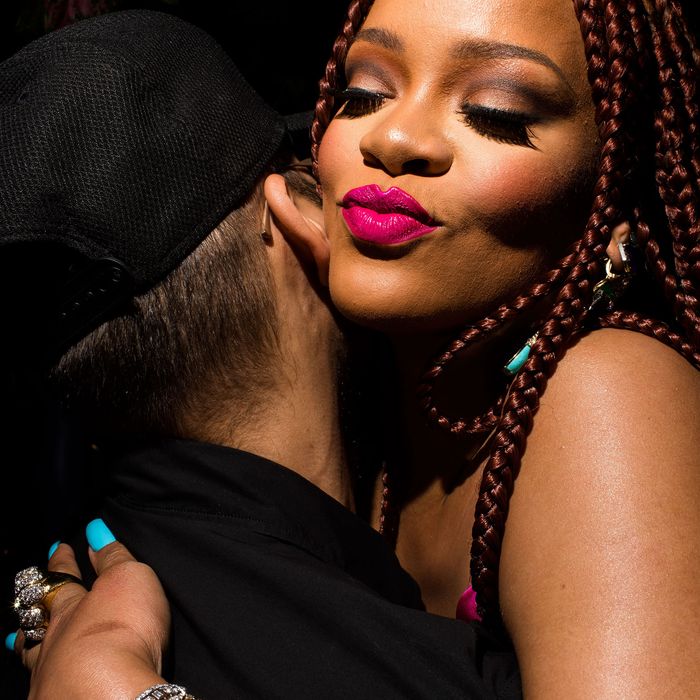 Rihanna, lady in pink.
Photo: Landon Nordeman for New York Magazine
It was bleak and stormy on a recent Tuesday evening outside The Webster boutique in Soho. Not propitious fashion weather. But the presence of Rihanna was expected and where Rihanna goes, the temperature has a way of shifting. The Webster had given two floors over to Fenty, Rihanna's nascent fashion label, for the next 12 days and it had been fully reworked for the occasion. "You see the whole makeover," said Laure Hériard Dubreuil, the store's founder and creative director. She gestured back at the vertical blinds that had been hung over every wall, the efflorescence of plants and vines, the baby-blue neon light that bathed the space, as if a '70s pad had married a Miami nightclub. "The whole building is Fenty-ized."
Fenty's first collection, last month, arrived with a pop-up in Paris, and hot on its pointy heels is this second one. LVMH, the French luxury group that owns Louis Vuitton, Dior, and Givenchy, partnered with the singer to create the label this spring, making a bet — reportedly a €30 million bet, matched by Rihanna in contributions "in kind," of appearances, promotion, and so on — that megastar could be megabrand. Rihanna's makeup line, Fenty Beauty, sold at LVMH's Sephora stores, already brings in more than $500 million.
Fan adoration is a given, though the fashion industry has taken a more wait-and-see approach. But fandom is powerful, for Fenty and for its partners. Its collections are primarily sold online, at Fenty's own website, but the Webster has an exclusive among brick-and-mortar stores to carry this one through June 30, and the carpet was duly rolled out, along with two full floors dedicated to the collection. (It is the largest that Webster Soho has ever done, even bigger than its pop up for Chanel.) The mood was high-summer sultry: printed and jewel-toned satin dresses, their hems cinchable as high as a Fentyite might dare. Fenty runs to more sizes than some other designer brands, so a few curvier mannequins were brought in for the occasion.
The reaction was immediate. "All of our clients, from all the stores, everywhere we are," Dubreuil said. (The Webster has locations in South Beach, Houston, and Costa Mesa, among others.) "It's not just for a younger crowd. All our teams are fighting with each other because we don't have so much inventory."
The collection would be offered to the public the next day, but that evening, it was friends and family who gathered in the Webster's narrow rooms, waiting for the arrival of her Fentyship. Snippets of French could be heard from blazered men and pristinely coiffed women — LVMH has assigned several of its long-serving executives to the project — as waiters poured giant bottles of Armand de Brignac, Jay-Z's Champagne. The pouty-lipped model Stella Lucia tried on a bracelet. A bald gentleman in bike shorts and high-heeled platform boots admired himself in a pair of Fenty's windshield sunglasses. The woman of the hour was nowhere to be seen. Humid minutes became a humid hour, then another.
And then, just after the stroke of nine, she arrived, awash in hot-pink satin, to gaze over her wares. If the first drop had been more tailored — Rihanna Means Business — the second had a beachier vibe. "Vibrant, vacay, easy to pack," she said. "I'm looking at him because I hate packing. He usually comes over and helps me, he's really good at it."
He, standing next to her, was Jahleel Weaver, the style director of Fenty, who went from assisting Rihanna's stylist to moving to Paris to steward her collection. "This weirdo right here," she said, "This is my quarterback. I run everything by him. I respect him so much."
Weaver, mugging, gave a look of faux-surprise. "You recording this?" he asked.
"'Cause he gets fired every day as well," Rihanna laughed. "We push, push, push, push. Curse each other out. Then come to a resolution when the dust settles. But it's fun. We have this relationship where we can say anything to one another. I get honest opinions, and that's what I want. I don't like the yes men. He's definitely not a yes man."
Brave enough to be a no man?
"Somehow, somehow," he said.
"He doesn't like anything," Rihanna said. "If he likes something it's, like, wow, we have a winner."