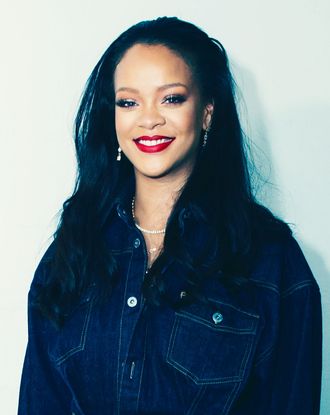 Rihanna.
Photo: www.kristysparow.com/Getty Images For FENTY
Robyn Rihanna Fenty is a busy woman. She has her own lingerie line, her own beauty line, and now, her own luxury clothing line based out of Paris. It's no wonder she has to wake up at five in the morning to work on her upcoming album. (Speaking of which, where is the album?)
All of this work (work, work, work) has paid off. On Tuesday, Forbes estimated that her fortune is now worth $600 million, making her the world's wealthiest female musician. That's right, Rihanna is allegedly richer than Madonna ($570 million), Céline Dion ($450 million), and Beyoncé ($400 million). Jay-Z, meanwhile, is the world's richest musician, with an alleged net worth of $1 billion. Hm.
According to Forbes, Rihanna's world's-richest-female-musician status is due, ironically, to the fact that she's making a lot of money outside of music. Partnering with Bernard Arnault of LVMH, the third-richest person in the world, on fashion and beauty products certainly helped. Fenty Beauty generated an estimated $570 million in revenue last year, after only 15 months in business.
So, congratulations to Rihanna on being extremely rich. We hope you enjoy a very expensive bottle of wine tonight.