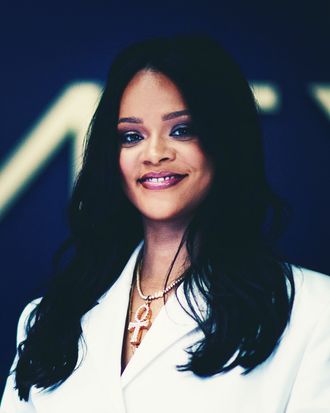 Rihanna.
Photo: MARTIN BUREAU/AFP/Getty Images
Rihanna may be the richest female musician in the world, a makeup millionaire, and now a luxury fashion designer, but in many ways, she's still just like us. In a new conversation between Bad Gal and her Ocean's 8 co-star Sarah Paulson published in Interview magazine on Monday, Rihanna expresses a familiar sentiment: That feeling when someone wears an outfit so good, your jaw drops to the floor, your eyes roll back in your head, and steam blows out your ears.
After bringing up Rihanna's tragic absence from the Met Gala red carpet this year, Paulson asks her who she thinks will "win the red carpet" in her stead, adding bashfully, "It won't be me." Rihanna does not stand for this self-deprecation, though, instead deflecting the question by complimenting Paulson on her own style prowess:
RIHANNA: You won the Ocean's 8 premiere with that green Prada. I almost made you give me that dress on the spot. I was staring at you, like, "I am actually mad at this bitch. Why is she wearing that?"




PAULSON: You actually told me how mad you were.
The maddeningly good outfit in question is a neon green Prada dress from the fall 2018 collection with layers and layers of plastic fringe. Paulson's stylist, Karla Welch, knew it was "the one" the minute she saw it on the runway. "I need that dress. It has to be mine. Come onnnnnnnnnn!" she wrote in an emphatic email to the brand. Then she followed up multiple times.
"When I put it on, we looked at each other and smiled so broadly. And then we both just started crying," Paulson told the Cut last year. Clearly, it paid off. You know a dress is good if it makes Rihanna emotional, too.