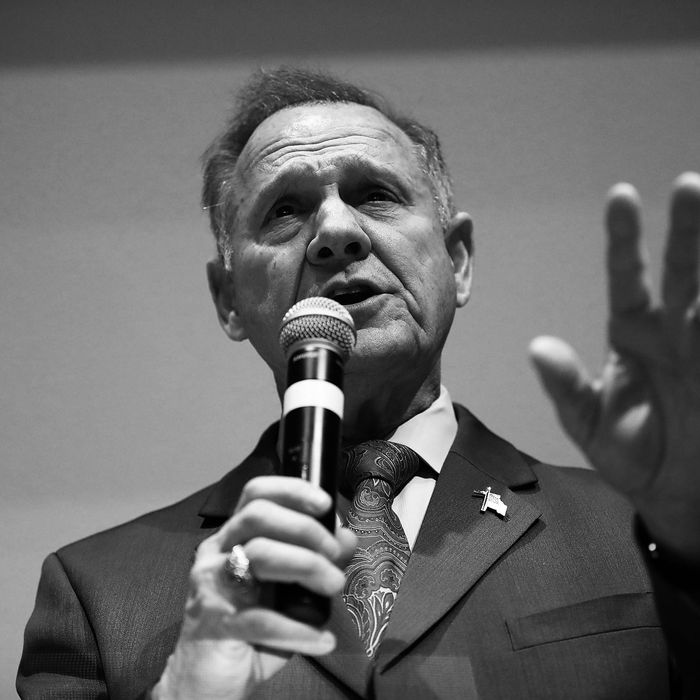 Roy Moore.
Photo: Joe Raedle/Getty Images
A weary nation must brace itself again: far-right Christian politician Roy Moore, of cowboy hat infamy, has announced that he's running for Alabama Senate. Again. He ran and lost, in 2017, to Democrat Doug Jones, after multiple women accused Moore of sexually harassing or assaulting them while they were underage. Moore denied the stories, but they likely tarnished his cherished image as a defender of traditional family values. Not only is Moore undeterred by the prospect of another round of unflattering media coverage, his remarks to reporters are, well, unfortunately phrased:
As the New York Times reported on Thursday, Moore has a history of defiance. He opposes legal abortion rights and LGBT rights with equal commitment. Once the chief justice of the Alabama State Supreme Court, Moore garnered national attention for refusing to remove a very large granite statue of the Ten Commandments from his courtroom. The Ten Commandments are, of course, Christian, but courtrooms are secular spaces. Moore's monument was removed, and so, eventually, was he, for wantonly violating the Constitution. [Full disclosure: I once worked for Americans United for Separation of Church and State, which sued Moore over the monument.]
Moore's eternal quest for public acclaim and higher office will revive interest in the misconduct allegations that helped drive his last Senate campaign aground. They're worth revisiting. One woman, Leigh Corfman, told the Washington Post that Moore sexually assaulted her when she was 14 and he was 32. Other women said that Moore took them on dates and provided them alcohol while they were teenagers, though there was no sexual contact in those cases. It's not certain if their stories will be enough to cost Moore the Republican nomination for Senate, his unrepentant demeanor and extreme views may appeal to voters emboldened by the state's recent, draconian abortion law. President Trump, meanwhile, had urged Moore not to run for Senate again because he could not win, though in the same tweet insisted that he has "NOTHING against Roy Moore, and unlike many other Republican leaders, wanted him to win."
But Moore's announcement is might be pleasant news for at least one person, and that's Doug Jones. Jones barely defeated Moore and is a highly endangered incumbent. Whoever wins the Republican party's nomination will likely benefit from Trump's presence on the ballot. But Moore's scandal-plagued past would still give Jones something of an edge. Another possible silver lining: we may get another video of Moore riding a horse, badly, to the polls. Hi-ho, Mr. Moore, away!