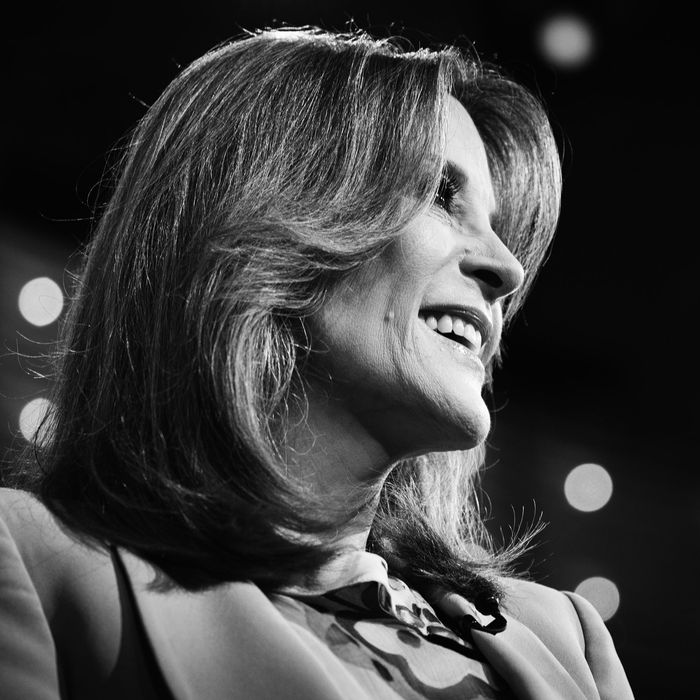 Marianne Williamson.
Photo: Jayme Gershen/Bloomberg via Getty Images
Let's get this out of the way first: Marianne Williamson, a self-described "bitch for God" and avowed day raver, probably won't be our next president. That does not, however, mean her presidential run is for nothing. Since she announced her candidacy in late January, she has fired off quite a few unconventional policy suggestions, such as the creation of a Department of Childhood and Youth to focus on the "chronic trauma" experienced by minors, as well as the Department of Peace. And her performance at the second Democratic debate — where she spoke in an unidentifiable, mesmerizing accent, brought up the moon landing unprompted, and announced her intent to defeat Trump in battle by harnessing the force of love — left many intrigued.
Though she dislikes the term, Williamson is a certified spiritual "guru," and certainly a successful one. She's an Oprah Winfrey confidant. She's the author of four New York Times best-selling books, including A Return to Love and Illuminata. She also really, really loves love.
Below, some of the musings she's had throughout the years. Bask in her wisdom; let it cleanse your soul.
On alienation:
On impregnation:
On letting god "flow" through you:
On comfort foods:
(She has none.)
On … exes???
On alternatives to drinking games:
"Instead of downing a shot, do a downward dog," read an email her campaign sent out the night of the debate. "Instead of throwing back a Harvey Wallbanger, just try legs up the wall pose."
On dieting:
On being the pilot of your damn mind:
On the 2009 swine flu pandemic:
On fear:
"Our deepest fear is not that we are inadequate," reads a line she wrote in her 1996 book A Return to Love that is frequently misattributed to Nelson Mandela. "Our deepest fear is that we are powerful beyond measure. It is our light, not our darkness that most frightens us. We ask ourselves, 'Who am I to be brilliant, gorgeous, talented, fabulous?
On why we should "soul-explode":
On happiness:
"Joy is what happens to us when we allow ourselves to recognize how good things really are," she wrote.
On James Cameron's hit movie Avatar:
In conclusion: Good vibes only!