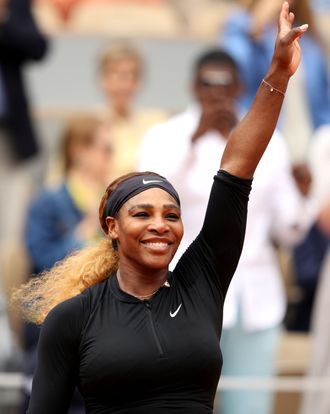 Serena Williams.
Photo: Adam Pretty/Getty Images
Since 1934, Wheaties, a cereal brand known for its slogan, "The Breakfast of Champions," has celebrated athletes by putting photos of them on its packaging. And for the first time ever, Wheaties is giving tennis champion Serena Williams the cover treatment. While it's undoubtedly an honor, the accolade is long overdue, considering Williams has won 72 career titles, including 23 in singles, 14 in women's doubles, and two in mixed doubles, and is a four-time Olympic gold medalist.
In an Instagram post, Williams announced her Wheaties cover by paying tribute to Althea Gibson, the first black female tennis player to appear on a box — 18 years ago. Gibson had also become the first black athlete to win a Grand Slam tournament in 1956. "In 2001, Wheaties paid homage to a true champion and an icon by putting her on the cover of a Wheaties Box. Althea Gibson was the FIRST Black Woman tennis player to be on the box. Today, I am honored to be the second," Williams wrote.
"I am so excited to be on the cover of the next Wheaties box," Williams said in a statement on the General Mills blog. "I have dreamt of this since I was a young woman and it's an honor to join the ranks of some of America's most decorated athletes. I hope my image on this iconic orange box will inspire the next generation of girls and athletes to dream big."
Wheaties announced Williams's cover by dedicating its entire Instagram grid to the tennis star with the hashtag #ShesAChampion. "We mocked up a few boxes with images for Serena and her team to select from, and it was a unanimous choice to go with that shot — and that white dress — was it!" Taylor Gessell, manager in Brand Experience at General Mills, said in the blog post. "It truly signifies a championship moment."
Better late than never, I guess.