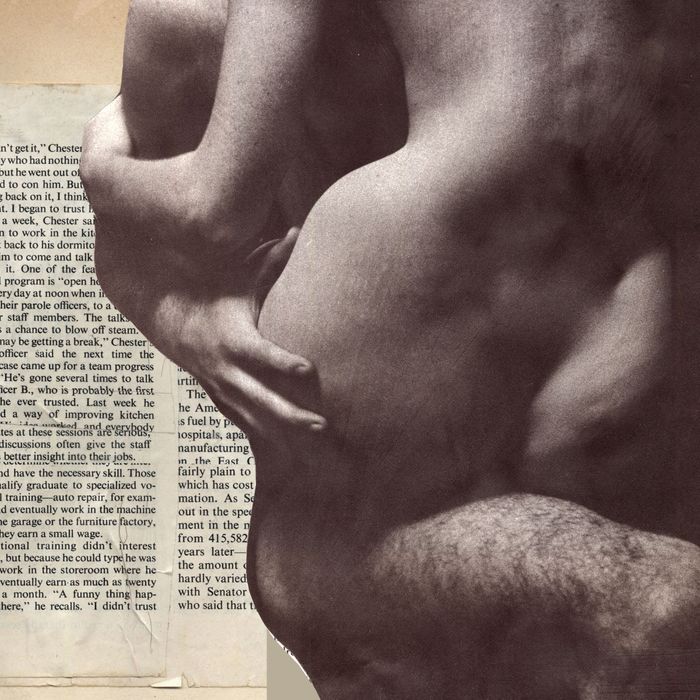 Photo-Illustration: James Gallagher
This week, a woman with a sudden influx of romantic prospects: 39, Single, Bi-Curious, Ohio.
DAY ONE
6:10 a.m. My alarm goes off. I hit snooze several times.
7:35 a.m. I dash to the bakery across the street from my apartment. I order my usual, head to doggie daycare to drop off my pup, and then it's en route to the office. I work at a local community college, providing academic support to students with disabilities.
9:00 a.m. I check the campus' instant messenger system to see if Terrance, the admissions director who I just hooked up with yesterday, is here today. He is. I was at his place for a few hours yesterday afternoon.He's cute, smart, and a little full of himself — in a harmless way — and he's the only guy I've been with where the sex was good from the very first time. But still, I left his house feeling strangely unsatisfied. My co-worker, who's become a close friend, says this might be because a couple of other potential romantic connections have popped up recently, and my unconscious brain is telling me not to settle on any one person right now.
5:00 p.m. I'm free! My evenings are now homework-free for the next few weeks. Since I'm an employee of the college, I can take courses at no cost. I'm taking Family Law this summer semester — divorce, custody, prenups, the stuff of soap operas. I've always found family dynamics interesting, but now even more so. At this point in my life — I'm 39 years old — a fair amount of the men I meet have been married previously, or have kids, so this'll give me a window into what they've gone through.
10:05 p.m. I hop on Hinge before heading to bed to see if I have a message from Will, a cute science teacher I started chatting with a few days ago. I write back to his most recent message and cut to the chase, asking him if he wants to grab a drink.
DAY TWO
8:10 a.m. I'm on my way to one of the private colleges in the city for an annual co-college event college disability services.
9:15 p.m.: Will wrote back saying he'd love to meet, and we decide on Sunday. I think about the tentative plans I have with Nathan tomorrow night. Nathan and I met back in 2011, on Match, and went out a few times before he dumped me (via text, an hour before a date we'd set up). I left him a nasty voicemail in response, and that was that. Over the past eight years, I never saw him on any other dating sites or apps, until a couple of weeks ago, when he appeared in my Tinder results. "It's been awhile, huh?" he wrote me.
We arranged to meet that Wednesday. When we did, he was the same as I remembered him, minus his past cockiness. He recently got out of an eight-year relationship and now has a 3-year-old daughter, so maybe that has something to do with it. We had sex for the first time that night. It was your typical first-time sex — not bad, but not great. In a moment of vulnerability — a trait which I'd never seen him show before — he told me that I was the first person he's slept with since the end of his recent relationship, and he didn't know how he was going to be, but he wanted to be good for me. His nervousness was unexpected and endearing.
DAY THREE
8:30 a.m. I text Nathan to confirm plans for tonight.
3:30 p.m. Text from Nathan: "Don't eat dinner. We will be cooking together!" I'm so excited, and very curious to see his house. He literally built it himself and part of it is from old reclaimed barnwood. He owns his own construction company. I may have a Master's degree, but he's brilliant in a way I'll never be.
7:00 p.m. I arrive at his house. He's wearing jeans and a tee. He's not much taller than I am, but he's cut. He has piercing clear blue eyes, and would be blond if he had hair — he shaves his head. It looks good on him.
7:30 p.m. He's prepping the chicken. We're drinking wine and chatting. He's keeping it casual physically — other than a hug when I arrived, we're all about cooking, except for one moment when he is behind me and slides his hand around my waist. God, I want him.
9:00 p.m. We've finished dinner out on the back deck. He cleans up and then begins a tour of the house for me. It's amazing. So rustic and unique.
9:30 p.m. The tour ends in his bedroom. I see the book that I loaned him on his night table — I write poetry, and when he learned that some of my work has been published, he acted quite impressed, so I loaned him an extra copy of one of the journals where my work appears. He'd sent me a text two days later, telling me he'd read some of the poems and stories and that I'm a great writer and "a smarty in [his] book."
9:55 p.m. WOW. That was some amazing sex — and I tell him that. He was obviously paying attention to the guidance I gave him when we had slept together last week, because his technique tonight was completely on-point. We lie in bed together for a little while after, talking about nothing particularly important, not exactly cuddling but still touching. I don't want to go home, but the logistics of getting ready for work in the morning at somebody else's house are too complicated. Besides, he hasn't invited me to stay over.
10:40 p.m.: I text him when I get back home, which he'd told me to do. I'm disappointed he doesn't mention getting together again — granted, he didn't mention it after we hung out last week either, and we got together again, but … I'm already thinking about when I can see him again.
DAY FOUR
8:45 a.m. We're volunteering at an organization that works with children who have disabilities, and then heading out for lunch and team-building afterward.
3:00 p.m. I check my Hinge profile. I have my Hinge and Tinder set so that I can connect with both men and women, and I almost met up with a woman once, but she backed out at the last minute. I feel less impetus to pursue women in real life than I do to pursue men but I'm definitely open to being with one, if the opportunity presents itself.
I see that Will messaged me yesterday — right around the time that Nathan and I were fucking. "Do you want to text with me tonight?" He'd asked, and sent his number.
7:30 p.m. Will and I are texting. He's packing for rock-climbing trip with his 4-year-old son. I'm fine with guys who have kids, because it takes some pressure off me, since I don't want any of my own. I've never felt that biological desire that a lot of women apparently feel about having children. Plus, I have seven nieces and nephews, so I know there will always be kids in my life in some capacity. At the risk of sounding self-important, I think it could be good for my nieces to see that there are options in life for women besides the traditional marriage-and-kids route.
DAY FIVE
9:00 a.m. Fridays are the day I'm on walk-in duty — my colleagues and I are each assigned a walk-in day during the week. I lucked out getting Fridays, because there are very few classes this day of the week.
12:00 p.m. Off to lunch! I live 10–15 minutes from work, so I alternate bringing my dog to daycare or going home at lunch to let her out. Today I'm going home and will walk her around the block. I love my neighborhood — it's so cute with its brick streets, wrought-iron fences and gates, and lush foliage.
7:00 p.m. I watch Frasier reruns while eating dinner — pizza, salad, and wine. I want to have a more active sex life …
DAY SIX
11:00 a.m. This morning is the annual neighborhood yard sale, and probably my least favorite day of the year. None of the people who come down here know how to drive down these skinny one-way brick streets.
1:00 p.m. Grocery shopping.
4:00 p.m. I haven't heard from Nathan since I got home from his house the other night. Still, I want to play it cool, so I resist the urge to text him. I head to my favorite consignment shop to look for a new date shirt for my upcoming evening with Will.
DAY SEVEN
10:00 a.m. I have church. I was raised Catholic, and although I clearly don't follow all the tenets of the religion (hello, extra-marital sex and birth control), I've stuck with the habit of going to mass on Sundays.
6:15 p.m. I'm meeting up with Will at 7 at one of my neighborhood bars. I get dressed in my date outfit — leggings, a fitted pink tunic, and a cardigan in case it gets chilly later.
7:00 p.m. As I walk up, I see the door to the bar open, and he comes out to meet me. He's arrestingly good-looking, with an innocent air that indicates he doesn't know it. We hug hello and go inside. He's friendly, though I can tell he's a little nervous. I guess I am too.
8:00 p.m.We're having fun chatting and sharing travel stories. We talk briefly about his divorce, which doesn't feel weird even though it's only our first date. I like that when he mentions his ex-wife, there's no animosity in his tone of voice.
9:00 p.m. I'm on my third vodka-Red Bull. Will is so sweet. When the bartender checks on us, I ask her, "Doesn't he look like Steve Sanders from 90210?" She agrees.
9:30 p.m. He says, "You're more beautiful than your pictures," and then adds, "That came out wrong. Your pictures are great, you're just even more beautiful in person."
10:00 p.m. We leave the bar holding hands. I told myself I wasn't going to have sex with him on our first date, but I have a feeling I'm not going to stick to my guns.
10:20 p.m. We are back at my apartment and our clothes are off and we're in my bed. I'm not a huge fan of drunk sex. My senses are dulled from the alcohol, so I don't enjoy it as much, but I still want to sleep with him. He seems less nervous in bed than he did at the bar, but neither one of us gets off. In my case it's because of the alcohol, and in his case, it's the condom — he tells me, sounding apologetic, that polyisoprene condoms don't desensitize him the way latex ones do. "Then bring your own next time," I retort teasingly. We fall asleep spooning. It feels good to spend the night with someone, and to be held. I get the sense that Will could be relationship material. But I'm not going to rush things. I'm having fun with this recent unexpected surplus of men, and I intend to enjoy it for as long as it lasts.
Want to submit a sex diary? Email sexdiaries@nymag.com and tell us a little about yourself.