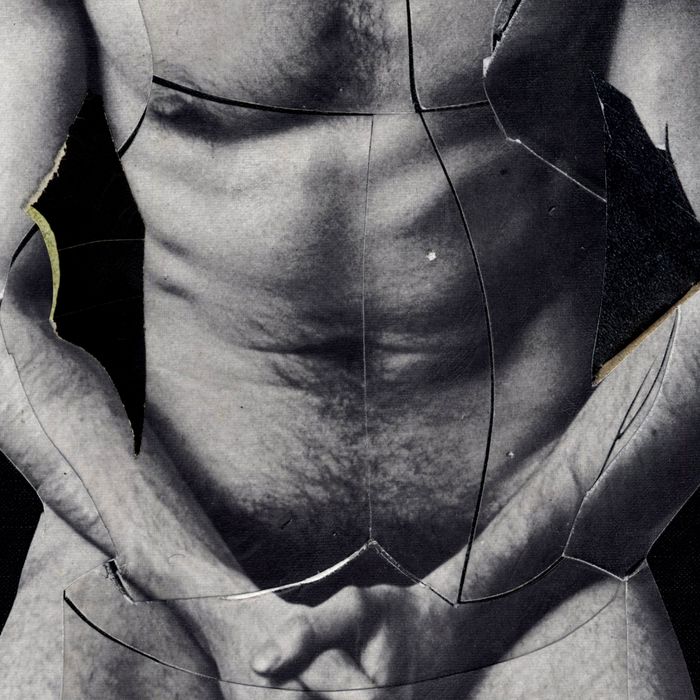 Photo-Illustration: James Gallagher
This week, a massage therapist enjoying the party life that often leaves him lonely: gay, single, Williamsburg, 27.
DAY ONE
10 a.m. I like to sleep late. My job is whatever hours I want, so I try to never schedule anything before noon. I'm a massage therapist who works with very select clientele. I charge about $200 per massage, cash, so if I do two massages a day, I do okay for myself. Today, I have three.
11 a.m. I'm at the gym, my favorite place in the world. I've been working out since high school, and I can't live without it. Everyone knows me here and it's close to a family for me. Some days I work out twice, but I won't have time for that today, so I try to cram everything in, in one hour. No flirting or distractions today. I'm a huge flirt, so this is hard for me.
1:30 p.m. Hop on the subway to my first client. He's on the Upper East Side — a very old, like 70, very rich man. He's single and gay and a huge flirt too. I have a pretty strict policy about not mixing business with pleasure. (Note: I break this policy more than I care to admit.) I think with men like him, it's thrilling enough just to have a younger gay male giving them attention; it doesn't have to turn sexual.
3:30 p.m. Heading to next appointment from the UES massage. It was pretty standard. He gave me a $50 dollar tip on top of the $200.
8:30 p.m. I'm almost home from the day's work.  Pretty beat.
9:30 p.m. My friend, Trey, tries to get me to come to some orgy tonight — an L.A. producer has a thing at a hotel suite. It's right up my alley but I'm physically exhausted. Plus, I think this guy I know who I really care about, Mikey, will be there. He tends to treat me like shit out in public, and not much better in private to be honest. Mikey and I run in the same social circles. Young, gay, fit, sexual, "upscale" people just looking for a good time. I really like him and have feelings for him and he is strictly looking-to-fuck kind of guy, so seeing him always leaves me feeling like shit (after getting fucked by him, which is always a complete high). It's complicated!
DAY TWO
10 a.m. Got a solid night of sleep. My friend, Carl, is moving today so I'm heading to his apartment soon to help lift the heavy things. He's putting everything in storage while he finds a better apartment. In the meantime, he's staying at his sugar daddy's house — this sugar daddy is never home, always jet-setting somewhere. It's a peculiar but kind of enviable arrangement.
11 a.m. We're moving couches and tables to a U-Haul. Carl is a Broadway actor and his stories are unbelievable. I thought I took in a lot of jizz, but Carl is rolling in it — guys visit him behind stage and just offer to blow him.
3 p.m. We're having a few beers after our loading the car. Carl and I want to be roommates but he makes more money than I do, and he comes from money, so it's a little awkward. He swears he doesn't mind covering the majority of the rent but I feel weird about it.
4:30 p.m. One massage today but it's a friend, so it's okay that I might smell like beer.
7 p.m. I'm having more drinks with another friend, Devon, before we head to a party in Soho. It's at the apartment of one of Carl's actor friends.
9 p.m. The party is lit. About 30 gorgeous guys, all ages. As of now it's pretty reserved. People drinking wine and mingling.
10:30 p.m. Out comes the drugs, the fucking. Standard. I am drug-free but I don't judge anyone. I meet an older married couple, and they want to fuck. We go into a bedroom. The bigger dude fucks me while I blow his husband. It's pretty hot.
12 a.m. Mikey arrives, of course. I can't escape him. He's drunk or high and being very flirtatious with me. We go back to the bedroom that I was just fucked in and start to fool around. Then he fucks me. I love being with him sexually; our sexual chemistry is off the charts. But as always, once it's over, I feel sad about myself. I'm not sure why — probably need therapy for that one. I decide to call it a night.
DAY THREE
10:30 p.m. Carl found an apartment for us to look at so I'm meeting him there. It's in Clinton Hill. I don't really know the area. The place is pretty incredible. We'd each have a huge bedroom and it's a great, spacious apartment for parties. Oh the damage we could do here …
11:45 p.m.  We're trying to figure out the financial logistics. I feel uncomfortable.
3:30 p.m. I have to get all the way to Harlem for an appointment. This guy, Marshall, always tries to fuck around after our massage, so I'm preparing myself for that. He's attractive with a great cock but I always feel nervous about how it's going to play out.
6:00 p.m. So here's how the massage turned out: Marshall actually needed a massage. He's a gym addict and always really tight. I did a full massage and finished up all professionally. After I came back into the room from washing my hands, he was like "Come here," and we started making out and then he blew me.
9:00 p.m. I'm home just hiding from my terrible roomates (one is the loudest, messiest person in the world and the other is her best friend who's just a follower) and figuring out the Carl roommate deal. He needs to know by tomorrow.
DAY FOUR
9:30 a.m. I'm working earlier than usual today because a friend hired me to do ten-minute massages at his corporate retreat (which is not really a retreat as it's only at a hotel in Williamsburg). He told me all the guys are married bores who are straight but probably closeted. In my experience that's most "straight" men.
2:30 p.m. I'm glad I'm charging hourly because they want to keep me around for the rest of the day. These guys are such tools.
5:00 p.m. I'm meeting Carl just before his show. I decided to go for it: rent the apartment together. I just hate my roommates so much. I lay down all these rules first — like, if he's paying for most of it, he has to let me handle groceries and cooking and cleaning (I'm quite domestic). I just want it to feel fair and I want to prevent any issues. I'm no genius but I do know that money makes things weird between friends and really value our friendship. And no, we've never hooked up!
6 p.m. I text Mikey to see if he wants to celebrate my new apartment with me. Champagne or what not. He says he has plans (of course) but he'd love to meet up tomorrow night. Sounds good to me.
7 p.m. With nothing really to do, I go home.
8 p.m. I eat some pot cookies that I've been saving for the right moment, put in my headphones and go to sleep early as fuck. I can't believe I have two more weeks in this hellscape.
DAY FIVE
8 a.m. I went to bed so early so that means I can do a monster workout. I plan to put in three hours at Equinox.
12:30 p.m. Getting ready for afternoon drinks with Mikey. I know how this will end …
1:30 p.m. Over lunch I try to get vulnerable with Mikey. I tell him I'm not looking for a monogamous relationship or anything conventional but I would like to spend more time with him. He has this way of deflecting and making a joke out of everything. It's not going anywhere so instead we just compare sex and orgy stories. It's kind of a competition with guys in our group, how much we fuck per week. It's a game. I know this won't be my life forever but I'm enjoying being in it for now.
4:30.p.m.  We split a bottle of rosé and are going back to Mikey's house. I don't know why this one guy makes me feel so good and so bad at the same time. His roommate is home. We make small talk with him, then go into Mikey's room and turn the music on. Mikey tells me get down and blow him. He fucks my mouth until I'm gagging. And then he fucks me while covering my mouth tightly so I can't scream nor barely breathe. It's really fucking hot. Really. Fucking. Hot.
6 p.m. I have a night appointment to massage a regular client. I really want to cancel since Mikey and I are actually cuddling and feeling close. It's really bad to cancel on a client though, and this is not a month that I can afford to lose business. I make myself get dressed and leave. I think it's good that I walk away when Mikey clearly wants me to stay. It's good to be less available to him.
8:30 p.m. My nightly appointment asks me all about my sex life every time I massage him. He's married and actually faithful (whoa) so he likes to live vicariously through my stories.
10 p.m. I'm home and too tired to text back any of my friends, all who are asking where I am because it's a good party night. I'll pass!
DAY SIX
10 a.m. I have a coffee "date" with my first and only real boyfriend today, Simon. Simon and I got serious in college (we both went to school in NYC) and we had a very tender, loving relationship for about three years. Ultimately, I wanted to sleep with other guys and see what else was out there. I had dreams of living the life I'm living now: the party life, straight out of a movie. And I made it happen. Simon is a serial monogamist and has been with someone since our breakup. His home life is very stable and frankly, boring, and he tells me all about it over breakfast.
2 p.m. First client. Hot, semi-famous actor in a hotel room. No funny business but some flirtation. I bet I'll get some drunk, late-night text from him later. I know these types.
5 p.m. I am heading to my second client of the day. Not in the mood! This guy is a really nice guy. He's gay and once he asked me to suck him off (I did), but most of our massages are just basic.
7:30 p.m. Heading home. No BJ. Just basic.
9:30 p.m. Hiding from the terrible roommates with my headphones on.
DAY SEVEN
11 a.m. My best friend from childhood, Albert, is coming to New York from L.A. today. He's just landed his first job in a writers room out there and I'm super-proud of him. He's a big teddy bear. Gay and with the same guy forever. Totally faithful as far as I know …
1:30 p.m. I take Albert to brunch in Williamsburg and we catch up. He seems really happy. We FaceTime with his boyfriend who's a real sweetie. It doesn't seem so bad. He loves hearing all my stories and for better or worse, they are endless.
2 p.m. Now I'm telling him about the time I got fucked five times in one night at a Halloween party orgy. It sounds really horrifying when I say it out loud but honestly, it was one of the most fun nights of my life.
7:30 p.m. I'm out to dinner with Albert and some of his cast members for this show he's working on. Actors are such narcissists. I find it boring and text Mikey to see what he's up to. He doesn't write back.
10 p.m. I'm home. Nothing great is going on tonight. I feel kind of lonely and kind of empty. It's the side effect of the life I lead. A lot of highs and lows. Like I said, I know this lifestyle won't last forever. I'll outgrow it or it will outgrow me. But I'm going to try to enjoy myself as much as I can. I go to sleep fantasizing about my next adventures …
Want to submit a sex diary? Email sexdiaries@nymag.com and tell us a little about yourself.