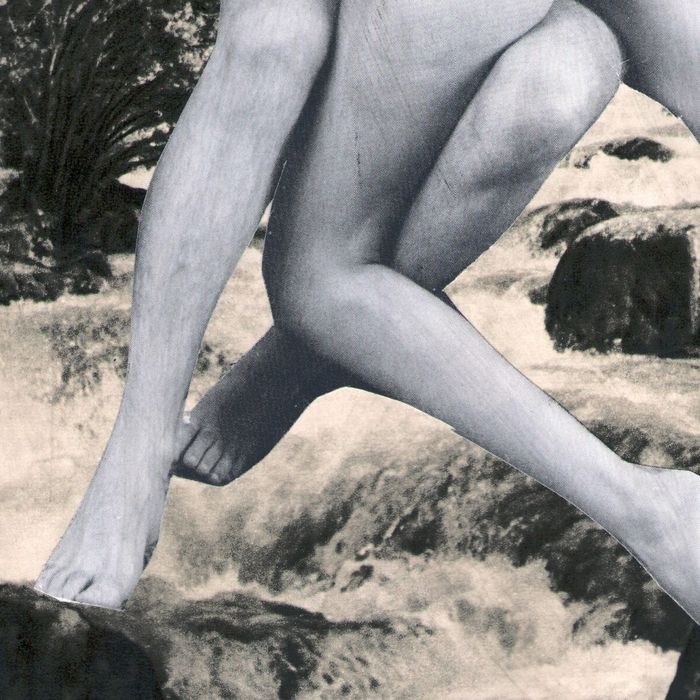 Photo-Illustration: James Gallagher
This week, a woman who works in the beauty industry goes on a date with a woman for the first time: single, Prospect Heights, 26.
DAY ONE
8 a.m. I just ended an engagement to someone I loved but didn't want to be with forever, and am totally sowing my oats — I'm only 26.  The engagement ended a few months ago. I left him because I had no interest in the predictable life ahead of me.
He wanted to have kids right away, move to New Jersey, and just be basic and suburban together. He was a great guy but I would have died in that environment. I'm having so much fun now (more or less). Speaking of … I'm hungover and late for work.
10:15 a.m. I'm settled at my desk. I work for a beauty brand and work with influencers and social media. It's an exciting job that keeps me busy and engaged. But I do recognize how superficial things can be, and the influencers are not really my cup of tea. However, at my age, it's kind of the perfect job. Fun, sexy, lots of events, and free products!
1:30 p.m. I'm having lunch in the park and going through my online-dating prospects. I recently labeled myself "bisexual," which is a bit of a fib since I've never been with a girl, but I'd like to try. I thought about writing "bicurious" but that sounded so noncommital. I'm waiting for the guy I had a date with last night, Eric, to text back. I texted him around 1 a.m. when I got home last night and nothing yet. He's a Wall Street guy and kind of a typical "bro" but we have a random friend in common (he went to college with someone from my hometown), and the mutual friend says he's a total teddy bear.
On our date he seemed part "bro" and part "teddy bear," so the verdict is still out. We got drinks in Flatiron and then a few slices of pizza, then we made out like criminals on the street. He was a pretty good kisser but I have a feeling that despite his 6-foot-2 frame, he has a tiny dick. That's a deal-breaker for me. My ex-fiancé had an average, "eh," cock and it always made me want to cheat on him (I never did). I'd like a cock that I can crave next time around.
5 p.m. Eric texts back: "Good times indeed." Okay. He's not that into me. No problem.
8:30 p.m. I'm on the subway, leaving the gym, and catching up on emails and some Bumble and Tinder matches. A few women contacted me but they all seem not quite what I'm looking for. I want to go out with a woman I find really attractive, and I don't know how to define that yet — I have to "want" her from the start, I think. I really just want to go to sleep and get back to my life tomorrow.
DAY TWO
9 a.m. I have a crazy day at work ahead. A photo shoot with a C-list celebrity. Her team has been super difficult so far. My boss has to absorb most of the drama, but it doesn't make for a great working environment when my boss is stressed. She's 40-something and still looking for "Mr. Right." I don't see anything wrong with being single and 40 but I cannot imagine searching for the "right" guy for 15 more fucking years. Life is too short for that!
12:30 p.m. I have like four minutes to grab lunch and I'm starving. While waiting in line for a salad, I text a little with one woman, Emilia, who wrote me last night. She looks like Emily Blunt and she identifies as a lesbian (not bi). She's an actress (but not Emily Blunt). I'm intrigued.
We end up making plans for a glass of wine tonight! Very short notice but I know I'll want some wine after today and I also know I'll have a lot to talk about once this day is done …
6 p.m. I'm so tired! My boss Ubers me home because she can see that I've been on my feet all day and too exhausted to even walk to the subway. I do NOT tell her I have a date with a woman tonight. Not that I'm embarrassed — I just don't have the energy to explain.
9 p.m. I meet Emilia at a bar in Dumbo, which is geographically in between both of us. She is beautiful! This is so weird. We hug hello. So, so, so weird. Do we talk like women who are becoming friends or do we talk like strangers who are flirting? Such unchartered territory for me. Luckily, she makes everything a lot easier because she's really funny. She's kind of teasing me about being so green with dating women. I drink two glasses of wine like they're water. She is touching my thigh a lot. It feels unbelievably good. I get another glass of wine …
11 p.m. I'm having the best time but I AM very tired so I suggest calling it a night and hanging out another time soon. She is all for it. As we wait for our Ubers, we start making out on the street. My second street make-out of the week.
It is super-soft, super-slow and exactly what I imagined kissing a girl would be like.  I can't complain but as I ride the Uber home, I think how I really love when a man is strong and aggressive in his kissing. I'm not sure I need/want gentle and loving. I kind of want to be fucked and devoured. I'm sure Emilia is capable of that — she was probably just being respectful. Still, I'm drunk and super horny. I want to sext someone to come over and fuck me but I don't have anyone on the roster worth it right now …
DAY THREE
8:20a.m. Waking up sucks.
10:30 a.m. Texts from Emilia about hanging out tomorrow. I love the directness. Women are so much better at dating. I don't write back so soon, though. I need to digest how I felt about last night.
1 p.m. I grab lunch with my work best friend, Tamra, and tell her about last night. Tamra is kind of a prude so she is in shock and awe, and keeps saying, "So ARE YOU A LESBIAN NOW???" She's a little naive. The truth is, I'm pretty much the last of my college friends to experiment with women. We went to a small, liberal arts school (I had a scholarship for track). Tamra is more like my friends from home. I grew up in a small,  middle-class town in Connecticut, and I love my friends from there, but they wouldn't really get it either.
6:50 p.m. I'm at the gym trying to sweat off my hangover and confusion. It helps!
8:30 p.m. On the subway home, I see the best-looking man I've ever seen in my life. I can't stop looking at him. He's beautifully dressed, in Gucci loafers, perfect-fitting jeans. I can tell he's kind from his eyes and I just really want to talk to him. But I look like crap!  He starts to get up when it's my stop so I tell myself to go for it, and just tell him how hot he is! Worst-case scenario, I'll make him feel good about himself. Best-case scenario, he'll fuck my brains out tonight. Just kidding. Sort of.
8:45 p.m. I basically chase him up the stairs and say, "I'm sorry to bother you, but you are the most gorgeous man I've ever seen!" It goes over well. He's flattered and super-nice. We're both kind of laughing. He tells me he's actually on his way to a date in my neighborhood. A third date. UGH. Some other woman is going to get him tonight.  He doesn't come out and ask for my number so I say, "Can I text you some time?" He's into it ! We exchange numbers. I walk away feeling madly in love with him,
10 p.m. Resist texting Subway dude with every bone in my body. I wonder how the date's going …
DAY FOUR
9 a.m. We have a photo shoot in Philadelphia today so I'm in a van with some colleagues for two and a half hours. I have to text back Emilia; I feel bad ghosting her. So I text her that it's been a little crazy but I'm around this weekend.
3:30 p.m. Work is long and annoying, again, today. It's raining and gloomy in Philadelphia. I have a good friend from college who lives here so I text if she's around for dinner. I'll train it back myself if so. No need for another long van ride with colleagues.
4 p.m. My friend is free to hang! And she said I can sleep over her place tonight and train home early tomorrow. Fun!
7 p.m. We are at some delicious Middle Eastern restaurant and two glasses of wine in. My friend has to make a call outside to I take the opportunity to text Subway Guy. "Hey, I found myself in Philly tonight. Where are you? And how was your date???"
7:10 p.m. He writes back right away. That's the BEST when you're into someone. It's a boring text but he's clearly happy to engage. Some guys just don't know how to flirt via text.
11 p.m. I'm at my friend's place and Subway and I have texted about 20 times. We're talking about restaurants and sports teams and vacation plans. Generic stuff but he's so sweet. I love him! Can't remember his name for the life of me (it was all a blur) so I can't even Google Stalk him. He still hasn't asked me out formally. Hmmm. Maybe I'll ask him out tomorrow?
DAY FIVE
5 a.m. I'm up stupidly early to catch a train to make it to work on time. So over this job right now. With all my Subway Guy texting I think I realized how I feel about Emilia, who wants to cook me dinner tomorrow night. I decide to text her back at a decent hour this morning and blow it off. I'm just not looking forward to hanging out with her romantically. I don't think it's a gender thing — I think it's a chemistry thing.
2:20 p.m. I fake a doctor's appointment so I can go home and sleep..
3:30 p.m. But before that … I text Emilia that I'm just too crazy busy right now to date. And I text Subway Guy, "Are you going to ask me out or what?" And then I pull out my vibrator and imagine him fucking me the way I want to be fucked. I have the best orgasm, which leads to a major afternoon nap.
6 p.m. When I wake up, I see that Subway wrote back twice: "Yes" and "Will you go out with me?" I'm the happiest girl alive.
9 p.m. We make plans for Sunday night. In the meantime, nothing from Emilia. So that's that.
DAY SIX
10 a.m. It's the weekend … yesssss! The first thing I do when I wake up is take my book to a coffee shop to read and caffeinate. I love the weekends and I love doing nothing. I don't bring my phone with me to the coffee shop. These Saturday mornings are my form of meditation.
5 p.m. I head into the city to have tacos in Nolita with some girlfriends. They're all gearing up for a big party night but I want to get a lot of rest for my date with Subway tomorrow. I eat two tacos, some Mexican corn, and a large watermelon juice. I tell my friends about my lust for this man and they're eating it up. By now, I've learned his real name and a little more about him. He's younger than me! Twenty-four. And he works in finance … but that's okay. Not everyone who works in finance is bad, right?
10 p.m. I masturbate twice to the idea of fucking Subway.
DAY SEVEN
10:45 a.m. I'm doing hot yoga. I don't really love it, but the energy levels afterward are pretty amazing and I need great energy today.
1 p.m. While I'm making lunch, I get a rather pissy text from Emilia. She accuses me of using her to test out my own curiosities. She says she's not a toy, she's a person. I hear what she's saying and do feel bad, but there's so much anger in her text and I just don't want to be part of the conversation. I go as far as to block her. Again, good energy only today.
4 p.m. I get a blow-out. I'm that girl.
5:45 p.m. I put on my favorite black tank top and black jeans, with white heels. It's my go-to date outfit and I always feel sexy in it.
6 p.m. My stomach is a mess! I'm so excited and nervous. I can't leave the toilet … there's no nice way of putting it. Finally, I have nothing left in me.
7:30 p.m. I walk into the restaurant. It's an Italian place is Fort Greene. Dark, romantic. Subway is already there. He is not quite as insanely gorgeous as I remembered him but he's sure sexy. We sit for dinner. It's awkward but in a charming way. It's like we're in a movie. I feel like I'm glowing. We start talking and the conversation is both silly/awkward and really good and deep. The one and only bad thing is he tells me he's planning on working in London starting in July. My heart sinks a little but I try to stay in the moment.
9:50 p.m. Dinner is over and it's a Sunday night so we decide to not order a second bottle of wine and to "go home." I've worked myself up so much about this date that I'm actually quite drained by now and crashing a little bit. He offers to walk me home …
10:15 p.m. Standing on my stoop, he kisses me good night. It's the hottest, most perfect kiss. The kiss I have been dreaming about. I want him so bad. I invite him in and he says, "Yes, please." And then I take a beat. I turn back around and I say, "Actually, let's wait. You'll come up next time." He is gracious and sweet. We kiss a little more and hug really tight before saying good night, for real.
Want to submit a sex diary? Email sexdiaries@nymag.com and tell us a little about yourself.