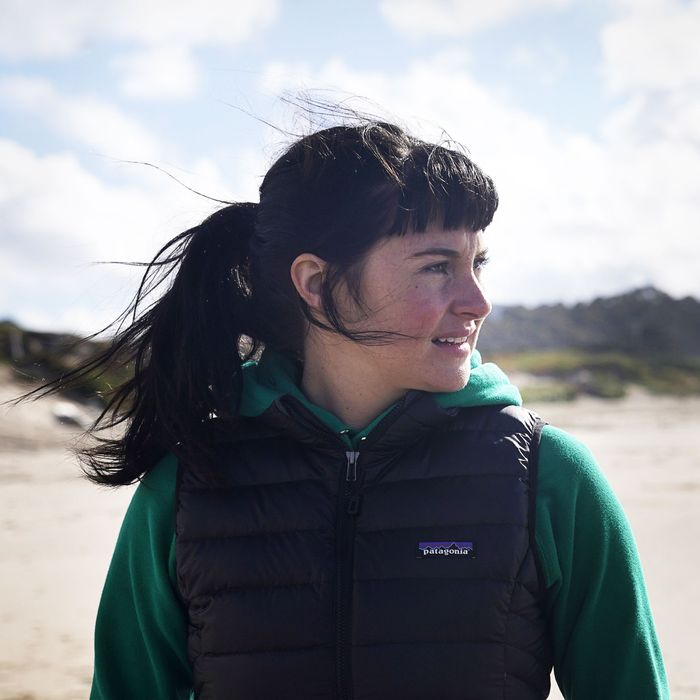 The second season of HBO's Big Little Lies premiered on Sunday, and there was so much screaming. Reese Witherspoon screamed, Meryl Streep and her fake teeth screamed, and everyone watching screamed about Shailene Woodley's new bangs.
"Shailene Woodley's Bangs were the Most Dramatic Part of Big Little Lies," screamed InStyle. "Jane's Bangs Are the Talk of Twitter After Big Little Lies' Season 2 Premiere," screamed Refinery29. "Oh my God, she got bangs?!" screamed me, at my desk, after I watched the trailer back in April.
Back in season one, Woodley's character, Jane Chapman, wore her dark-brown hair in a long bob that was usually pulled back in a sensible ponytail — the generic, drab hair of someone who wants to go unnoticed, to be ignored. Now, in season two, following the bloody death of [spoilers removed], Jane's hair is a little edgier. It's longer, darker, and she's sporting a blunt little fringe that is not, as I previously hypothesized, a clip-on, but that is made of Woodley's real human head hair.
"We wanted to show a little bit of a change," Woodley's Big Little Lies hair and makeup stylist Claudia Humburg told the Cut over the phone. "Her life has moved on; she is still trying to pull her life together."
Humburg, who has worked with Woodley since 2014, said the idea to update Jane's hair came from Woodley herself, who pointed out that when major life events happen, like a move, or a breakup, or, say, a staircase murder, people often want to change their look. Bangs, Humburg said, were simple, and they made a statement: "She's a strong woman, and she can pull it off."
But not everyone was a fan of the fringe.
Even Reese Witherspoon's character, Madeline Mackenzie, took a jab at the new look in Sunday's episode, saying on the phone at one point, "I'm beating myself up that I told Jane I like her bangs."
"Yeah but that's Madeline," Humburg laughs when I bring up the line. "That's totally her character, I think. And it's a funny way for the director to address the issue."
She adds that Jane doesn't share the lavish lifestyle of the other Monterey moms. Her bangs are not meant to look like she's coming "from a $500 Hollywood hairdresser." They are short, blunt, simple, probably inspired by pictures. Maybe she even cut them herself. "Jane would rather do that than having the sexy look," Humburg explains.
And although, for the sake of continuity in the show, the bangs had to be cut and trimmed constantly throughout filming, Humburg says the styling on them was minimal, and that Woodley would just air dry them. "Because, again, Jane Chapman is very simple in styling."
What if, I suggest, after watching the show, people want to get their own angsty Jane Chapman bangs? "Go for it!" Humburg exclaims. "It's hair. One of my things, why I absolutely love what I do with hair and makeup, is it's all to play with, to express yourself. If you see it and you think, Oh my gosh, this is really actually a cool change, go for it. It's hair, it will grow out. Don't overthink it. Be confident, and just have fun with it."
Scream it with me, folks: Get bangs!!!!!