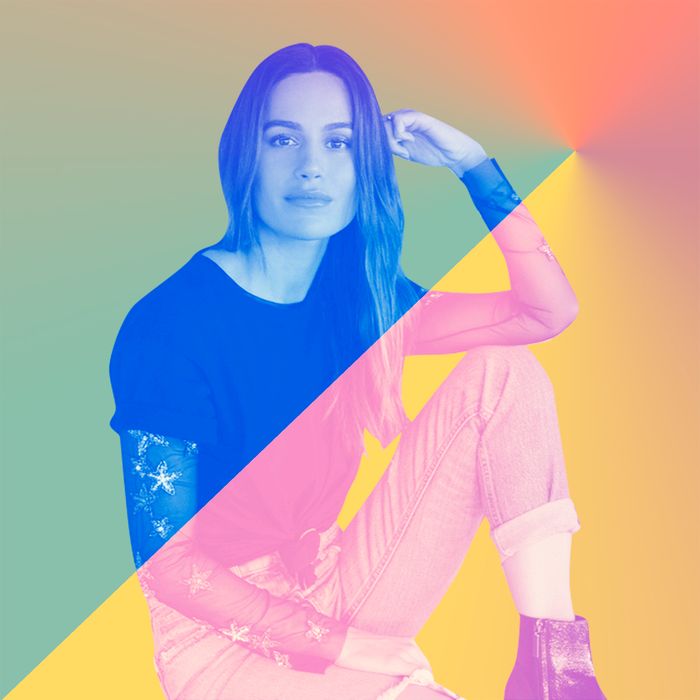 Sheena Yaitanes was born resourceful. As a kid, she decorated her bedroom walls with computer paper and lacquered everything on her desk with nail polish.
"The stapler, the pencil holder, the phone — it was like a set-decorating situation," recalls the Kosas founder. "My parents were amazed by what I accomplished with such limited materials."
Limiting materials is the magic behind the success of Kosas, a tightly edited line of cosmetics that touts clean, botanical ingredients. Kosas's Tinted Face Oil has become a cult hit, while Gwyneth Paltrow has praised the brand's pigmented red lipstick in Vogue.
Yaitanes has studied makeup since she was a child, thanks to her mom, who worked at various beauty counters in Orange County.
"I'd see 100 lipsticks from a brand, but 99 percent of them were unwearable or ugly," she remembers. "Why would someone do that? My dream was to make a line that was always flattering, on every skin tone, so it would always be easy to navigate."
But as the oldest child of Iranian immigrants, the unspoken understanding was that Yaitanes would not become a MUA, but an M.D. "My parents didn't outright tell me they expected me to be a doctor, but I felt I'd disappoint them if I didn't," she explains. "My closest friends, all first-generation Iranian, and I would have these late-night talks about what we would do if we didn't feel that pressure. And I felt like my purpose on this earth was to make things beautiful."
She graduated premed from UC Irvine and became a successful research scientist, but her queasiness about hospitals and procedures helped ultimately shelve the med-school plan. Eventually, she switched gears and went to business school. Finally, in 2015, Kosas debuted with four lipsticks. blush/highlighter duos and a lip balm followed, and the famous Tinted Face Oil launched last year. Next month, eight water-based liquid shadows join the family.
"Eyeshadow is so intimidating because you think it has to be so perfect, but it's really about bringing tone to the eyes," she says. "The watery nature of the formula means it'll go where it wants to, and we should embrace that."
Yaitanes spoke with the Cut about the wonders of vetiver, the deoderant she can't quit, and why she's rethinking the eye pencil.
What's your definition of beauty?
A sense of self, a sense of community, a sense of integrity.
What do you think when you hear the term "clean beauty"?
That someone went out of their way to change the way beauty products are made.
Where, if anywhere, in your beauty (or life) routine are you not quite that "clean," "green" or "sustainable"?
Donna Karen Cashmere Mist deodorant. It's now reserved for special occasions.
What discontinued product do you mourn?
Diorsnow Powder Cleanser.
What is your morning beauty routine?
It's very quick. I use a Dr. Roebuck's cream cleanser and the Flora and Bast CBD serum. Then I sweep on two to three drops of Kosas Tinted Face Oil, Kosas Contrachroma powder blush on my cheekbones, a brow gel by the Brow Gal, and Kosas Kosasport LipFuel in Pulse. It never fails me.
What's the last beauty product you use every night?
Vetiver essential oil on my wrists for the deepest sleep.
What aspect of your beauty routine tends to be neglected?
Anything that requires another person, so I don't cut or color my hair often enough, or get my brows done regularly, or get my nails done. And I don't do anything to help the situation in between. I just leave it.
What do you line your eyes with?
I line my eyes maybe once a year, and I use a YSL pencil. I always love how it looks and ask myself why I don't do it more often, so maybe I'll start.
Mascara of choice:
The latest Kosas prototype.
Facial cleanser of choice:
Tatcha Cleansing Oil and Dr Roebuck's Noosa Cream Cleanser.
Shampoo/conditioner of choice:
AG Natural Balance Apple Cider Vinegar Shampoo, and Briogeo Don't Despair, Repair Conditioning Mask.
Most relied on hairstyling product and/or tool:
My Hai flat iron, which I've had for 17 years. Not joking.
What was your first beauty product obsession?
I remember being obsessed with these small Christian Dior eyeshadow palettes. They came in a small navy-blue compact with four eye shadows in as single row. I had one that I'll never forget, because the colors were electric blue, kelly green, bright yellow, and flamingo pink.
Purse of choice:
A variety of Lady Dior's. I prefer the ones that are painted and decorated.
Work shoe of choice:
Nike Air Force 1.
Weekend shoe of choice:
None, if I can help it.
What is your classic uniform?
Black Eileen Fisher Easy Pant and a white crop top.
How do you like your bed?
Very fluffy with a down mattress cover, good sheets, a down comforter, and two pillows of varying firmness.
What do you splurge on?
Sheets, silverware, jewelry, and shoes.
What do you scrimp on?
Underwear.
Any hidden or secret talent or skill you possess?
I play the piano.
If you could have infinity anything, what would it be?
Helpers.
What makes your skin crawl?
Spiders. Help!
What tiny thing can make your day?
Seeing a friend.
What annoying thing can put you in a bad mood?
When someone tells me something is their "policy" but can't explain why.
What would the name of your autobiography be?
Where's My Phone?
Who would star as you in the film adaptation?
Jennifer Garner.
Favorite smell?
Hawaiian Sandalwood.
Least favorite smell?
Rancid oil.
What do you think Pantone's color of 2020 should be, and why?
185C (a strong, bright red), because I think we're feeling bold.
What beauty product still needs to be invented?
It's not so much a particular product, as it is systems. Systems that make it easy to find makeup that makes you feel good.
What do you foresee as the top beauty trends for the remainder of 2019?
Fun, colorful eye shadow. A single color, easily applied, without trying to make it look too perfect. And I see a huge emphasis on makeup that works for your skin while you wear it, which, frankly, should be a given.
What product in your domain is misunderstood and should be a best seller?
Our powder blushes! It's hard to "see" innovation in a powder blush, but the colors are incredible and the formula is so cushioning and soft. There's nothing like it.
What product is currently your favorite (understanding that this could change all the time)?
I just keep falling more and more in love with Tinted Face Oil, because my skin has changed so much over the last year that I've been using it. My oil production has come into balance, my skin feels nourished. It's so quick and the result is so good that I tend to wear it more often than not, and I love the way I look.
If you won the Power Ball tomorrow, what are the first five things you would do (after, of course, donating the majority of it to your top charities …) ?
Move somewhere where I could wake up to a view of the ocean, build a house because I'm secretly obsessed with architecture and interior design, build a bunch of houses nearby for my friends and family because I'd like to see them every day, invite some horses to join us, go to work exactly during the hours that my daughter goes to school, and spend the rest of the time nurturing her.
Rather philosophical, but … what do you want?
To be me.
If you buy something through our links, New York may earn an affiliate commission.