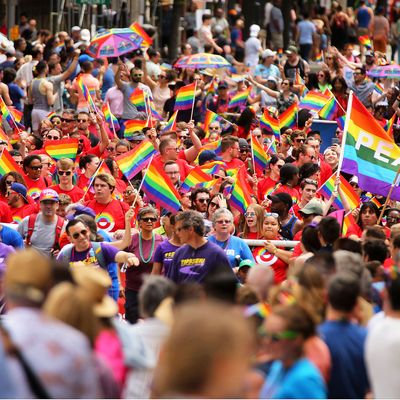 Boston Pride parade.
Photo: John Tlumacki/Globe Staff/Boston Globe via Getty Images
On June 4, New York Times assistant managing editor Carolyn Ryan tweeted a screenshot of a Facebook post that quickly went viral: an announcement of an upcoming "Straight Pride" parade in Boston.
As expected, the news was instantly met with widespread outrage on social media. "A more accurate name for the Straight Pride Parade would be Incelebration," one person tweeted. Another wrote, "Each float in the straight pride parade is 10 guys explaining a different Coen brothers movie to you." By the afternoon, Smash Mouth had even chimed in: "Straight Pride Parade????? FUCK OFF!!!!!!!!"
The day that the ridicule mounted, though, the "Straight Pride" rally wasn't actually an official event; while organizer Ryan Sahady's Facebook post containing the march's proposed route made it seem legitimate, the organizers had not yet received necessary licenses and permits. But on June 26, the organizers got one step closer to celebrating heterosexuality: The city of Boston approved their application.
Per Boston.com, Super Happy Fun America — the three-member organization behind the rally — has permission to host a parade on August 31, from 12 to 3 p.m. (However, the three men are reportedly still in need of a parade permit from the police department and an entertainment license from the licensing board.) Though this development may come as a shock to some, it was almost certainly inevitable: As Mayor Marty Walsh tweeted on June 6, "The City of Boston cannot deny a permit based on an organization's values."
As of now, it's still unclear what exactly the parade will entail, and how many people will actually attend in a sincere manner. Per Sahady's Facebook post, though, the organizers hope to close off the streets so they can have "vehicles" and "floats," and their website says there will be a "flag raising ceremony."
"Super Happy Fun America invites you to celebrate the diverse history, culture, and contributions of the straight community!" the event description reads. "The Straight Pride Event will be held to achieve inclusivity and spread awareness of issues impacting straights in Greater Boston and beyond."
This post has been updated.