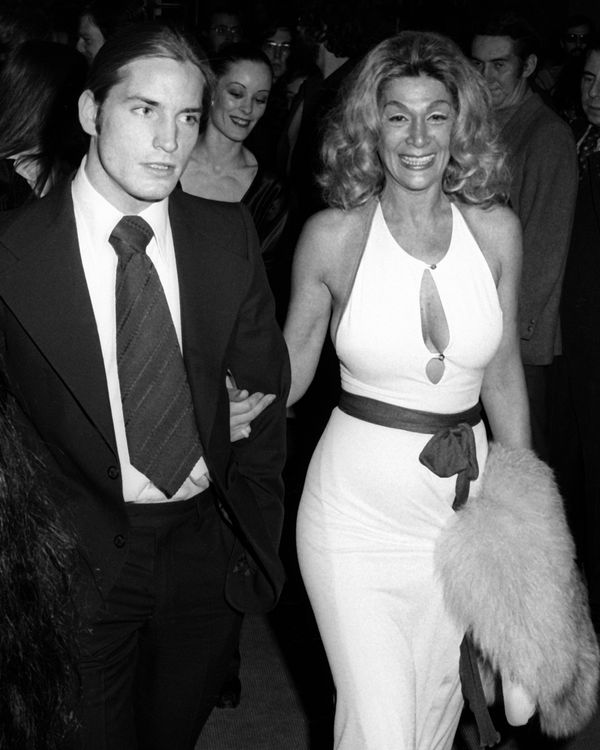 Miles and Joe Dallesandro at the premiere of "Heat," 1972.
Photo: Ron Galella/Ron Galella Collection via Getty
"Sylvia Miles Doesn't Attend Every Party," ran the New York Times headline in 1976, "She Just Seems To." By then, she was in the running for her second Academy Award, for a small part in a screen adaptation of Raymond Chandler's Farewell, My Lovely, but Sylvia Miles, with a wild rasp and an indefatigable instinct for ubiquity, was already as well known as a tireless partygoer as she was as an actress. The Times reviewed her datebook: in a week, she had been to an Ike and Tina Turner opening, a "rock mass at the Central Synagogue," a book party at Rizzoli and two film screenings, one with dinner to follow. She was, the paper reported, "Manhattan's No. 1 partygoer," though Miles hastened to clarify that "I only go if I know the people who are giving it. If I went to every party I got invited to, I'd be dead."
Miles, who died on Wednesday at the age of 94, slowed her social adventuring in recent years, and her name was no longer as current as it had been as a shorthand for social stamina. (From a New York article on the durable nightlifing of the intellectual beau monde, 1981: "How are they able to flit around like Sylvia Miles and still get up to think?") Legend has it that the dig that one would "attend the opening of an envelope" — attributed to the comedian Wayland Flowers, or possibly to his puppet, Madame — was coined for her and Andy Warhol. Warhol, in his diary, recorded his own version of the joke: That he'd run into her and said they had to go to a gallery show called "Opening of a Loo," so they could "both finally say we've been to the opening of a toilet."
But even as her orbit contracted, Miles remained a noticeable presence wherever she appeared, a huge grin beneath a radiant pyramid of whitish-blonde waves. Her career had taken her from the back room of Max's Kansas City to Warhol's Factory to the screen, the stage, and past the velvet ropes many, many times, even as many of her compatriots tired or faded. (Bob Colacello, the writer and former Interview editor, remembered her at the opening of the nightclub Xenon as the only one willing to brave the mob at the door, shouting "Sylvia Miles coming through!")
She bristled at suggestions she was a gate-crasher — she once dumped a plate of food over the head of critic John Simon for saying as much in print, and corrected for the record its contents when asked — and assumed all the grandeur of acclaim even when its substance eluded her. Asked why she was attending the Everything Is Everything Ball in 1971, she told the New Yorker, "I came because, as a celebrity, I was invited."
Apart from her social omnipresence, Miles was an actress, and often a good one. She had been raised in Greenwich Village, studied at the Actors Studio, and been a presence on the Off Broadway theater scene for years when she got her biggest break, well into her 40s and on her third marriage. (That one, like the others, would end in divorce.) It was a brief but searing role as an uptown prostitute in Midnight Cowboy, which earned her a first Oscar nomination and on which her reputation for the next few years came to rest.
"She was always so proud of being nominated for Midnight Cowboy for being six minutes on the screen," said her friend, the actress Geraldine Smith, a fellow Factory alum, said in an interview. "She said she was the only one that did it in six minutes." (The six-minute one was in Farewell, My Lovely, with a little — but not much — longer in Midnight Cowboy, but the point stands.)
After it, she spent years searching for the perfect role to shore up her stardom, and went out in search of them. "Sylvia was not shy about her ambition," Colacello said in an interview. "But she was so funny and so fun. By going out so much and so indiscriminately, she worked against herself. But in a sense, Andy saw going out as work, too."
She was always ready to plead her own case, and came prepared, as Colacello wrote in Holy Terror, his memoir of the Warhol years. "I loved Joe Dallesandro in Trash," she told Warhol at a dinner at the Algonquin, where Colacello met her for the first time. "I was thinking, we should really work together. In fact, I've got a script right here in my bag that would be perfect for the two of us." She was known to carry around her press clippings Saran wrapped in her purse, and anything else that might help advance her cause. "You never know who you might meet who might give you a part," Colacello remembered her saying.
She did eventually get cast opposite Dallesandro in a Warhol production, Heat, which premiered in 1972. She was an aging actress, he her young lover: Sunset Boulevard reimagined by Paul Morrissey in a seedy Santa Monica Boulevard motel. Roger Ebert called her "splendid." "Morrissey has assembled an outrageous cast, given them an impossible situation and then all but dared them to act their way out of it," he wrote. "Incredibly, Sylvia Miles does."
Heat was a big-budget production for a Warhol film, and was screened at the Cannes Film Festival. There on the French Riviera, Dallesandro wound up locked out of his room and had to stay with Miles, leading Warhol to assume they were having a real-life affair. "He made it into a big thing," Dallesandro in an interview, chuckling.
"She was a real actress," he said. "The people I worked with before then were just like me — non-actresses and actors. My job on the film was mostly to react. She made it real easy."
Other critics were mixed on Miles. For every admiring notice and nomination, there seemed to be an equal and opposite dismissal. Vincent Canby called her "something special, a persona," and her greatest persona may have been her own, even if it was not always warmly received.
She created a one-woman show about her life, It's Me, Sylvia!, with music by the Hair composer Galt MacDermot and a set by Eugene Lee that re-created her cluttered Central Park South apartment. (The real apartment was burgled at the time of the show, a crime noted by New York, which gave a friend of Miles's the opportunity to relay one of her quips: that "you can fall in love in five minutes and they'll walk out on you the next day, but theatrical memorabilia will never desert you.") But the show was a fiasco, closing after fewer than ten performances. Its review in the Times was a near masterpiece of mercilessness — "Miss Miles can carry a tune — from stage right to stage left. She does not bother to dance (a brief reprieve for our side)" — though it's enough to make you wonder whether a lesser-known light would have been extinguished with such fury.
Still, she persisted, on stage and on screen, picking up character roles in Wall Street (and its sequel) and Crossing Delancey. She had a brief, memorable cameo in Sex and the City, as a cautionary tale, gleefully sprinkling lithium on her ice cream.
"She never stopped. She just schlepped and schlepped and schlepped," Geraldine Smith said, though she slowed as her health declined in recent years. Smith saw Miles days before her death for a farewell lunch: She had recently left a nursing rehabilitation facility and returned to the same rent-controlled apartment on Central Park South she had inhabited for decades, the one that had once been re-created for the stage. She wanted to die at home. "All she wanted to do was celebrate," Smith said. "She said, 'Order anything you want. Order a drink.' We said we don't want to drink, we want a lemonade. She said, 'Order two lemonades!'"
It seems criminal not to give Miles her own last word, especially given how often she could be counted on to provide one. So here she is, from the Times, 1976: "It would be immodest to say I'm terrific fun, but I am — I have a good time."
This article has been updated to show that Miles lived on Central Park South, not West.