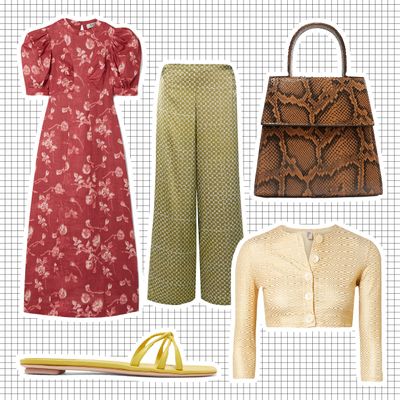 Photo: Courtesy of NET-A-PORTER
Depending on your affinity for summer's ubiquitous tropical floral prints and scanty sundresses, reconciling them with your typical look can feel like an odd discrepancy. For a lesson in adapting to warmer weather while retaining style integrity, we tapped Tasnim Ahmed, a writer covering issues of identity, diaspora, and feminism — who happens to always look consistently like herself in an enviable way. "During this time of year I feel lighter," says Ahmed, who dresses accordingly in flowy, easy pieces and limits accessories to "a beautiful necklace or an interesting bag." Prints, bright colors, and fun details and silhouettes come into play, too, all with her baseline aesthetic as a reference point.
When traveling, Ahmed says, "I pack more shoes than clothes — it's the easiest way to transition an outfit." For short beach trips, she relies on lightweight, silky pants and airy dresses that can be dressed up or down. Otherwise, she says, "I'm always on the lookout for day dresses inspired by the '30s, unfussy and timeless sandals, and other pieces that could remotely place me in a foreign movie on the French Riviera." See Ahmed's NET-A-PORTER picks below, which are perfect for approaching summer style selectively. See: strappy sandals, shell jewelry, but nothing too sweet.
Who knew cardigans could be so sexy and luxe? I envision wearing this over a bright white shift dress, while languidly dipping my feet in a pool.
A black cotton midi skirt is my must-have this summer — it's so versatile. The belt really elevates this piece, and it's perfect for work and play.
The design of these sandals is so timeless, and the wavy straps are such a great subtle detail. These would be my go-to for beach vacations.
My winter wardrobe is mostly navy and neutrals, so I like to wear brighter colors when the weather is warmer. This dress is so effortless, and the vibrant red makes such a statement on its own that it needs very little else – ideal for dancing into dawn.
A shell necklace is just about as summer as it gets! The large link chain makes it really modern and keeps it from looking too precious.
These sandals remind me of a timeless, understated kind of ease. I would pair them with ankle-grazing blue jeans and a slim tank on warm evenings.
I love the clean lines of this swimsuit. It's perfect for wearing on its own at the beach, but I'd also wear it with a midi skirt and smart sandals when it's sweltering outside.
As it gets warmer, I find myself drawn to silky pants that are at once playful and elegant. These pants fit the bill.
These bright yellow sandals would liven up even the simplest of my outfits and add a little pep in my step.
This purse is just right for toting around the essentials, and the snakeskin print lends it a vintage glamour.
There's nothing I love quite as much as a good puff sleeve. The breezy fabric and 1930s silhouette of this dress makes it a summertime favorite for me.
There's something so sensual about lace-up sandals. These ones are delightfully bondage-meets-barely-there.
All images courtesy of NET-A-PORTER.
This is paid content produced for an advertiser by New York Stories. The editorial staff of The Cut did not play a role in its creation.