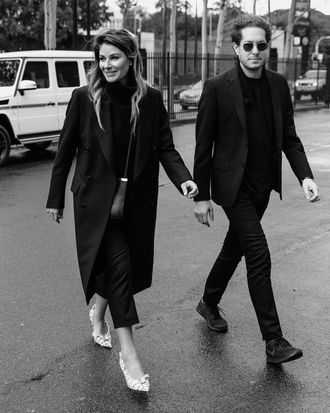 Camilla Freeman-Topper and Marc Freeman.
Photo: Courtesy of CAMILLA AND MARC
Aussie brother and sister Camilla Freeman-Topper and Marc Freeman have run a fashion brand together since 2003 — a fact that should impress anyone with a sibling. Their collections at their line, CAMILLA AND MARC, are filled with vaguely futuristic power suits and oversize silhouettes. You won't find dainty prints or frills in their collections, but you'll often be surprised by gentle touches like butter yellow and pink. We spoke with them about the best restaurants in Sydney, hand-written notes, and tracksuits.
How do you thank someone for a gift?
CFT: A handwritten card goes a long way, it's a lovely and personal experience to send and receive. I keep many of the cards I receive, they are beautiful mementos and worth treasuring.
MPF: A handwritten note too; it's personal, nuanced, and the most beautiful way of thanking someone.
What would you never wear?
CFT: Never say never, but I rarely go for anything ultra-tight or feminine.
MF: My wardrobe is predominantly black. I steer clear of color.
What's your dream vacation?
CFT: Anywhere the entire family can come together. I'm currently living and traveling throughout the U.S., which has been the most beautiful adventure for my children.
MF: A ski trip with the family. We usually go to Aspen each Australian summer (December / January) and spend time together on the slopes. It's a nice contrast to Sydney.
What's a good book on your coffee table right now?
CFT: Polka Dots from Carol Dove is my last purchase. It is an art book that shows the sculptural process of the artist.
MF: Bauhaus Journal: 1926-1931, Facsimile Edition. I am passionate about architecture and modern art. This book showcases the exact replica of the Journal of that period of time. It comes with a booklet that translates the Journal.
Last show you binge-watched?
CFT: Killing Eve. It's about a sociopathic assassin with a taste for high fashion and theatrics — it's insane but my husband and I were totally hooked.
MF: Patrick Melrose with Benedict Cumberbatch and Afterlife with Ricky Gervais.
What's the secret to hosting a good party?
CFT: Planning so you can relax and enjoy being a hostess. If it's a dinner party, I love to curate a very well thought out seating plan. It makes such a huge difference to the energy of the evening.
MF: Great people, great food, great music, and a lot of wine.
What is a trend that you like right now?
CFT: I'm embracing tracksuits. There's nothing better and more relaxed then styling my C&M tracksuits back with more tailored, architectural pieces in my wardrobe (in my case a blazer). It's a one-stop outfit and works for most occasions.
MF: I'm not a huge fan of trends. I like quality and excellent tailoring.
One you don't understand?
CFT: I could mention a few but then it sounds like judgement and I'm not into that.
MF: Disposable fashion.
Favorite museum/gallery?
CFT: Guggenheim in Manhattan and The Broad downtown in L.A.
MF: Sammlung Boros and Martin-Gropius-Bau in Berlin.
Shoes you wear most often?
CFT: I recently revived my Balenciaga Buckle Boots. They make a strong statement and work back well with the printed skirts in our current collection.
MF: My Off-White x Nike sneakers.
What's your favorite…
Candle?
CFT: Diptyque Baies Noire candle, the scent is complex and rich and is constantly burning in my home.
MF: The CAMILLA AND MARC wood and burnt fig candle I designed.
Scent?
CFT: I go between Byredo 1996 and D.S. & Durga Coriander at work. At home or when I travel with my family, I am obsessed with essential oils. Especially in our hotel rooms. The diffuser is always burning with Doterra Zendochrine and Lavender. When we're travelling I gently rub into my children's feet to help calm them on flights which helps with sleep.
MF: Byredo Super Cedar.
Restaurant?
CFT: Icebergs in Bondi, it's quintessentially Sydney during Summer. Cho Cho San or Fratelli Paradiso never disappoint.
MF: Fratelli Paradiso and 10 William. Both are owned and run by close friends who are constantly reinventing their menu and pushing the boundaries. ACME in Potts Point is also great.
T-shirt?
CFT: The CAMILLA AND MARC George Tee in black.
MF: An AMI black T-shirt.
Can you take a photo of your favorite space in your studio/office/home? And a brief explanation of why it's your favorite?
CFT: I love the creative hub in my office — it's a very tactile space where I can create, play with fabric and work with the design team to conceptualize ideas.
Shop the Story
Available in sizes AU 6–AU 14.
If you buy something through our links New York may earn an affiliate commission.