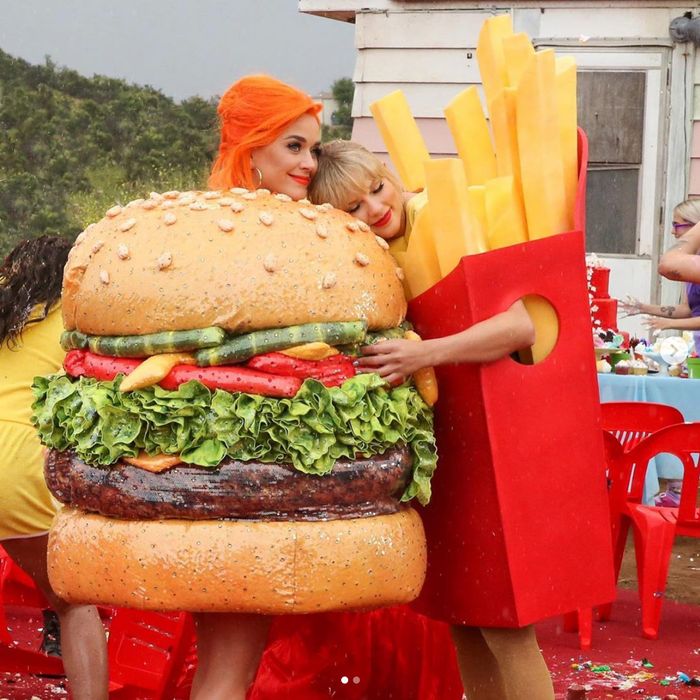 Katy Perry and Taylor Swift.
Photo: katyperry/Instagram
More than a year after Katy Perry extended a literal olive branch to Taylor Swift, which many interpreted to be the long-awaited end to their drawn-out feud, the two former "enemies" have taken the next step in their similarly drawn-out reconciliation: embracing one another in burger-and-fries costumes.
On Monday, Swift dropped the rainbow-sherbet–hued music video for her vaguely pro-LGBTQ single "You Need to Calm Down," in which Perry makes a notable cameo. And it's … something. Toward the end of the video, Swift, wearing a fries costumes, runs into Perry, wearing her hamburger outfit from the Met Gala, and they decide to dance together and hug it out. Right around the release of the video, the two also posted matching Instagrams of them embracing. "This meal is BEEF-free," reads the caption on Perry's post. Swift, on her Instagram, captioned the photo, "A happy meal."
While Perry and Swift started making up a year ago, they've really ramped up their reconciliation — or at least the publicity of it — in the past few days. Just last week, Perry Instagrammed a plate of chocolate-chip cookies, bearing the words "Peace at Last," with Swift tagged in the caption. (Although, one could argue that their reconciliation started two years ago, when Perry told Arianna Huffington that she was "100 percent" ready to let go of the beef.)
Following the release of the video, Swift told E! that she and Perry have "really been on good terms for a while." And yet, they were both apparently worried about making their friendship public.
"We didn't know if we were ever gonna really tell people about it," Swift said of their friendship. "We wanted to make sure that was solid between us before we ever made the public aware."
When Swift asked Perry to be in the music video, she was worried that Perry might decline, she told BBC 1's Greg James.
"I sent [the request] to her and she was like, 'I would love for us to be a symbol of redemption and forgiveness,'" Swift said. "And I feel the same way about it." (In the same interview, Swift also touched on her decision to use the burgers and fries costume, which she thought was the ideal "metaphor for two people who belong together.")
Now that literal olive branches and trays of cookies have been exchanged, and Swift and Taylor have orchestrated an extremely public reconciliation, are they finally good? At this rate, they'll be making up as long as they were feuding.
This post has been updated.