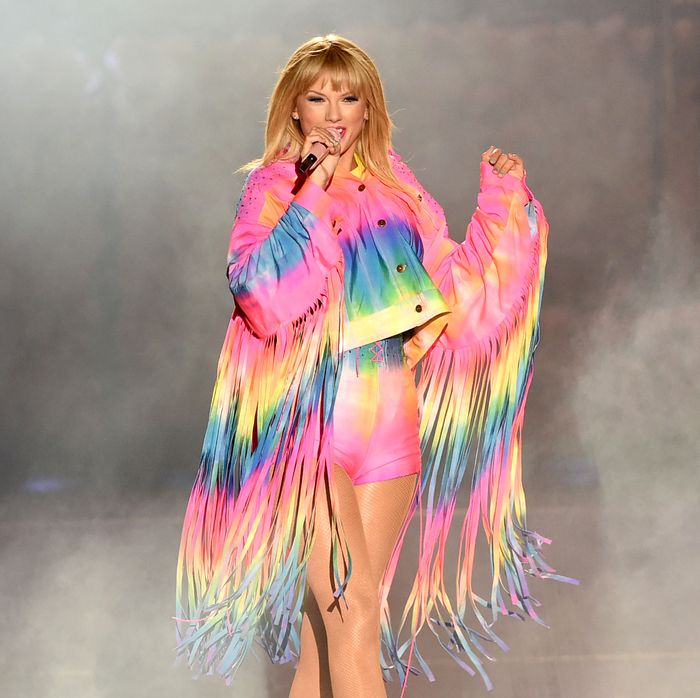 Swift in Stella McCartney sneakers.
Photo: Kevin Winter/Getty Images for iHeartMedia
The old Taylor (snakes, red lips, bad rapping) is dead, and the new Taylor (butterflies, rainbows, resemblance to the old old Taylor) is releasing an album. And because the Taylor Swift PR Machine never sleeps, the new album will not only have music, but also a clothing line. The singer is collaborating with luxury fashion designer Stella McCartney on a line for Swifties.
"[McCartney has] been a friend for a really long time, and also just a woman I respect so much," Swift said on Instagram live last night, where she also announced that her album will be called Lover. "I respect what she creates, how she creates it. There's so much whimsy and imagination and romance to the clothing that she designs, and I've worn a lot of her stuff recently."
It's an odd pairing. The new Taylor Swift aesthetic is … a lot. Swift has pretty much exclusively been seen in pastels, rainbows, and ombré since the PR push around her seventh album began. McCartney's style — tailored, relaxed cool — isn't as playful, but she does have a pair of rainbow sneakers that Swift wore onstage recently.
Given that Swift rarely says anything that isn't premeditated, the line "I respect what she creates, how she creates it," is interesting. Of course, she could be referring to McCartney's skills as a designer. But McCartney is one of the champions of eco-friendly production in the luxury fashion space. She was one of the first designers to go fur/leather free back in 2001, a solid 17 years before it became trendy. So maybe, just maybe Taylor Swift will make sustainable merch? A girl can dream.