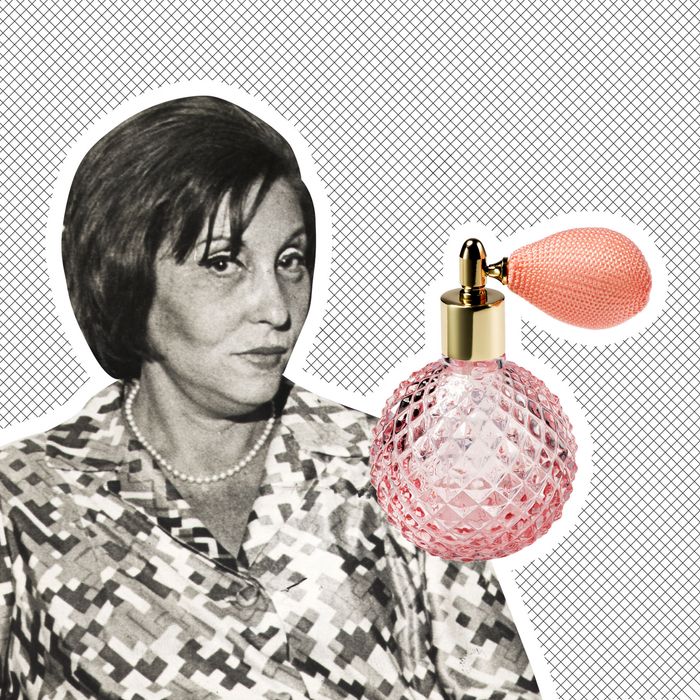 Photo: Public domain/Arquivo Nacional Collection/Wikimedia Commons, Getty Images
Perfume genius Mandy Aftel told me it wasn't going to work out. "I've been on the hunt," she said, with a tone of warning in her voice. Anyone who's read Aftel's intoxicating book on natural perfumes, Essence and Alchemy, would crave her wisdom, even if it was dire dismissal. I needed a mystery perfume that an elegant writer of fiction once wore and lost, and so I tracked Aftel down. I had to ask: If a perfume isn't made anymore, is it gone forever?
It was my Clarice Lispector season — a winter-spring cusp period reading the renowned Brazilian author and brutal mind responsible for existential slaps like Agua Viva. Lispector stories are addictive and change your whole atmosphere. It's like hearing a buzzing and being like, hummingbird or helicopter? and the book in your hand is like: Both and neither. So you can understand why I got hot and bothered over Lispector's signature acrobatics in a story called "Report on the Thing," where she writes:
"And now I am going to end this report on the mystery. It so happens that I am very tired. I'll take a shower before going out and put on a perfume that is my secret. I'll say just one thing about it: It is rustic and a bit harsh, with hidden sweetness. It is."
CLAH RICE! Tell me what your perfume was! I required the smell of rustic harsh hidden sweetness and so I used all the resources available to me to do it. I forced an adventure into my life. (This is fun to do when you need a distraction from this bad world.)
Shockingly, the mystery perfume was named on the first page of a Google search. In 1972, Lispector had a travel column for a Brazilian paper, where she gave away her secret very easily. She wrote that she was going to Paris to "buy perfumes. And above all I complain with Maison Carven that they do not manufacture my perfume any more, which suits me the most, Vert et Blanc. I'm going to the theater too. And the Rive Gauche."
I can't tell you how I knew this, but it was obvious to me that Lispector wouldn't tell anyone what perfume she wore unless it was out of production. My research revealed that the fragrance was supposed to have base notes of styrax, labdanum, and benzoin. The ingredients sounded like old pharmaceuticals that are now illegal. I desired them all.
This is where my question for Aftel comes in: Is an old bottle of Vert et Blanc going to have the same scent? Can I re-create a perfume if I know all the notes?
The answer wasn't great. "I am such a Debbie Downer about this stuff," she said from her museum-shop in Berkeley, "I just am." She told me the perfume, if I could find it, was going to be compromised. I told her that I'm a dilettante, so I might not mind that. She audibly sighed and said she wishes there weren't so many dilettantes around. I redoubled my commitment to my quest. Dilettantes are undeterred!
I found too-inexpensive-to-trust services that promise to remake discontinued perfumes and I also fell into habitual eBay refreshing. At auction I saw upsetting variation in price: $235 for eight ounces, $175 for four, $325 for two. There was a completely used bottle that was selling for $5 and the seller described it in a very Clarice way: "Empty with residue. I work hard to resolve any problems."
The constant refresh rewarded me one day. Someone was charging a reasonable $22 for two fluid ounces, in an original cheery box, with Kelly green and white and new-in-the-1950s perfume technology: "The Mis-s-s-st-i-fier." The Mis-s-s-st-i-fier releases a fine spray, which requires a paper instruction.
I ordered it and Aftel recommended I see Saskia Wilson-Brown at the Center for Art and Olfaction in Los Angeles when it arrived. Wilson-Brown is artsy, and when I arrived she had on a green mesh shirt and elegant posture. She was also kind and sympathetic about my obsession, because she's actually doing research for a documentary about recreating a perfume called Iris Gris. Most people, she told me, who get fixated on finding perfumes look for the ones that their mothers used. Was my hunt for one worn by a literary idol that much different? She marveled over Carven's charming pride in their Mis-s-s-st-i-fier and we gave it a spray. It sprayed just like anything else.
"Oh, this has been damaged," Wilson-Brown said, with zero pause. It smelled sharp, crackling electric like a lamp that shouldn't have been plugged in.
Wilson-Brown added that even if it was stored perfectly, the aldehydes ("that Champagne popping aspect") are so fragile, they'd probably be damaged by now anyway. We waited out the base notes, and she cautioned me that with old scents, the top notes are often the first to go bad so you need to be patient after that first hit. "Real perfume nerds have a special closet in their house, the coolest darkest spot." I asked if she had one, and she said no, she's not a nerd.
She then surprised me by explaining that those too-cheap-seeming services I'd found are often very accurate in reformulating scents. They probably have GCMS (gas chromatic mass spectrometer) machines, which are precise. But the route I'd taken was more fun and risky and frivolous. The obsession with the granular specific, power through loss of power, implacable fate — those were my Clarice Lispector season lessons.
The base notes, we learned after 40 minutes of waiting, were decent. They're amber and musky, intriguing, and old-fashioned. "It smells like from such an era," Wilson-Brown said, explaining that in the 1950s, when the washing machine became more available, musks began to surge because they perform well in the high heat in the dryer. Vert et Blanc, we sniffed, smells between trends. "It's youthful, maybe from the '50s," she guessed (she was right, 1958). "It's a little less corseted. The light sporty, future-facing woman, still with the lens of what women were."
I told her I probably wouldn't wear it. "I think I want to smell good?" I said, outside the store. A well-earned revelation. I got home and looked back at "Report on the Thing" and saw that Lispector published it in 1974, two years after she went to yell at Carven, when she may have moved onto a different scent. I'll never know what it is. My wrists didn't smell better, but the way it burned off was almost warm and musky. Almost.