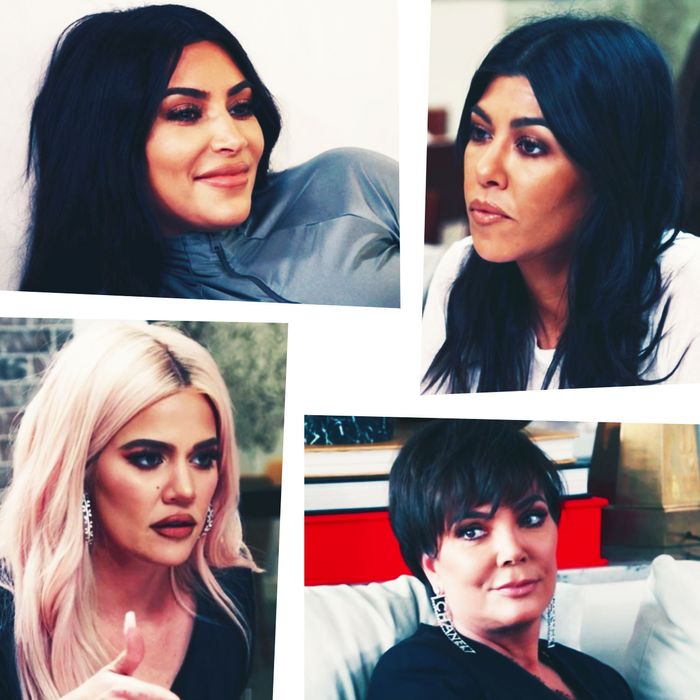 It's Christmas is Calabasas this week, and apparently Kris Jenner is trying to save money, because all she got us was this episode. One day I'll recover from my ungratefulness, but until then, let's chat about the episode.
This week our A-plot was Kim Kardashian West taking over the Christmas party; our B-plot was Kim Kardashian West replacing North's hamster; and our C-plot was Kourtney Kardashian's relationship with Scott Disick which might as well be a show on TLC. #LEGGO
Scene 3:
Scott Disick is kicking back, enjoying the company of his ex-girlfriend Kourtney and her sisters, Kim and Khloé Kardashian. When Khloé and Kim arrive, Scott offers each one compliments and mints. He tells his pseudo sister-in-law Khloé that God "broke the mold" when he made her, and he offers Kim a Mentos after the KKW Beauty CEO admits to eating milk duds on her diet. She accepts the mint. The group is gathered to discuss Scott and Kourtney's upcoming family trip for Mason's birthday. Simple enough, but the twist is that Scott's longtime girlfriend, 20-year-old Sofia Richie, will also be joining. Kimberly and Khloé think this seems odd, but Kourtney explains that ever since their Bali trip, she and Scott are getting better at spending quality time as a platonic family. Kourtney also doesn't want to miss out on memories with her family, so off she goes with Scott and Lionel Richie's child. Finally, the family discusses the most burning issue: a TikTok ad that Kourtney had to post regarding sea life and good sushi. This scene was filmed on December 19, 2018.
Scene 5:
Kimberly West has invited Kristen Kardashian over for a serious chat. But, before Kim can even think about this serious topic, she complains to Kris about the annoying noise her in-home frozen-yogurt machine makes. It wakes the baby, Kim says, so she's decided to build a unit around it in order to conceal the noise. Kris thinks this is a great idea, and the women move on to the serious matter at hand. As we all know, every December 24, Kris Jenner throws a spectacular Christmas Eve party at her home for family, friends, and Randy Jackson. This year, however, Kim and Kris's other children have decided that Kris will no longer be the host of the family's traditional fete. Kim tells her mother that the party has become less about the family and fun for the kids, and more about Kris's advanced-age friends that the rest of the family doesn't even know. Kris weeps, admitting to Kim that this makes her feel old. Kim assures her mother that she's not old, she's just passing the torch and plus, "it's just a party," Kim says through her own tears. As the women both softly cry, it's decided that the West family will host the party. Kanye has a ton of ideas! This scene was filmed on or around January 11, 2019, weeks after Kim and Kanye hosted the party.
Scene 6:
Kim gives Scott Disick and her cousin CiCi Bussey a tour of her office, which is apparently a random bedroom. In the "office" Kim tells her guests about the process of planning the Christmas Eve party. She says that she got a text from Caitlyn Jenner, and as soon as she says this, CiCi asks if it was about getting an invite to the party, suggesting the thirsty Olympian wouldn't be able to stand missing a highly publicized event. CiCi, of course, was right. Kim says that Caitlyn asked to be invited, so Kim sent a group text out asking the family what they thought. Ideally, Caitlyn wouldn't be involved at all, but she is Kylie and Kendall's parent after all. Shockingly, Kris says that it's fine if Caitlyn attends, which nearly blows Scott out of his seat with confusion. Despite still being unsure about Caitlyn's presence, the group agrees that this is a big step for Kris who just wants good energy and good vibes. This scene was filmed on December 12, 2018.
Scene 7:
While Kourtney vacations with the father of her children and his girlfriend, Khloé, Kim, and Kris ruminate on their trip. Triggered by a Sister Wives-esque Instagram Scott posted with both Kourtney and Sofia sitting by Scott in bikinis, Kourtney's family discusses why she's letting this happen. They are confused, and as it turns out, so is the general public. Kim reads one of the Instagram comments that calls Sofia a young fool, Kourtney an old fool, and suggests the entire family seek therapy. Khloé agrees with the commenter, and truly believes this vacation is wrong. Kris thinks that Kourtney is still in love with Scott and truly feels as though they'll spend the rest of their lives together. The Kardashian women fear these modern family trips will ultimately be a bad idea and that Kourtney will get hurt. This scene was filmed on or around January 14, 2018. Kim has burgundy nails during this scene, which she was sporting in mid January of this year.
Scene 9/Scene 10:
If you'll recall, in a recent episode of Keeping Up, Khloé bought North West a hamster. Well, that hamster died and now Kim and Khloé have to try and find an identical one so North doesn't have to confront the realities of death just yet. In search of a rare "fancy bear," the sisters head to PetCo and PetsMart, where they finally find a replacement. The hamster, named Blacktail by North, is all-black with a white strip in the middle of it's back. Once the sisters procured the hamster, they both realized that their search for this particular breed of rodent would have been slightly easier had they spelled hamster correctly during their Google searches. Unfortunately, both Khloé and Kim were spelling hamster "hampster," with a "P." At home, Kim manages to get the new hamster into its cage by just slightly shaking it out the box and completely avoids touching it. Kim then FaceTimes North to tell her that Blacktail was finally home from his trip to the doctor. North is excited and immediately requests for her pet to be placed in her room. Khloé is given the honor of putting the hamster next to North's bed, but remarks that Kim's animals may be dying because she keeps her house far too hot. These scenes were filmed on December 12, 2018.
Scene 12:
Over lunch, Kourtney, Kim, and Khloé discuss Caitlyn's invite to their annual Christmas Eve party. Unlike Kim, her sisters don't understand why Caitlyn needs to be there. They don't care that Caitlyn is Kylie and Kendall's parent, they just care about Kris's comfort. Especially since this year will already be hard on Kris due to the fact that she's no longer hosting the party. Kim reminds them that she did text the family asking for permission, but Kourtney and Khloé claim to have not gotten the text. Frustrated by her sisters' anger, Kim asks what she should do. Khloé simply tells Kim that she needs to uninvite Caitlyn. Kim reluctantly agrees, but first she dials up Kris. Kim tells Kris the plan of uninviting Caitlyn, but to the girls' surprise, Kris tells Kim to keep Caitlyn on the list. Kris already told the Jenner gals that she was coming, and Kendall was so excited she got Caitlyn a gift. Sadly, Kris ends the call by telling her daughters that vodka is her friend. This scene was filmed on December 19, 2018.
Scene 15/Scene 16:
The time has finally come for Kim Kardashian West and Kanye West's Christmas Eve party. Though the party was in peril just days before (Kanye wanted to spend far too much money and add perks like an ice-skating rink) everyone seems to be happy at the event. Even Kris. Their home has been redecorated to look like a joyless insane asylum version of Whoville. Inside the colorless tent, the family dances, takes photos, and outside they sled down a hill covered with fake snow. Notable guests include Jennifer Lopez, Paris Hilton, Kathy Griffin, and Sofia Richie! It's said that Caitlyn is there too, though she shies away from the camera.
Then comes the best moment in this week's episode. While chatting with their kids, Scott and Kourtney are joined by Paris Hilton and Sofia Richie. Paris knows Sofia through Nicole Richie, Sofia's older sister and former Hilton BFF (now just F(riends)). Now Sofia and Paris are BFF, despite their almost 20-year age gap. Then there's the fact that Kourtney and Kim were once BFF with Nicole (in the mid 1990s). Sofia Richie was born in 1998. This TV moment really felt like Christmas in June. These scenes were filmed on December 24, 2018.
Scene 17:
On Christmas morning, some of the family gathers at Kourtney's house for a meal and one family photo. Kim tells the story of Blacktail's revival, and admits that while she loved hosting the Christmas Eve party, she cannot wait for someone to snatch the gig away from her in 2019. If I'm allowed just one gift this TV holiday season, I pray Kylie becomes the new Christmas Eve party planner. She's a beauty billionaire who knows how to throw a party that shocks, makes headlines, and skew toward the inappropriate. Perhaps this year our controversy-courting host will honor Zwarte Piet. All in all, the Kardashian-Jenners, wearing matching plaid pajamas, had a happy Christmas … in January. This scene was filmed on or around January 13, 2019. (On the real Christmas day, Kylie Jenner had a beautiful head of bottled blonde hair.)
Thanks for spending the Holidays with me, Dolls. Recycle your gift wrapping paper, and remember to join me next week for another #KUWTKE recap of Keeping Up With Kris Jenner's Peace. #YESMASONISWEARINGTHAT