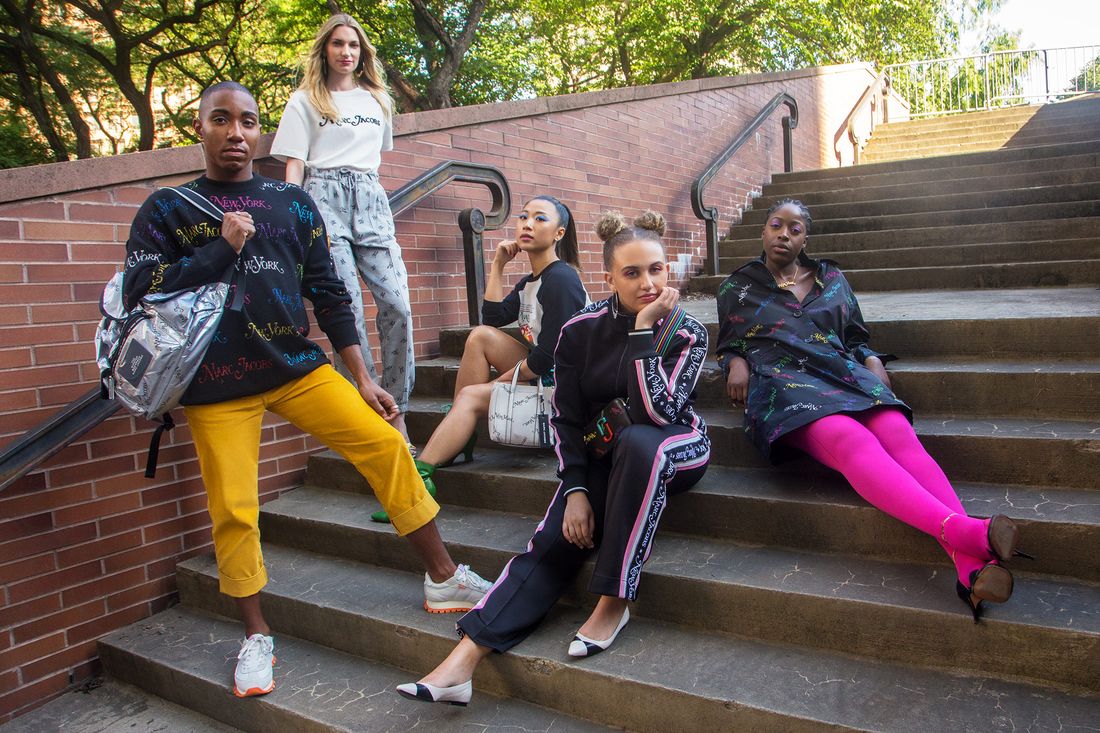 Few fashion brands have captured and defined New York, its style, and its spirit as significantly and authentically as Marc Jacobs has. So as the label plotted a series of iconic collaborations as part of its new THE concept, it's fitting that New York magazine made the namedrop-heavy short list (which also includes the likes of Peanuts and Sofia Coppola). The New York Magazine® x The Marc Jacobs collection, out now, features 70 items decked out in both parties' logos.
The idea behind THE is to introduce an accessible, high-low line of individual pieces that are meant to be worn in ever different, creative ways. "We offer the ingredients for one to use as an expression of their uniqueness, individuality and expression of personal style," the brand writes in collateral for THE. Inspired by how the line "celebrates eclecticism, variety and personal style," we asked five staffers to model the collection — available online and at Marc Jacobs Madison and its THE pop-up in Soho — and mix up their favorite pieces in their own way. They reflect on the collab and the heart of New York style below.
Nana
Agyemang,
Media
Editor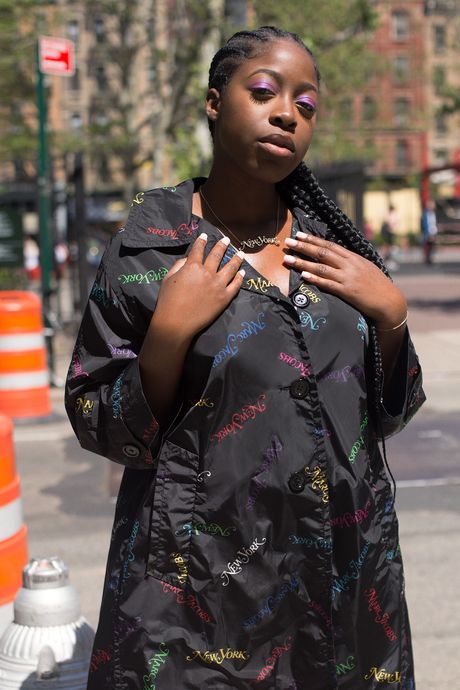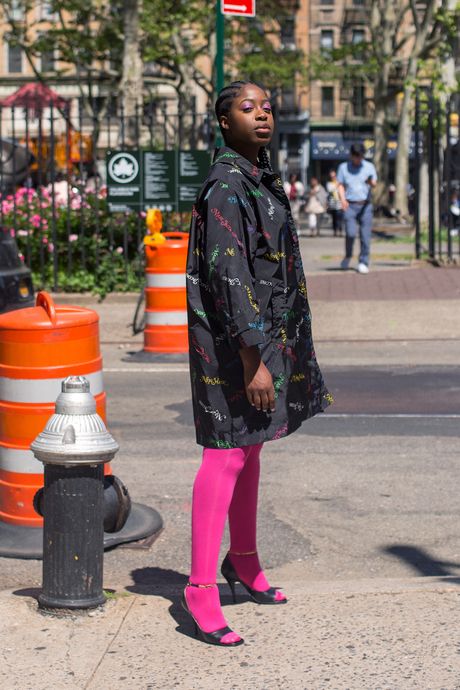 New York style is spontaneous, fast-paced, and striking. This look was comfortable but very eye-catching. When I'm on the go, I want to stand out with little effort, and this look does that for me. My favorite piece was the gold chain necklace. I love how personalized jewelry elevates your look and people are always like, "What's your necklace say?" It sparks conversation and I love that a little piece of jewelry can do that.
Zip
Nguyen,
Sales
Analyst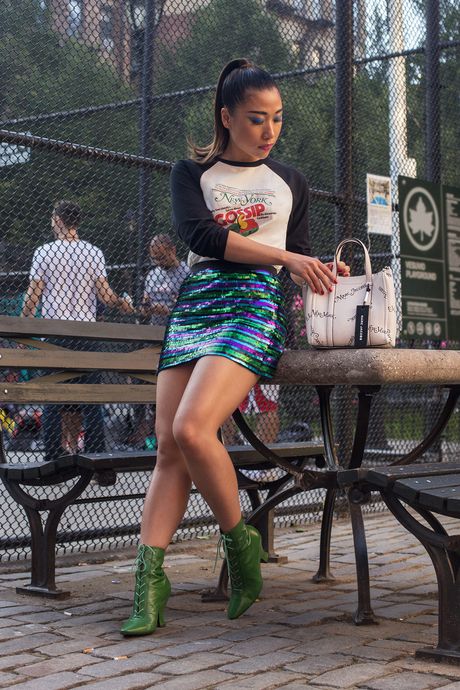 My look was super fun and playful. I felt like I was ready to take over the world! A lot of my colleagues said they could see me in this outfit because of how I normally dress, and they're right. I could totally see myself wearing this outfit to a fun girls' night out. It's so me. My favorite part of the day was definitely when people walking by us on the street called out, "Cute outfit!"
Kiefer
Roberts,
Senior
Marketing
Manager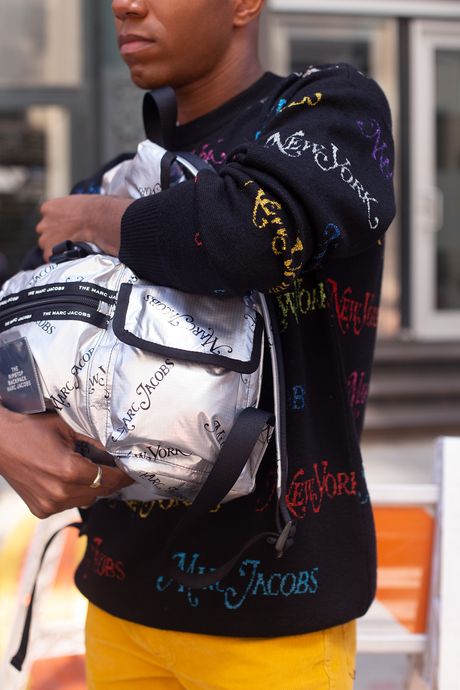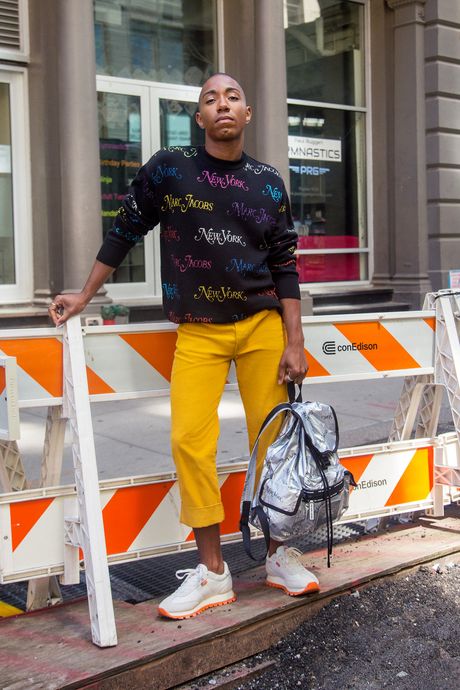 New York style to me means infinite options and constant inspiration and evolution. Every time I feel I've landed on "my aesthetic," I walk out and am inspired by something someone is wearing or the way that they've styled a look. This collaboration feels iconic because I've always thought of Marc Jacobs as one of the few designers that actually sets trends — a designer who sees something before everyone else and explores its various nuances. To see a collab between a brand that's so thoughtful and future-forward and iconic as New York is a really intriguing "melding of the minds." I loved my look so much, but I also gravitated to THE Men's Shirt. I'm recently very interested in pieces that are a bit looser but have structure. Plus, you can wear it so many different ways — layered, alone if you're feeling bold, or as a skirt if you're feeling even bolder.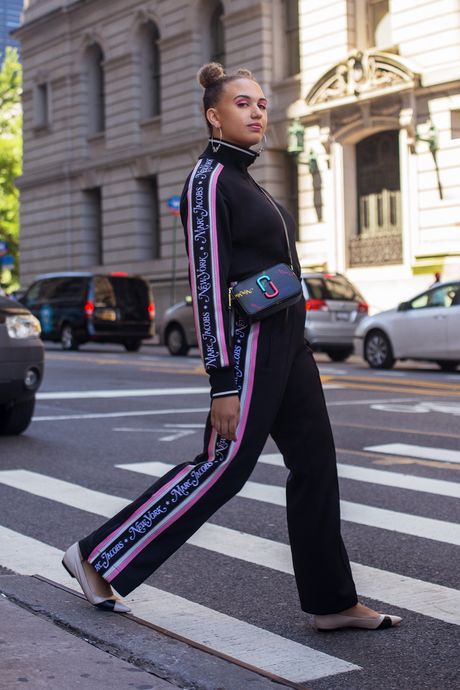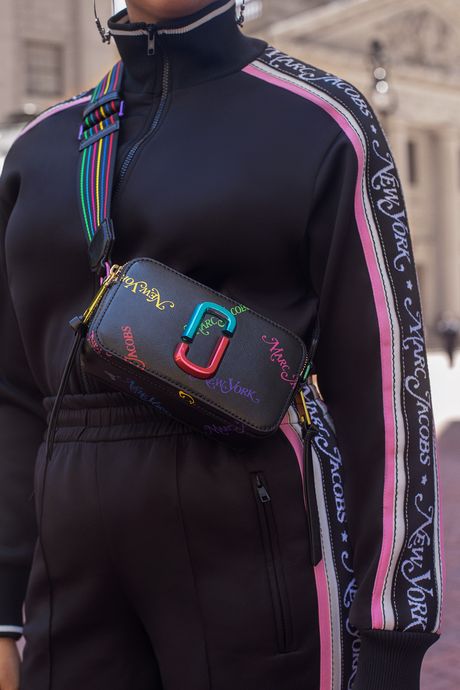 It sounds cheesy, but New York taught me to dress for me, not for trends, and to wear what makes me feel unapologetically myself. Some of my most beloved pieces have come from sidestepping the comfort-zone voice in my head and saying, "You know what? Let's try it." With that NYC kind of boldness in common, this collaboration just makes sense. I love the Marc Jacobs logo in the New York font, and the clothes really represent the heart of New York and the Marc Jacobs aesthetic — fierce, fun, and beautifully unique. The earrings are my favorite; I love some statement ear bling, and these aren't too heavy. Hoops are like the New York of earrings: better than all the others, and they know it.
Julia
McClellan,
Senior
Analyst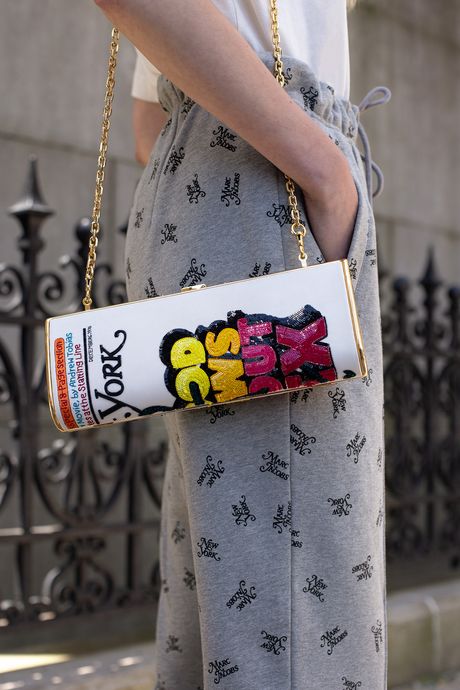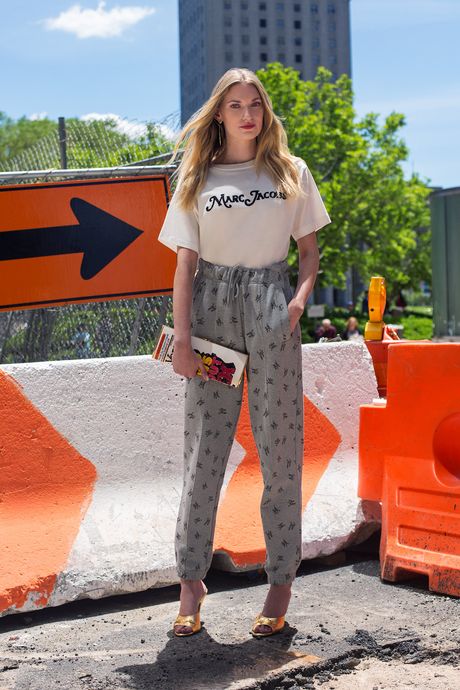 What's so great about New York is you could be wearing the most outrageous outfit and no one would bat an eye. There's a mutual nonchalance and respect when it comes to New Yorkers and style — it's very, you do you and I'll do me, no judgement. This whole shoot day was unforgettable. From parading through construction sites in Tribeca to lounging on stoops in Chinatown, we were running all over the place starting at 8 a.m., smiling and laughing nonstop … and all in heels. Quite different from my usual day job! The magazine clutch is brilliant. It's one of those pieces that you see and think how has this not been done before? It's so perfect! Especially featuring those amazing covers from the '70s.
This is paid content produced for an advertiser by New York Stories. The editorial staff of The Cut did not play a role in its creation.