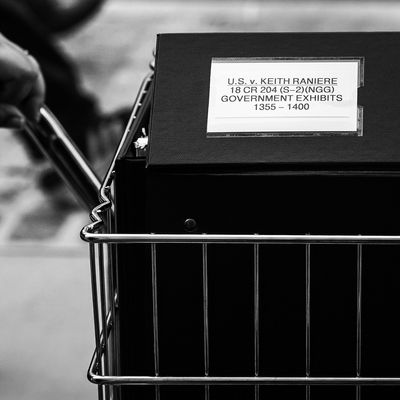 Photo: Drew Angerer/Getty Images
In March 2018, NXIVM founder Keith Raniere was arrested and charged with sex trafficking. Months earlier, several news outlets had published shocking reports detailing the inner workings of the purported "self-help" organization he founded, which prosecutors say was a front for a sex cult.
In October 2017, the New York Times ran a lengthy story alleging that the group had branded some female members, referred to as "sex slaves," with Raniere's initials. In the year-plus since Raniere's arrest, the image of the organization has only grown increasingly disturbing: Various women who pleaded guilty to charges stemming from their involvement in NXIVM have admitted to everything from recruiting women into the alleged cult to blackmailing them with damaging photographs and letters.
Today, Raniere is finally standing trial. Since the proceedings against NXIVM began in mid-March, several women involved in its Dominant Over Submissive subgroup — typically referred to as DOS — have taken the stand. The group was allegedly a hierarchical network of "masters" and "slaves" with Raniere at the top. According to the women's testimonies, he had eight "first-line" slaves who reported to him, and each of these eight women had their own slaves.
Below, here's what we've learned about the secretive sorority since the start of Raniere's trial in early May.
Slaves allegedly had to wear dog collars and make "life commitments" to their master.
The first witness to testify against Raniere, identified only as Sylvie, is a 32-year-old British woman and former "slave" who recounted in graphic detail how she'd been manipulated into joining the cult. First, she claimed she had to hand over incriminating documents, known as "collateral," after which she was given sexual assignments. "I felt so much shame," she said in court, describing how Raniere took photographs of her that "mostly featured [her] vagina," and how she had to wear a "dog collar" to prove her "life commitment" to her master.
Women say they were subjected to whippings, cold showers, and other forms of sexual torture.
In the first testimony from a former high-ranking member, Lauren Salzman — the daughter of NXIVM co-founder Nancy Salzman who claims to have been one of Raniere's "first-line" slaves — described how slaves were kept subservient. When women didn't meet expectations, Salzman said, they were forced to take cold showers, stand barefoot in the snow, or withstand physical abuse in locked cages. Salzman also touched on the society's ritual branding of slaves with Raniere's initials, something she had submitted to. It was "the most painful thing [she has] ever experienced," she testified in court.
(Salzman also testified that she had 22 slaves of her own, and during her guilty plea to a charge of racketeering conspiracy in early April, she admitted to "knowingly and intentionally [harboring]" and blackmailing a slave.)
Raniere allegedly told his slaves to get abortions after he impregnated them.
One of the most emotional testimonies in Raniere's trial came from Daniela, a Mexican-born woman whom Salzman admitted to having kept behind closed doors for two years. On May 28, Daniela claimed Raniere had impregnated her and her two sisters during their involvement with NXIVM and then insisted they get abortions. All three terminated their pregnancies, Daniela testified.
Per the New York Post, Daniela also described the alleged incident that led to her years-long confinement: She claimed that in 2006, at a time when she said she was regularly performing oral sex on Raniere, she infuriated him by kissing another male NXIVM member. "He said things like I wasn't pure anymore," she said in court, claiming that he threw her across the room and left her there after the incident. "The world closed in on me," she said of her life after that fight. "Every degree of freedom I had was lost."
Once inside the room, Daniela would pass entire days "just [sitting] against the wall," trying to keep herself from screaming, she testified on May 29. In an attempt to keep herself grounded, she said she would "count days," fantasize about going to places like Walmart, and "trace every memory" in her head to entertain herself.
One sex slave says she was blindfolded and sexually assaulted by another woman.
On June 7, a 31-year-old woman identified only as Nicole testified that Raniere blindfolded her, tied her up, and made her lie down on a cold table, where another sex slave performed oral sex on her, the Albany Times-Union reports.
In May 2016, following actress Allison Mack's command to "be a good slave," Nicole told Raniere that she would "do anything" for him, she testified in court. What happened next, she testified, was humiliating: After making "demeaning" comments about her body, Raniere allegedly blindfolded Nicole and drove her to a cabin ten minutes away, where he tied her up and made her lie down on a table. "I felt super vulnerable and exposed, and I was also hopeful that maybe that was it," Nicole said through tears. Then, as she was on the table — while still blindfolded and bound — she says she heard a third unknown person in the room.
"The [other person in the room] started going down on me," she testified, adding that she was "was so confused" throughout the assault. (Prosecutors believe the other woman was Daniela's younger sister Camila, with whom Raniere reportedly started a sexual relationship when she was just 15.)
"I don't think I processed what actually happened to me for a really long time," Nicole continued. "I think anytime I was feeling uncomfortable I remembered I was stuck in DOS for the rest of my life, like I was told. I didn't feel like I had a choice."
This post has been updated. We will continue to update it as more former "sex slaves" testify in Raniere's trial.