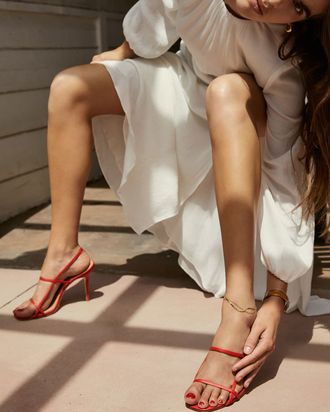 When everyone's favorite sexy sustainable brand Reformation launched footwear this spring, onlookers weren't surprised to find that the shoes were quite bare. They covered just the minimum of skin, like little going-out tops for your bottom extremities. (Underscoring the sexiness, the brand announced them with an email that read "We want to touch your feet.") Not long after, Vogue ran a photo of Kim Kardashian West wearing another nearly-nude footwear trend: the high-heeled flip flop, which the magazine called "summer's most controversial shoe." Well, here's my take: I don't want my feet to be this naked.
There's no way to discuss feet and not have it be a little weird, so let me get this out of the way: this isn't about other people's feet. If you want to wear a halter top for your toes, more power to you. I, however, would like to keep my feet mostly covered up. The idea of wearing a high-heeled flip-flop or any of the other strappy, minimalist shoes filling my Instagram feed feels more revealing than walking into the office in one of Emily Ratajkowski's bikinis. And that's not even getting into the long history and connections between shoes and fetishism.
But my biggest objection is — like so many rejections of trends — out of a mix of laziness and frugality. I have neither the stamina nor the budget to get regular pedicures. Why would I spend $250 on new shoes and $35 a month on pedicures when I could just hide my toes instead?
Maybe over the last few years, I've been spoiled by the supportive swaddling of Birkenstocks and heels with socks. Probably the uber-sexy shoe is a reaction to that movement, but I'd like to go in the other direction. There's a great scene in 30 Rock where Liz describes her dream vacation, where everyone wears dark socks on the beach. That's a footwear trend I could get behind.
Style is about knowing thyself. I'm not a barefoot woodland nymph or Emily Ratajkowski; I'm a person who likes the straps on her sandals to be at least two inches thick. Y'all look cute though.