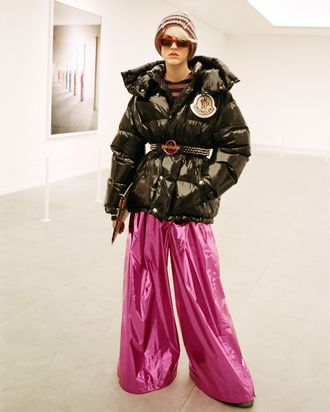 Photo: Courtesy of Moncler
On Thursday night, beautiful people wearing knit bucket hats, neon yellow leopard-print silk shirts, padlocks as earrings, and Vivienne Westwood pearl chokers gathered at the Moncler Boutique in Soho to celebrate the launch of the Moncler 8 Genius collection. Partygoers tried on their favorite pieces as sake cocktails were passed and a mix of reggae and breathy pop played.
Francesco Ragazzi, Palm Angel's designer and founder — and Moncler's artistic director — started at Moncler as an intern 12 years ago and worked his way up to before founding his own L.A. inspired streetwear brand, Palm Angels. "People who know me know that this is a very personal collaboration. It's something I couldn't say no to," he said.
The Genius 8 collection reinterprets evening wear with beanies, fingerless knit evening gloves and belted puffer jackets, shiny like a Jeff Koons balloon dog yet stained with red graffiti.
Ragazzi said the concept of the collection was "art-breaking" — the idea of making art on top of art. "It started with the image of the Jeff Koons exhibition being vandalized," he explained. In 2014, a vandal graffitied a large red X on the wall of a Jeff Koons retrospective exhibition at the Whitney.
An art gallery, he says, is a "concept so pure, so white … it clashes with somebody vandalizing it, and that's what I wanted to do with the collection as well."
See pictures from the party below, followed by our favorite pieces from the collection.
The Collection