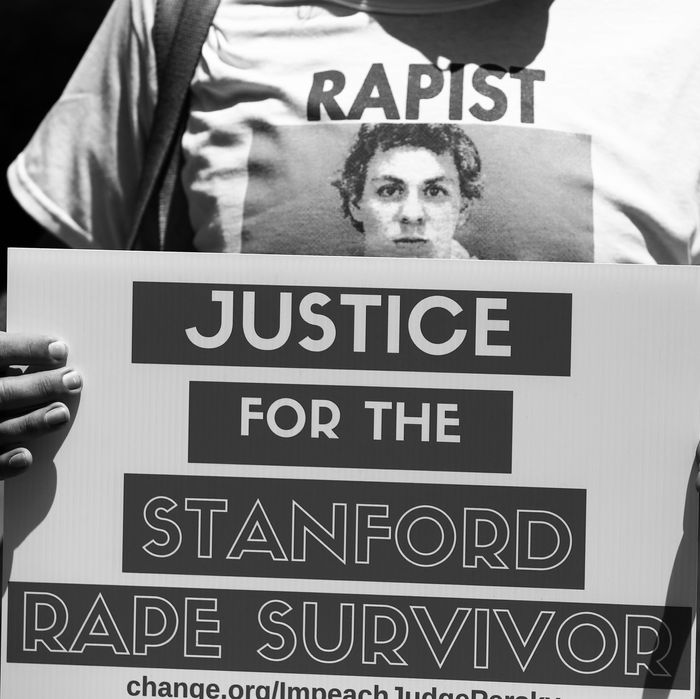 Photo: MediaNews Group/The Mercury News/Digital First Media via Getty Im
Emily Doe, the woman who was assaulted by former Stanford student Brock Turner in 2015, whose victim-impact statement sparked nationwide outrage, is now penning a memoir.
In March of 2016, the then-20-year-old swimmer was convicted on three counts of felony sexual assault, more than a year after witnesses saw him raping an unconscious woman near a fraternity on campus. Three months later, Turner was handed an infuriatingly lenient sentence of six months, because, according to California Superior Court Judge Aaron Persky, "a prison sentence would have a severe impact on him. I think he will not be a danger to others." Last year, California voted to recall Judge Persky, an action which stemmed from his handling of the Turner case.
Doe's memoir will be published by Viking books, an imprint of Random House. Viking editor-in-chef Andrea Schulz said in a press release on Wednesday, "Emily Doe's experience illuminates a culture built to protect perpetrators and a criminal justice system designed to fail the most vulnerable." Shulz added, "The book will introduce readers to the writer whose words have already changed their world and move them with its accounting of her courage and resilience."
The press release alludes to the viral impact of Emily Doe's 12-page victim's impact statement testifying to her assault, which "instantly resonated with millions," and, I'd add, chills the blood, with lines like, "I learned what happened to me the same time everyone else in the world learned what happened to me." The press release concludes that in her book Emily "will share her experience in emotional, honest and eloquent detail. Her story continues to be a testament to the power of words to heal and effect change."