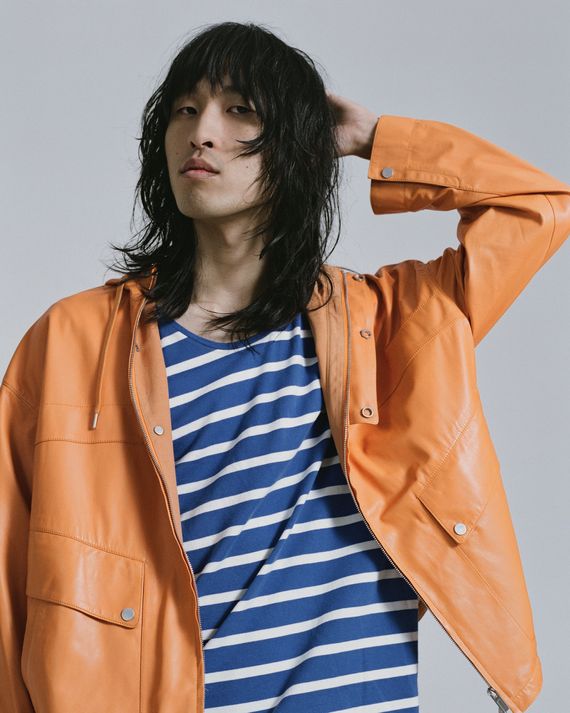 He was a sk8r boi, or at least he looked very much like one. Hunter Chung, who recently became a full-time model, is a master of the "Oh, this? I just threw it on" aesthetic. With his long shaggy bangs, often covered by a bucket hat (it's his Instagram avi, too), Chung is a model to watch on and off the runway. Already he's done campaigns for Converse, Tommy Hilfiger, and Levi's. We spoke with him about flying, Frank Sinatra, and his gaming obsession.
What is your most used emoji? 
It's the guy that's doing the shrugging thing. I never know the answer to anything.
What's your favorite holiday?
All the holidays are depressing. I don't think I have a favorite.
If you could spend three months anywhere, where would it be?
Paris. I've never been, but I know it would be amazing.
If you could have a superpower, what would it be? 
I'd love to fly because I hate walking. I'm so lazy, so if I could fly from point A to point B it would be amazing. And I could just float down the runway, too.
What is the best album ever made?
Illmatic by Nas.
Go-to karaoke song?
I like singing Fly Me to the Moon by Frank Sinatra. Very wholesome.
Who is someone you think is cool?
Pharrell. He's my idol. His music, his style, he's just 100 percent himself.
Who is a fictional character that you'd want to hang out with?
Michael Scott. He's really caring in a sense.
If you were a magazine, which magazine would you be? 
I don't read magazines much at all, so maybe I'd be a newspaper.
If you could talk to animals, which animals would you want to talk to? 
Dogs. I love dogs. I'm afraid to get one because I feel like, What if I'm not a good father? But I love, love dogs.
Jeans or sweats?
Neither. I just like oversized pants.
What is something that your social-media followers don't know about you?
I make music, and I'm a huge game nerd. I play everything, like, from basketball games to RPG games.
What was the last website you looked at? 
Reddit.
What do you eat for breakfast?
Sleep. I don't eat breakfast.
If you could only eat three things for the rest of your life, what would they be?
Easy: a burger, barbecue, and fried chicken.
If you were a color, what color would you be?
A lot of earthy colors, like green, brown, yellowish.
Hunter wears an Hermès jacket, Gucci shirt, and Gucci pants.