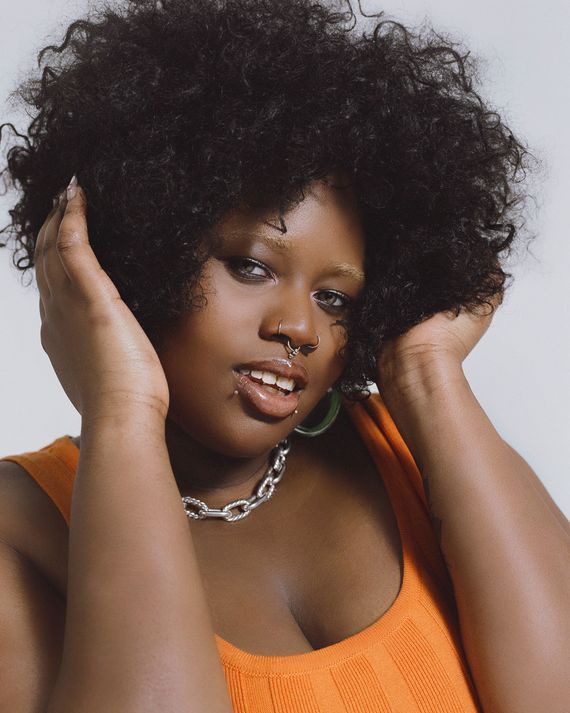 Raisa Flowers started playing around with makeup as a tween going to MAC with her mom. Since then, her experimental, neon-happy looks have earned her a career as a makeup artist working with Nike, Gucci, and Pat McGrath. Once it became clear that she was just as talented in front of the camera as she is behind it, she got into modeling — she's walked in shows like Savage x Fenty and Gypsy Sport. We talked to her about her birthday, TLC, and Rihanna.
What is your most used emoji?
I think it's the emoji with the hearts around the face. I sent that cute one a lot.
What's your favorite holiday?
My birthday. I think I've grown out of all the other ones. The last birthday I had, I spent a lot of money and time on it, I got a custom dress, I got my hair done, I got a hotel room. Now I use that time to love on myself.
If you could spend three months anywhere, where would it be?
Barbados.
What's the best album ever made?
I love Playboi Carti's Die Lit, or Schoolboy Q's Crash Talk.
What's your go-to karaoke song?
"Waterfalls" by TLC.
Who do you think is cool?
Of course Rihanna. I love her.
Who is a fictional character that you'd want to hang out with?
There's a new show where Tiffany Haddish is a cartoon character. It's called Tuca and Bertie. I'd hang out with her because she's so extra.
If you were a magazine, what magazine would you be?
i-D.
If you could talk to animals which animals would you want to talk to?
Dogs. I want to know what they're thinking about because they're super needy.
Jeans or sweats?
I just started wearing jeans again last year, so I'll say jeans.
What is something your social media followers don't know about you?
That I wanted to be in the WNBA. I played basketball at the beginning of high school and late middle school.
What was the last website you looked at?
Getty Images. I was looking up photos of a client.
If you could be outfitted by one designer for the rest of your life, who would it be?
Alexander McQueen when he was alive.
What do you eat for breakfast?
If I make breakfast and it's a good breakfast day, I'm going to make kale, eggs, and mushrooms.
If you could only eat three things for the rest of your life, what would it be?
It would be Thai basil fried rice, drunken noodles, and a salad from Sweetgreen.
If you were a color, what color would you be?
Neon green.
Raisa wears Mara Hoffman, Jil Sander Shoes, and a David Yurman necklace.