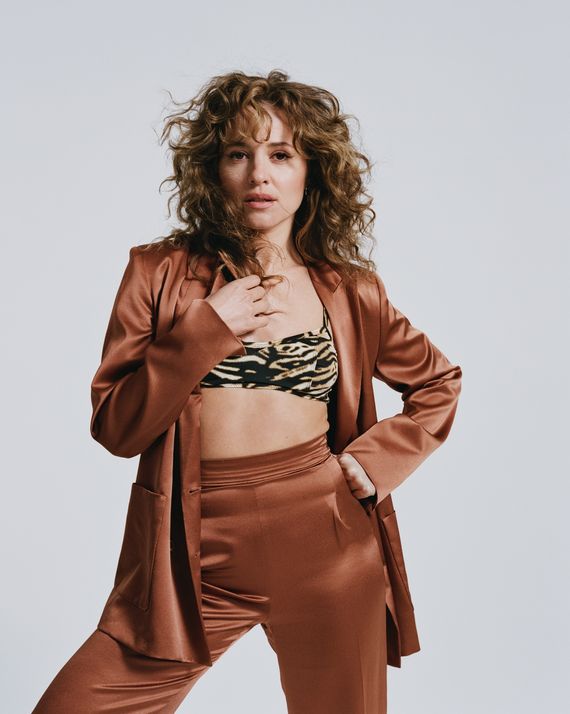 In the world of professional multi-hyphenates, it's impressive that Margarita Levieva has a roster of hobbies she does just for fun. She's known as Abby on The Deuce, but she also dances, writes, and paints as non-monetizable "big parts of my life." For all her creative talent, though, Levieva almost took a much more staid life path. At the age of 11, she moved from Russia, where she was a competitive gymnast, to New York City. She had planned to go to LaGuardia High School, but instead decided "I should do something real with my life." So she got an economics degree from NYU. It wasn't until after college that she decided to pursue acting school. "It was a dream, but I didn't think it was attainable because [English] isn't my first language. But I started working fairly quickly after school." We spoke with her about New Year's Eve, consignment, and Pink Floyd.
What is your most used emoji?
The shrug. I guess I don't perceive it as a shrug, but more like an "ahhh I don't know!"
What is your favorite holiday?
New Year's Eve. In Russia, we weren't allowed to practice our religion. We didn't have Christmas, we didn't have Hannukah, so New Year's was the one big holiday that everyone could celebrate and it was a really big deal. We had a holiday tree, we got gifts under the tree. And it was always a big celebration and very joyous. It's very important how you say good-bye to the last year and greet the new year.
If you could spend three months anywhere, where would it be?
Too many places to pick from. Maybe on a different planet.
If you could have a super power, what would it be?
I'd love to take away other's pain.
What's the best album ever made?
It's an impossible question to answer … but if I had to choose one, Pink Floyd Dark Side of the Moon.
What's your go-to karaoke song?
"Whatever Lola Wants."
Who do you think is cool?
Old people. It bums me out that getting older is not appreciated in this country. Back in Russia, getting older was an honor and really appreciated by younger people. People want to hang out with old people because you can really learn from them. I find older people are dismissed here.
Who is a fictional character you'd want to hang out with?
The first person that actually popped into my head was Jesus.
If you were a magazine, what magazine would you be?
Time.
If you could talk to animals, which would you want to talk to?
All of them.
Jeans or sweats?
Jeans that feel like sweats.
What is something your social media followers don't know about you?
I get very uncomfortable with social media. But they probably know that about me.
What was the last website you looked at?
Björk tickets.
If you could be outfitted by one designer for the rest of your life, who would it be?
Consignment. That's mainly where I shop.
What do you eat for breakfast?
I usually skip breakfast.
If you could only eat three things for the rest of your life, what would they be?
Pasta, mango, and some sort of gummy candy.
If you were a color, what color would you be?
Rainbow.
Margarita wears a Max Mara suit and a Rachel Comey bra.