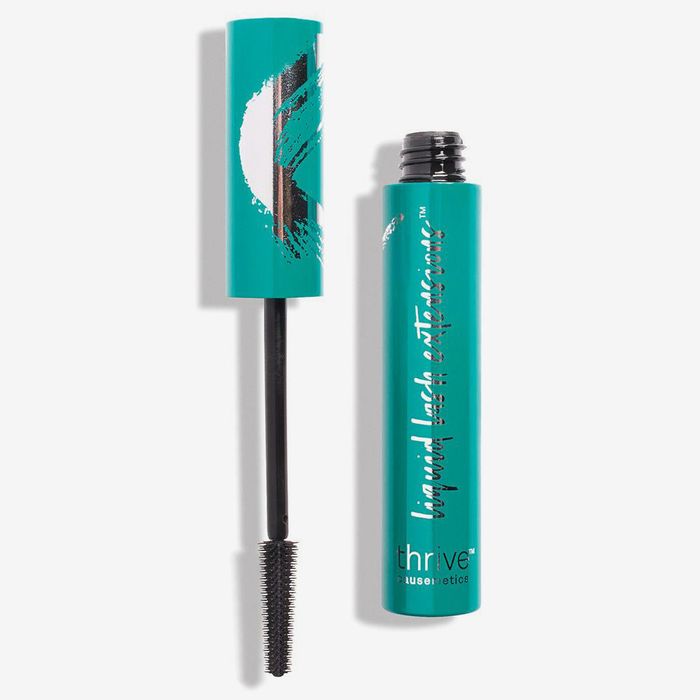 Photo: Courtesy of the brand.
There aren't too many mascaras that can earn five-star reviews. Dior Show, definitely. Too Faced's Better Than Sex, too. A recent addition to the list comes from Thrive Causemetics, which is known for cruelty-free, vegan formulas made without parabens or sulfates. One of my colleagues pointed me to Thrive's Liquid Lash Extensions Mascara. It has thousands of five-star reviews (7,000 of them on the brand's website at last count) and promises not to flake, smear, or clump. There's also a very impressive video on the site. It was all compelling enough to make it our next test case for a group try-on. Here's what five women with very different opinions thought of it.
Erica Smith, Beauty Writer
This mascara doesn't quite live up to the second and third before-and-afters on the brand's site, but it definitely lives up to the hype. It noticeably lengthened my lashes, every single one of them — and much more than any other mascara we've tested. I'm still getting used to how much longer my lashes look. I think what's most impressive about this wand is its ability to continually coat and lengthen individual lashes without clumping them all together or weighing them down, so you can repeatedly comb and coat until you reach maximum height.
My lashes felt a little rubbery later in the day, but never stiff or crunchy. And the removal process was fairly easy and pleasant — so long as you're accustomed to seeing little extension fibers wash down the drain without panicking or thinking all your lashes are falling out.
Sarah Spellings, Fashion Writer
I am loyal to one mascara (L'Oreal Paris' Voluminous) and have been for years. I'm used to piling it on to get the effect I like, but with the Thrive mascara, less is more. The first time I tried it, I did three coats as I normally do and wound up looking like Yzma from Emperor's New Groove. It turns out that one swipe was enough. I still love my L'Oreal and I will keep using it despite this one not being worse by any metric (I'm a Taurus, I don't like change) but I do think it's a nice alternative for a light, summery look.
Devon Sherer, Senior Producer for Snapchat
While I'm lucky to have crazy long lashes, they refuse to curl so it usually looks like I don't have any. This mascara did a fantastic job of giving me the look of noticeably long lashes, even before curling! And it didn't clump at all, either. I usually sport some serious eyeliner but with this mascara I felt like I didn't need the extra make-up.
Of course I blinked too hard right after applying (I am my own worst enemy) but the mascara didn't budge. Some of it did flake off into my eye once during the day, but the second day I wore it I had no issues.
Kathleen Hou, Beauty Director
My No. 1 beef with mascara is that 99 percent of mascaras lie. They say they don't smudge, but they do. Since I have hooded, particularly oily eyelids, I am a fantastic lie detector for mascara. I've found that the most honest mascaras are waterproof and fiber ones, which do live up to their no-smudging promise.
This mascara is one that can be trusted. It does a great job of making your lashes look super long, defined, and clump-free by coating them in elongated "tubes." It also holds a curl really well. Just don't overdo it: Any more than six to seven coats and the tips can get a little spidery. Also, you need to work fast, as the formula dries quickly.
It doesn't do much in terms of volume or thickness, so if you're looking for that, this isn't for you. But I really like the clean, long, fan effect of this mascara and how easily it washes off using just water, without any sort of aggressive tugging or tearing. And it works well on lower lashes too! Try this if you fear your mascara will not withstand melty weather.
Aude White, Senior Communications Manager
I was promised "liquid lash extensions" and all I got was … regular mascara. I'm sorry but I can't tell it apart from literally any other mascara. It's not that it's a bad product, it's a perfectly fine mascara, but I think this is an example of marketing promising more than it can deliver. Yes, it's true that the mascara doesn't clump. And it's true that it doesn't bleed onto your eyelids, but it really didn't do anything special for me in the way of volume.
If you buy something through our links, New York may earn an affiliate commission.