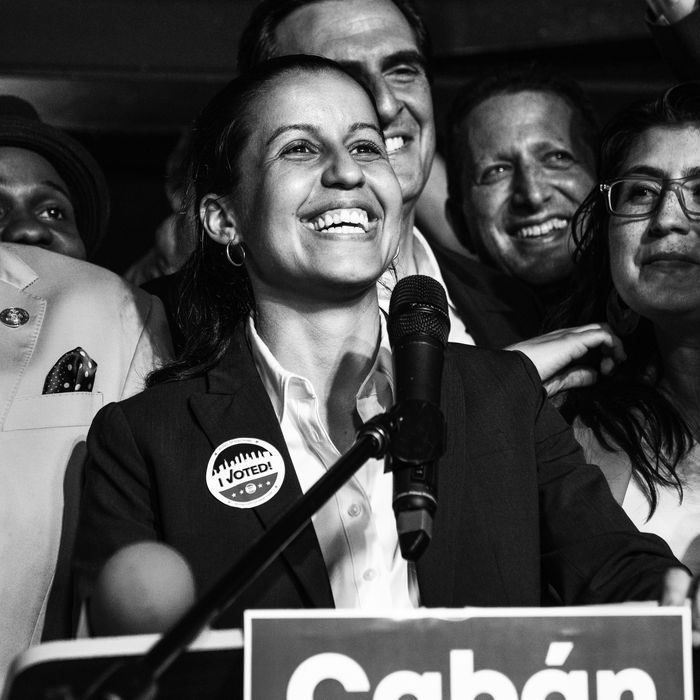 Tiffany Cabán at her victory party in Queens.
Photo: Scott Heins/Getty Images
Almost a year to the day since Alexandria Ocasio-Cortez's stunning primary victory over Joe Crowley, another progressive outsider has beaten the odds, and the Establishment, in Queens.
Tiffany Cabán, a 31-year-old public defender who ran on a platform of ending mass incarceration, won the Democratic primary for Queens district attorney on Tuesday by defeating six other candidates, including Borough President Melinda Katz. In an unmistakable parallel to AOC's own upset victory, Katz was a well-funded favorite with the backing of the powerful Queens Democratic machine — including none other than Joe Crowley himself.
While Cabán was already running a strong, people-powered campaign, Ocasio-Cortez's endorsement instantly gave her a boost in fundraising, media attention, and credibility — in other words, the kind of support AOC never had from elected officials in her own race against Crowley.
It's a fitting way to cap off a remarkable year for progressive women in New York who came together to take on a political Establishment that conspired to keep them out, supporting each other every step of the way.
It started last June with Alexandria Ocasio-Cortez herself, who set the tempo for a cycle of major upsets in New York politics. After her triumph against a man who epitomized the out-of-touch Democratic Establishment, AOC used her victory and resulting notoriety to lift up and empower other women coming from outside of the political Establishment, myself included.
The progressive women running for office in New York not only endorsed each other, we had each other's backs when we faced sexist attacks. We stood with other women candidates to lift up the voices of the Sexual Harassment Working Group, who ultimately succeeded in forcing New York State to hold its first public hearings on sexual harassment in nearly 30 years.
But our network of support went much further than that. After her primary election, AOC's volunteers starting hitting the streets for me, for Zephyr Teachout for attorney general, and for Julia Salazar's campaign for state senate.
And while I lost my own race, the progressive movement won big. Our movement led to the downfall of the Independent Democratic Conference (IDC), a group of Democrat-in-name-only lawmakers that had effectively handed Republicans control of the senate for years, and progressive women led the way. Alessandra Biaggi, Jessica Ramos, and Rachel May ran against powerful IDC members and won, while a fourth, Julia Salazar, unseated an eight-term incumbent.
If the last year has shown us anything, it's that primaries get results. It's no coincidence that the legislative session that just concluded in Albany — the first since the 2018 primaries — was one of the most progressive and productive legislative sessions in the history of New York State.
Just look at what progressives were able to accomplish. We took on the landlords and won, passing landmark rent reforms that will protect affordable housing for millions of tenants across New York State. We passed drivers licenses for undocumented immigrants, and dramatically limited the use of cash bail. We finally passed the Reproductive Health Act, the DREAM Act, and the Gender Expression Non-Discrimination Act (GENDA). We closed the LLC loophole, approved early voting, and passed the most ambitious climate plan in the country.
If that litany of issues sounds familiar, it's because its strikingly similar to the platform progressives ran on in 2018, including in my own race for governor.
On the national stage, AOC and other progressive women such as Ilhan Omar, Ayanna Pressley, and Rashida Tlaib are setting the agenda for the rest of the country. And here in New York state, state senators Jessica Ramos, Alessandra Biaggi, and Julia Salazar are now doing the same.
In Albany, Ramos passed a bill of rights for farm workers, extending overtime pay and the right to unionize to some of the most overworked and underpaid workers in the state. Biaggi led the fight to strengthen protections against workplace sexual harassment by lifting up the voices of survivors who were seeking justice. Salazar was a strong voice fighting for the rights of tenants and a key figure in passing a landmark package of rent reforms.
None of this would have happened if it weren't for progressive women coming together to take on the political Establishment. People used to tell me that women in politics needed to learn to play a "man's game." But the last year has proven that progressive women do not have to aspire to fill the roles set for us by men. Instead, we have the power to carve out and shape our own space in politics. Progressive women in New York and around the country are paving the way for a new type of politics that is supportive, compassionate, and fearless.
Working alongside other women to change our state and our country is one of the most valuable experiences I have ever had. It showed me that we are in this together, and that we have to be in this together.
What we've seen this year in New York is what happens when women support and empower other women. First, we cemented a true progressive majority in the state legislature, passing landmark progressive legislation that will change the lives of people across this state. Now, Tiffany Cabán will usher in a new kind of justice system for the 2.4 million residents of Queens.
Progressive women are transforming the political landscape in New York State — and we're just getting started. I hope victories like Cabán's will inspire the next generation of progressive women to run.