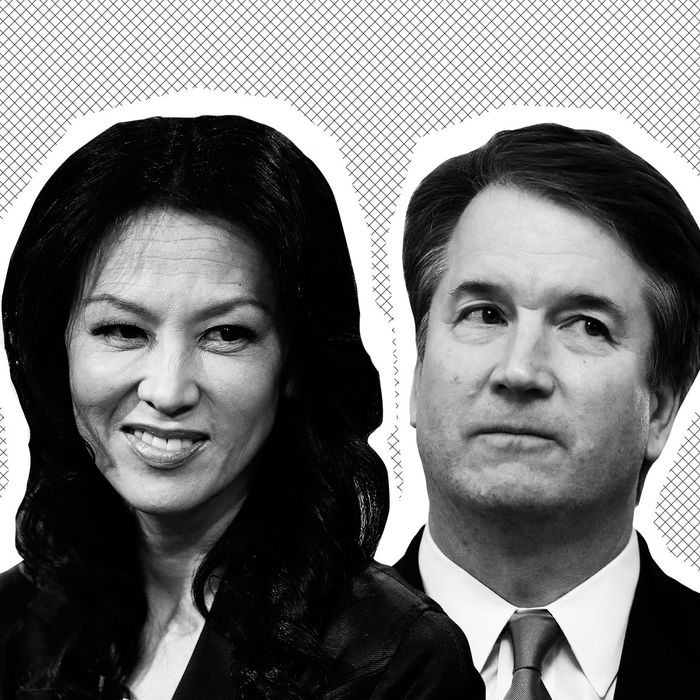 Amy Chua and Brett Kavanaugh.
Photo: Getty Images
In her controversial 2011 memoir, Battle Hymn of the Tiger Mother, Yale law professor Amy Chua admits that she once sent her toddler daughter Lulu to stand outside in 20-degree weather wearing only a skirt and a sweater. Lulu was banished for an act of musical overenthusiasm; she kept smashing keys on the piano, while her mother wanted her to press one at a time. Chua offered Lulu a choice. Stop, or go outside. Lulu chose the outdoors. In the book, Chua relates the episode as a prelude of parenting battles to come; as a mom, she says she was a harsh taskmaster, prone to excesses she occasionally regrets. But all the pushing, all the rules, all those inordinately high expectations, stemmed from one impulse: she wanted her daughters to succeed — to become accomplished musicians and star students, the sort of people who scale the heights of America's meritocracy.
Nearly ten years after the publication of her book, it looked like Chua's methods worked. Her daughters ascended the ranks of American excellence and attended Ivy League schools. Sophia, the oldest, graduated from Yale Law School just last year. And on Monday, she had a new accomplishment to announce: a clerkship with Supreme Court Justice Brett Kavanaugh.
For aspiring lawyers, Supreme Court clerkships are highly desirable — they're tickets to positions at the best firms, or the first step in a career that may someday culminate in the clerk's own judgeship. But Sophia's achievement may have little to do with her mother's parenting, or the work ethic she supposedly prized. In July 2018, Chua lauded Kavanaugh's credentials as an advocate for women in an editorial for the Wall Street Journal. For her own daughter, she wrote, "there is no judge I would trust more than Brett Kavanaugh to be, in one former clerk's words, 'a teacher, advocate, and friend.'" At the time, Chua faced criticism that her op-ed was intended to give her daughter a spot working for Kavanaugh, something Sophia denied, claiming she had no intention of taking on a clerkship in the coming year because she had to finish her ROTC obligation after graduating. Eleven months later, here we are.
Meritocracy was always the myth at the heart of the tiger mother brand. Chua and her husband, Jed Rubenfeld, are professors at Yale Law School, the same institution that later graduated their daughter Sophia. As children, both daughters attended the Hopkins School in New Haven, which boasted tuition costs of $43,500 during the 2018–2019 academic year. Chua and Rubenfeld are stars in the legal field, and Chua in particular has a reputation for successfully placing Yale graduates in high-profile clerkships. Their children were bound for the Ivy League no matter how well they played the piano, or how long they stood in the cold. The Kavanaugh clerkship is gilt leaf on an already privileged life.
Chua defended Kavanaugh before the nation learned that Christine Blasey Ford had credibly accused him of sexual assault, and there's no evidence she knew about Blasey Ford before everyone else did. But she may have known that Kavanaugh wasn't the woman-respecting paragon she'd made him out to be in public. A Guardian report, published in September 2018, alleged that Chua urged female students to dress a certain way, all the better to appeal to Kavanaugh. Chua told students that it was "no accident" that Kavanaugh's female clerks "looked like models," sources told the news outlet. Students "reacted with surprise, and quickly pointed out that Chua's own daughter was due to clerk for Kavanaugh," the Guardian continued. "A source said that Chua quickly responded, saying that her own daughter would not put up with any inappropriate behaviour."
Women less well-connected than Sophia Chua-Rubenfeld have fought back against sexual harassment at work. But the costs can be enormous, whether a woman has a job in Hollywood or at McDonald's, and a law clerk whose parents are professors at Yale Law has advantages over nearly everyone else. The Chua-Rubenfeld household ought to be familiar with that imbalance of social power. They stand accused of benefiting from it in an especially direct fashion. Last October, Dahlia Lithwick and Susan Matthews of Slate reported that Yale was investigating Rubenfeld for inappropriate comments and flirtatious behavior with students. Some feared reprisal if they reported him. "For students who don't arrive at Yale with fancy last names, getting a position working for a federal judge can be as much about networking as it is about academic performance," the duo wrote.
In a 2016 speech on poverty and academic opportunity, David Cameron, then the Conservative prime minister of the U.K., told his audience that character and persistence are "core to success." "It is what the Tiger Mother's battle hymn is all about: work, try hard, believe you can succeed, get up and try again," he said. But in the absence of other privileges, hard work and talent count for little. Sycophantry, powerful allies, a commitment to the same broken system that enriched her while disadvantaging others; that's Amy Chua's real battle hymn, and that's all she has to teach us.