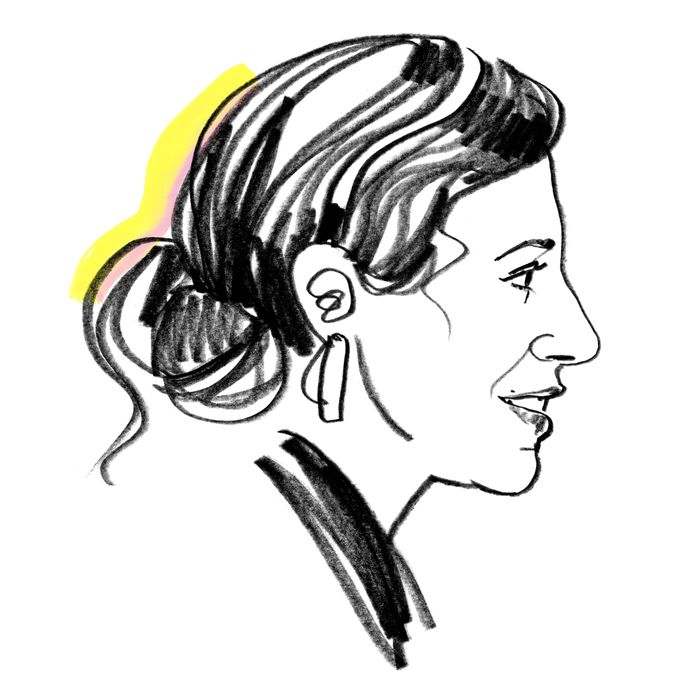 Illustration: Lauren Tamaki
Rachel Chavkin was the only woman nominated for Best Director in this year's Tony awards, for her work on Hadestown, and she won! She delivered a moving, powerful speech about diversity in theater on Sunday night's awards ceremony. "There are so many women who are ready to go. There are so many artists of color who are ready to go. And we need to see that racial diversity and gender diversity reflected in our critical establishment, too," she said in her speech. "This is not a pipeline issue. It is a failure of imagination by a field whose job is to imagine the way the world could be." In between her own slate of projects, Chavkin attends a play, musical, or gig nearly every night of the week. She lives in Brooklyn with her husband, Jake, and is due in August as a surrogate for her best friends, a gay couple who live in Texas. Here's how she gets it done.
On her morning routine:
There's very little routine in my life because my schedule can be so erratic, but I try to sleep as late as possible, and if there is time I'll go for a run. I live near Prospect Park, so I will run, partially or fully, around the park. Right now I'm pregnant, so I go to Planet Fitness instead. I make espresso in a Bialetti on my stove and these days I do eat breakfast, but I can't say I do it happily. I have to have my protein, so I'll have yogurt or eggs. What is bliss is getting to work from home for a few hours, which could include anything from casting a project, which these days involves watching a lot of videos on YouTube, but it also might mean catching up on design, and if I'm really lucky on a good day, I get to do a little creative work, like sitting with a script or doing some image research. But probably seven or eight days out of ten, I am zooming into the city for rehearsals from 10 a.m. to 6 p.m.
On her commute:
Typically I'm consuming something, meaning information. On the walk from my house to the subway, which is two blocks, I will either be streaming WNYC or listening to a podcast, like BBC Global News or The New Yorker's Radio Hour. I love Reply All and I've also been listening to this podcast called The Hurricane Tapes which dissects the real story of the alleged murders and framing of Reuben Carter. When I get on the train I will switch over to a podcast, unless I can get a seat, in which case I will catch up on email or read the New York Times. I'm also a huge On the Media addict. I think Brooke Gladstone is the greatest human.
I'm just beginning to show and even then you sort of have to be looking for it. It depends on what I'm wearing but I did get given a seat today and I enjoy that enormously. In London, they actually have a thing where you get a badge you can wear for specifically the purpose of public transportation so people [will know you are pregnant and] can give you their seats. It's a core value of that city. I've never seen anything but immediate response to pregnant lady wearing one of those badges. Actually, I've been thinking I need to call my state senator and ask him to put a bill forward for something like that.
On being a surrogate:
I really, really wanted to be pregnant and I don't know that I want to have a child of my own. I am into new experiences and my best friends — they're a couple — really wanted a child. All of those factors are why I'm doing it. Thus far I'm enjoying it. It's cool. There's definitely some discomfort and some strangeness, but I'm into it. We began trying to get pregnant basically with an eye toward the summer. It took a few tries, but it's not like we were leaving things to chance [given Hadestown's Broadway run].
On work-life balance:
I don't really have a strategy and I often don't have time for friends. The thing I will say is that I'm very fortunate to get to spend my professional life working with my friends. That is a lot of my social community. I have a PA who helps me schedule, and Sundays are off limits. I've tried to get more deliberate with Saturdays, too. I probably see a play or a musical, or occasionally, a gig, five or six nights a week. I see shows constantly, so I tend to build a huge amount of my time with friends around seeing shows and having dinner and drinks before or after which is a deeply pleasurable evening. It's obviously a crossover of work and play, but I love it.
On staying motivated with long-term projects:
It helps to love the work. I am very lucky in that I don't actually do anything that I don't love. I learned that lesson the hard way a long time ago when I was first starting out as a director when I took a gig for a nice play, but a play that did not knock my socks off. I'm so glad I have a relationship with the writer and I feel good about the work I did and it was received well, but I discovered that I will make myself … and others … very unhappy if I'm trying to make something I don't really love. Hadestown happens to be a show, I think it's why we've gotten to where we are, it happens to be a show that sits at such a solar plexus — the music, the romance, the politics, the heart of the show. I think it's such a profound piece and that has kept me deeply engaged for the six years I've been a part of it.
On Broadway's lack of diversity:
It sucks. I think it's terrible. I should have nine other women or artists of color or trans or nonbinary artists or artists with physical disabilities nominated alongside me. It never feels good to be the only one of what you are in a room, a literal room or a proverbial room. I try to never ask someone to do so and I don't value being the only woman in the directing categories of the Tonys.
I feel set up constantly for failure on that front because the room can always be more inclusive, because no one is just one of anything. The Venn diagram is constantly overlapping in such beautiful ways. I want to be very clear that I don't ever claim victory, it's an aspiration and I think it's an endless one.
On leading a team:
I'm very good at delegating. I feel very passionately about this. The way a new musical operates in particular, there are too many departments for one person to be in control of it all. The ensemble that I started when I was 24 is called The Team and I don't think it's coincidence now that when I talk I say things like, "Can we get a meeting together with Team Lighting and Team Choreo, I want to talk through this song," because I look to my collaborators to be captains of their own corner. It's why I think being competent, if you are mentally and emotionally able, is almost a moral choice because it means other people around you can do their jobs well, too. It's why I so value the colleagues I work with. Hadestown is an extraordinary ship in part because it has a lot of incredibly ferocious captains leading the different departments. That integrity and love for the work trickles on down. That's a key to how I'm able to get anything done. I'm good at needing people who are good at doing their jobs.
On advice she'd give to her younger self:
I don't believe in advice because I think it is presumptuous and presumes that my experience is in any way relevant to your experience. Further, I actually think all learning that is the most valuable is going to come from you having those experiences. I think I might tell myself to "enjoy," but I don't really think there's anything more useful that I would want to say. She'll figure it out.
*This interview has been edited and condensed.