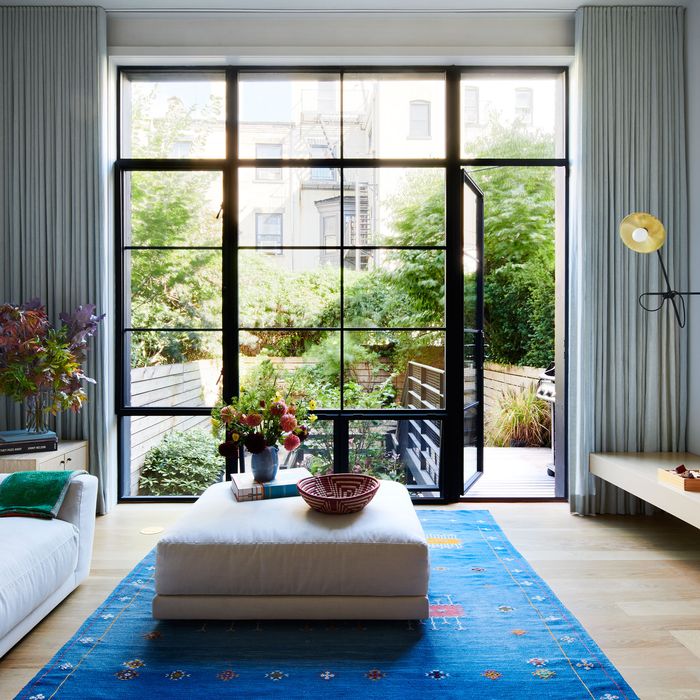 The living room.
Photo: Kevin Kunstadt; styling by Mieke ten Have
The ubiquitous rowhouse started popping up around the city in the late-18th and early-19th centuries as popular single-family dwellings. As the name implies, they were built with matching brick, then later brownstone, limestone, and terra-cotta façades, bringing architectural uniformity to city living.
Today, as popular as ever, they still might look cohesive from the street, but once inside, owners have customized to their heart's and wallet's content in order to make city living that much more palatable. Entrepreneur Tim Cotton, and his wife, Anne-Laure Py, who owns the Craftspring boutique in Gowanus, moved to Brooklyn in 2014 in search of a house that would accommodate their growing family — they now have two daughters. They found their diamond in the rough, an 1890 four-story rowhouse in a landmarked district of Park Slope. The house hadn't been renovated or updated in decades. So with their architect, Brendan Coburn of CWB Architects, they gutted the whole thing and opened up the back, including the living room, seen above, to bring in air and light. "The steel windows at the rear of the home," project manager Leah Solk of CWB says, are thermally broken to reduce heat loss in winter. An Energy Recovery Ventilation system was installed, allowing fresh air to be continuously circulated throughout the house. The mechanical design was by ZeroEnergy Design. The sofa and ottoman are from Luminaire with curtains by Ruben Ruenes. The light is by Workstead, and the area rug is from a trip to Morocco. The interiors were decorated by Fearins Welch Interior Design.