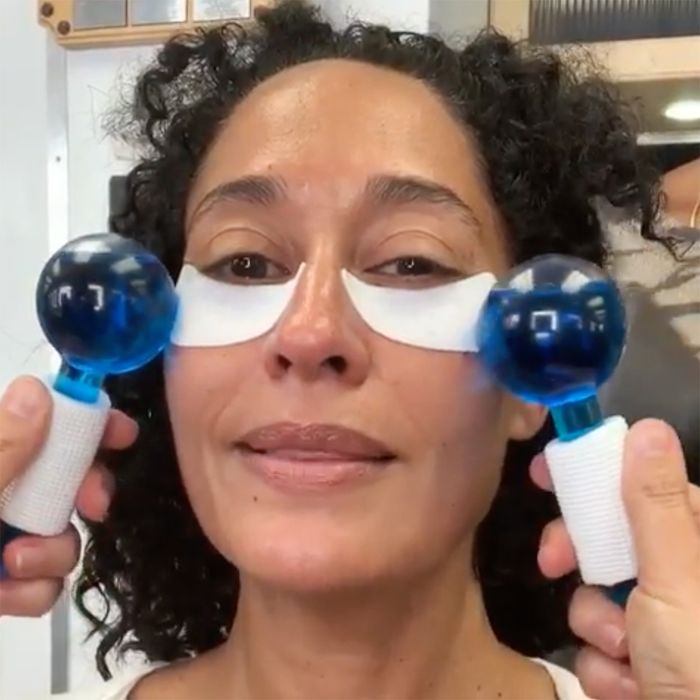 Photo: traceeellisross/Instagram
We've witnessed the rise of a few new celebrity beauty influencers of late, but Tracee Ellis Ross (TER) is the one to follow. She regularly posts the most relatable content, like reveling in how long your curly hair actually is when its wet, freaking out over how good laid baby hairs look and the eventually messing them up process, singing to yourself when you have a full face of Pat McGrath on, and admitting how hard it is not to fidget when getting your hair braided. She even posted a brow tutorial people actually did ask for.
This is all just to preface why I'm intrigued by her blue balls, those trusty beauty orbs TER has posted herself using at least twice now.
Ross never mentions the product by name (other than BLUE BALLS, all caps), which only made me want to seek them out more. After Google-searching "blue orbs facial massage" in fear of searching the words "blue balls" and "facial" together, it turns out the blue balls go by Allegra Baby Magic Globes for Redness Soothing, Sinus Relief and Headache Relief and you can get them on Amazon right this second. In an Instagram post that went up yesterday, Ross introduced us to a second set of bigger, blue balls (regular Allegra Magic Globes, not the babies) that massaged her under-eye area.
Apparently other beautiful famous people like Jessica Alba and Cindy Crawford are also fans of the balls, but the ones Crawford uses are gold, not blue. Reading secondhand that Alba uses them just doesn't have the same emotional resonance as seeing them being used live.
According to the description on Amazon, these blue balls are made from Pyrex glass, contain an antifreeze solution, and are "perfect for all beauty and health purposes." That means, feel free to use them "after waxing, extractions, electrolysis, peels, facials and Microdermabrasion," "to stimulate nerves to exercise facial muscles," "eliminate fine lines, tighten skin and help reduce large pores, set makeup, treat sinus pain, puffy eyes, headaches and migraines." The world's your oyster, but TER likes to use them to create a "tight chin," and keep her skin "casing" "tight and cute," so I probably would too.
Just remember to always clean your blue balls (with alcohol!) and pop 'em back in the freezer when you're done rubbing them all over your face.
If you buy something through our links, New York may earn an affiliate commission.