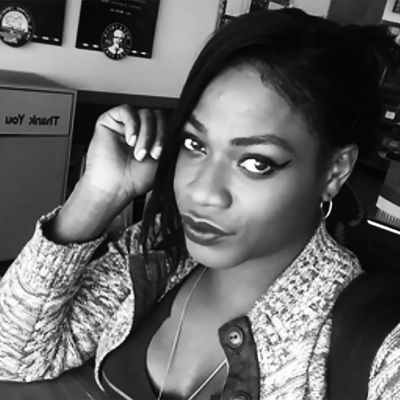 Photo: Dallas Police Department
On Monday, Dallas police announced that they are investigating the killing of a black transgender woman named Chynal Lindsey. The 26-year-old is the third trans woman to be murdered in the Dallas area in less than a year, and the second in two weeks.
The Washington Post reported that a passerby discovered Lindsey's body in White Rock Lake on Saturday. Dallas Police Department chief U. Renée Hall said at a news conference on Monday that the victim's body showed signs of "obvious homicidal violence," the New York Times reports. Authorities are investigating the death as a homicide.
Only two weeks ago, a 23-year-old trans woman named Muhlaysia Booker was shot and killed in Dallas; she had survived a violent beating by multiple assailants in April.
Lou Weaver, the coordinator for LGBTQ-rights advocacy group Equality Texas, told the Times, "Right now is a really scary time. We literally just celebrated the life of Ms. Booker last week and on Saturday night they find another transgender woman whose body has been left in a marshy area." Weaver continued, "People are afraid. We're wondering if someone is targeting the transgender community." Equality Texas also noted in its statement that Lindsey's murder is "especially tragic coming at the beginning of Pride Month."
After Booker's murder last month, police said they were investigating similarities between her death and two other recent attacks on trans women, including a murder in October and a stabbing in April. The police department said in a statement:
"During the course of these investigations, detectives have learned that besides all victims being transgender females, two of the victims were in the area of Spring Avenue and Lagow Street prior to the offenses occurring. In addition, it has also been determined that two of the victims got into a vehicle with someone. In another case, the victim allowed someone into their vehicle."
According to the Human Rights Campaign, murders of trans women in the United States have been on the rise — there have been five this year already, and last year there were 26. Black transgender women are the most frequent targets. HRC cautions in its recent report on violence against the transgender community that "anti-transgender stigma, denial of opportunity and increased risk factors compound to create a culture of violence."
Dallas police have reportedly asked the FBI to help them investigate this recent outburst in violence against transgender women.
When asked on Monday about the possibility of there being a serial attacker of transgender women, Hall responded, "Right now we don't have the evidence to substantiate that." She did, however, ask that community members "stay vigilant," and to "make sure your friends and family members know who you are with at all times and let individuals know where you are going."