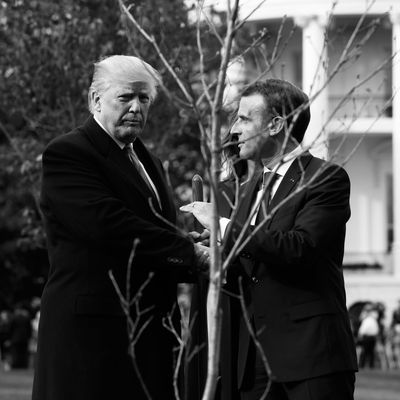 Donald Trump and Emmanuel Macron's tree.
Photo: Yuri Gripas/Bloomberg via Getty Images
After spending just over one short year on this planet, Donald Trump and French president Emmanuel Macron's symbolic "friendship tree" has perished, according to multiple reports from French media. But no need to worry (unless you're a baby tree): Macron is planning on sending the president a replacement.
The original oak sapling, which Macron gave to Trump as "a reminder at the White House of these ties that bind us" in April 2018, never had a chance. Less than a week after the two world leaders took a jaunt over to the South Lawn of the White House, where they awkwardly piled dirt on the tree, which had rather obviously already been planted by someone else, it was mysteriously ripped from the ground and placed in quarantine by U.S. Customs. While there, it seems to have suffered from neglect, and though the isolation period was supposed to be temporary, a diplomatic source told Agence France-Presse that the tree was never replanted. At some point during its cruelly long quarantine — basically anytime in the past year — the tree sadly succumbed.
While Trump has yet to comment on the passing of his own tree, Macron mourned the loss of the "poor thing" in an interview with Switzerland's RTS network, but stressed that its death was not symbolic. (Sure!) And then, he did the unfathomable: He announced his intention to send Trump, who has already proven himself to be a cruelly absent tree father, another baby oak.
"We will send him another, it is not a tragedy," Macron told RTS network, as he thinks "the friendship for freedom between our peoples is well worth it."
Worth the lives of two baby trees? Hmm.
This post has been updated.