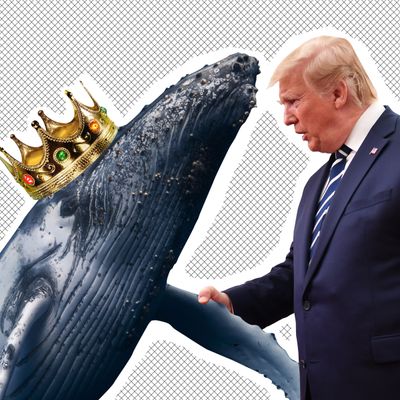 Prince of Whales and Donald Trump.
Photo: Getty Images
For too long, U.S. foreign policy has shamefully ignored our allies under the sea — extremely buff aquatic mammals like King Triton, ghosts who live in haunted shipwrecks, squid. But no more. President Trump, it seems, has finally opened diplomatic talks with the ocean's Biggest Boys: whales.
"I meet and talk to 'foreign governments' every day," Trump tweeted on Thursday morning, shortly after his return to Washington, D.C., after a recent visit to Europe. "I just met with the Queen of England (U.K.), the Prince of Whales, the P.M. of the United Kingdom, the P.M. of Ireland, the President of France and the President of Poland. We talked about 'Everything!'"
The Prince of Whales, finally assuming his rightful place next to queens, prime ministers, and presidents.
Trump did not elaborate on whether his meeting with the royal cetacean took place above or below water, or what they discussed. Perhaps the effects of global warming, or the relative wetness of the ocean. Maybe the prince apologized on behalf of the overly friendly Russian-spy beluga who eagerly gave herself up to Norwegian fisherman earlier this year. Or maybe he finally told the Trumps what he is thinking.
Also — oh, wait. I'm getting word that Trump deleted his tweet and reposted a new one in which he corrected "Prince of Whales" to "Prince of Wales," Prince Charles's official title. Oh.
The tweets, it turns out, were not an exciting announcement of a new bilateral relationship with undersea mammals, but deranged ramblings about how the president would not go to the FBI with information he received from "foreign governments." Disappointing.
The Prince of Whales remains ignored. But at least we can still enjoy his speeches.