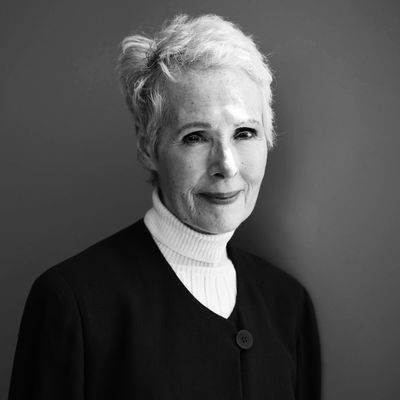 Photo: Craig Ruttle/AP/Shutterstock
In her new book, E. Jean Carroll predicted that Donald Trump would deny sexually assaulting her, and she was right. "I'll say it with great respect," Trump told The Hill on Monday. "No. 1, she's not my type. No. 2, it never happened. It never happened, O.K.?" This is not the first time the president has denied a credible assault story by saying — very very respectfully! — that the woman in question is simply too ugly for him to rape ("Believe me, she would not be my first choice," he once said of Jessica Leeds who accused him of groping her on the plane in the '80s).  On a Monday night appearance on Anderson Cooper's CNN show, Carroll said she's "glad" she's not Trump's "type," and noted that Trump's insults tend to be repetitive: "He's denied all 15 women who've come forward. He denies, he turns it around, he threatens and he attacks."
The question of Carroll's looks is a distraction, of course. Trump does not stand accused of finding her attractive but of assaulting her in a Bergdorf Goodman's dressing room, which is something he'd rather we all forget. The strongman image Trump wants to project can only persist as long as the public believes that he embodies some grotesque masculine ideal — that he is someone who easily woos beautiful women, someone who can safeguard the nation he loves. Carroll, and the 15 women who came before her, suggest an alternative truth. Stories about rape, or any other form of sexual assault, are stories about power. Sixteen women tell us that when Trump has power, he abuses it and anyone who gets in his way. Trump doesn't have a type. He has prey.
And alas for Trump, Carroll's story is consistent with everything we know about him as a private individual and as a president. Trump has abused the powerless with every step of his shambling path toward wealth and political authority. As a landlord, he abused his tenants. He (reportedly) abused his ex-wife, Ivana. He promised to abuse migrants if he became president and has committed the resources of the American government to fulfilling that promise with gusto. He openly admires world leaders like Rodrigo Duterte of the Philippines, whose version of the war on drugs killed over 5,000 people by 2018 and who has admitted to sexual assault.
It seems that a person must possess the sort of power Trump is desperate to convey in order to consider them human at all. And Carroll, for all her cultural sway, did not meet that standard. Even in the 1990s, when she says the attack occurred, Trump had more of everything; more money, more attorneys, more authority. Now, with no real check on his cruelest impulses, we can all see him for what he is: a common predator.