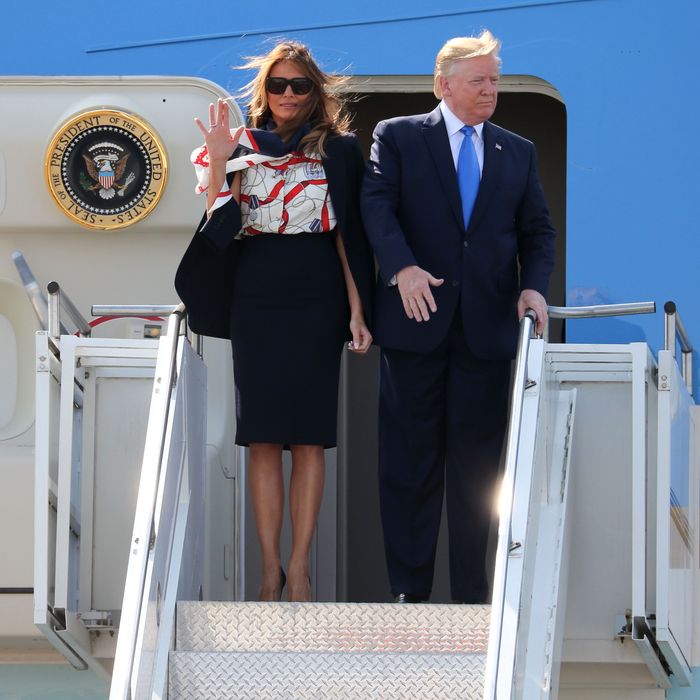 The Trumps arriving in the U.K.
Photo: Isabel Infantes/AFP/Getty Images
President Trump's state visit to the United Kingdom is off to a rough start. On Monday morning, the self-proclaimed baby marked his arrival in the U.K. by angrily tweeting about London mayor Sadiq Khan — who wrote in an op-ed for The Guardian on Saturday that the U.K. will look back on this state visit with "profound regret" for being "on the wrong side of history" — calling the mayor a "stone cold loser." The president was, in turn, greeted by an absolutely enormous penis mowed into the English countryside.
The phallus was created by 18-year-old Ollie Nancarrow, who mowed it into the fields around his parents' home in Hatfield Heath, under Air Force One's supposed flight path into Stansted Airport, in order to protest the president's views on climate change. In addition to the lengthy, slightly curved penis, which is accompanied by the words "OI TRUMP," Nancarrow mowed an image of a polar bear, and the words "CLIMATE CHANGE IS REAL".
The president has not yet publicly acknowledged the penis. As for climate change, he has regularly downplayed its existence and effects, and has previously suggested it is a hoax by the Chinese (he later walked this back slightly).
After landing in the U.K. ("Landing now!" he wrote at the conclusion of his angry tweets about Mayor Khan) he and First Lady Melania Trump, went to Buckingham Palace for a lunch with Queen Elizabeth II.
Despite this decidedly bumpy start to the trip, this visit still seems like an improvement over last year's, when the president was greeted by enormous protests and a "Trump Baby" balloon (which is expected to fly again this year). He then kept the queen waiting for 12 minutes at an event broadcast live on television, and then blamed her for keeping him waiting, despite video evidence to the contrary.
Diplomacy!