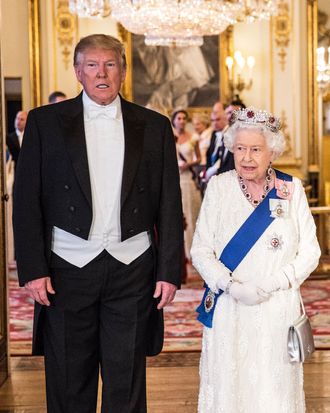 Photo: Jeff Gilbert/Getty Images
Donald Trump is in England, whether the British like it or not! At a state dinner with the queen, Trump tried to do his best impression of a British person, and failed.
Trump opted for a coat and tails, with a white waistcoat and matching bow-tie. This is ostensibly appropriate, considering that state dinners in the U.K. often require a white-tie dress code; it's similar to what Princes Charles and William wore to the dinner, and (in a different dimension) what Idris Elba wore to the 2016 Met Gala. For Trump, the jacket is just too short. It throws off the rest of the outfit so much that it doesn't have a chance.
Trump is not known for his well-fitting suits, but generally the criticism is that they're oversize, like a sloppy throwback to the '80s. Many politicians have this issue (Paul Ryan, for example) but Trump often looks like he's swimming in his clothes. Even in this suit, his pants are still on the baggy, long side, as are his sleeves. The jacket doesn't need to fall below the hem of the vest, but it should be close. But the distance between the hem of his vest and the hem of his coat makes it look comical.
More important than the actual fit is the fact that it's out of step with what the other men are wearing. While white-tie leaves lots of room for women (provided the dress is long and conservative), it's pretty clear what is expected for men — tailcoat, pants, waistcoat, and state-issued accouterments. If we needed sartorial evidence that Trump is a fish out of water in the U.K., this is it.