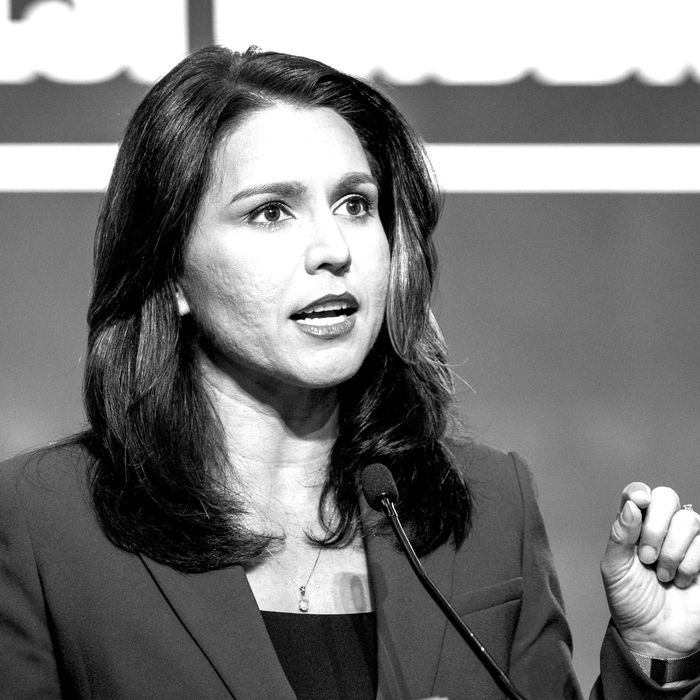 Rep. Tulsi Gabbard.
Photo: Sean Rayford/Getty Images
An hour into this year's first Democratic debate, at least one person was unhappy with one of the television networks airing the program: presidential candidate Tulsi Gabbard's sister.
On Wednesday night, the Hawaii representative's younger sister Vrindavan went to bat for Gabbard, slamming MSNBC on her sister's official campaign Twitter. In the post, she criticized the network of not giving Gabbard what she believes to be adequate speaking time. Furthermore, Vrindavan accused the network of playing favorites with one candidate in particular: Senator Elizabeth Warren.
"It's clear who MSNBC wants to be president: Elizabeth Warren," Vrindavan tweeted from Gabbard's account, which she does from time to time. "They're giving her more time than all the other candidates combined. They aren't giving any time to Tulsi at all."
Then, to inform followers that she wrote the now-viral tweet, and not Gabbard, she tagged on her signature: "-V (Tulsi's sister)."
Though Vrindavan's impulse to stand up for her sister is sorta heart-warming (and it makes sense: They live together near Capitol Hill!), her accusation that MSNBC favored Warren over the other nine presidential candidates onstage wasn't wholly accurate. Per the New York Times, Senator Cory Booker was actually the candidate who received the most speaking time during the first hour of the debate. Warren was, however, given the second-largest amount of time to respond to questions, so one can understand where Vrindavan was coming from.
For debate-related drama, Vrindavan's accusation was pretty tame. Just think — this is going to get much, much messier.