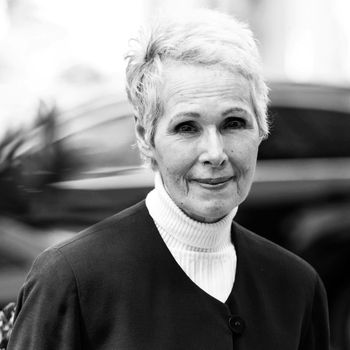 Photo: Craig Ruttle/AP/Shutterstock
In a book excerpt published last week by New York Magazine, Elle advice columnist E. Jean Carroll wrote that President Donald Trump sexually assaulted her in a Bergdorf Goodman dressing room in the mid-'90s, and said that two acquaintances of hers — whom she confided in at the time — could corroborate her story. On Thursday, those two women were identified for the first time in an episode of the New York Times' podcast, The Daily, for which they were interviewed alongside Carroll.
The two women, Lisa Birnbach and Carol Martin, were, like Carroll, prominent personalities in New York media in the '90s. Birnbach is a best-selling author who has written and contributed to numerous books, the most famous of them being The Official Preppy Handbook, first published in 1980. Martin was a news anchor for New York's WCBS-TV from 1975 until 1995. The Times notes that both women also knew Trump around the time of the alleged assault. Birnbach had interviewed him at his Palm Beach club, Mar-a-Lago, for New York Magazine, while Martin had encountered him through the course of work and had a friend who dated him.
Just as Carroll describes in her piece, Birnbach and Martin told the Times their vastly different reactions to Carroll account. Birnbach told Carroll to go to the police with her story, while Martin told the Times of her own conversation with Carroll, "I said: Don't tell anybody. I wouldn't tell anybody this." These conversations reportedly occurred within three days of the alleged attack. The Times' Megan Twohey, who interviewed the three women, said that, by their own accounts, they never spoke of the allegation again — until now.
The Times asked Carroll why she didn't come forward in 2016, when many other women went public with allegations of sexual misconduct against Trump, to which Carroll responded that she assumed her story would only help him consolidate power. "It is a masculine, powerful, leader-like thing to do to take what you want," she said, "to have as many women for your own pleasure as you can take."