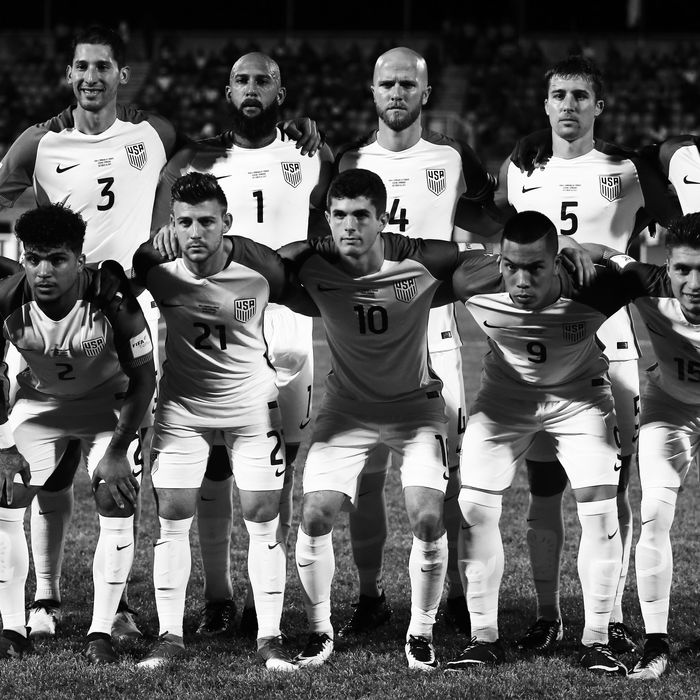 The U.S. Men's National Soccer Team.
Photo: Ashley Allen/Getty Images
Turns out, the U.S. Men's National Soccer Team is unimpressive in ways that extend beyond their skills on the field. When asked by Deadspin to comment on the U.S. women's team's ongoing legal battle for pay equality, almost every single player ignored the request — and the few who did respond declined to make a remark.
The U.S. Women's National Soccer Team is not of average talent: For the last three decades, the team has dominated women's soccer, and most recently won the World Cup in 2015. And yet, they receive a fraction of what the far-less-successful men's team does; in a gender-discrimination lawsuit filed this past March against the U.S. Soccer Federation, the women's team claimed they were paid a mere $1.725 million in bonuses the year they won. The men's team, in comparison, was paid $5.375 million in bonuses after reaching round 16 in the Cup.
Since the women filed the lawsuit, the individual players on the men's team have been largely quiet — even as the conversation around pay discrimination has been reignited, as the women's team is currently fighting to win the 2019 World Cup. (In March, though, USMNT did release a statement saying the team "fully supports the efforts of the US Women's National Team Players to achieve equal pay.") So, ahead of the women's match against Spain today, Deadspin investigated whether the men had anything to say. Shocking: They did not.
Of the 23 players and contacted, 21 did not respond to Deadspin's request for comment, while the two brave men who did respond declined to comment. The head coach, Gregg Berhalter, did not respond. Both the USMNT Player's Association and U.S. Soccer gave no comment as well.
Meanwhile, the current players on the women's team — all of whom are part of the lawsuit — believe that because they have the honor of wearing a U.S. jersey, it is imperative they fight back against "institutionalized" gender discrimination. In a statement to the Associated Press, star striker Alex Morgan said, "We believe that fighting for gender equality in sports is a part of that responsibility."
Seemingly, the men don't share that sentiment.
This post has been updated.