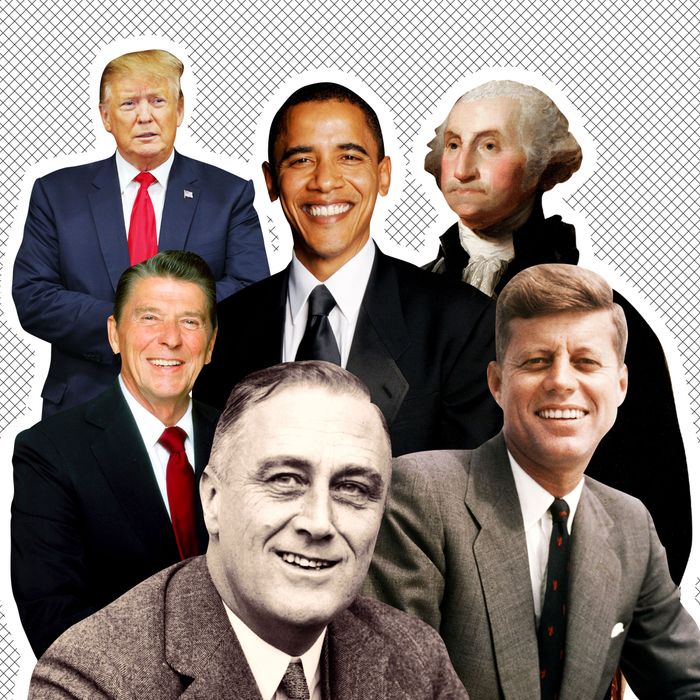 Wife guys?
Photo: Getty Images
In a video published last week, the New York Times asked 21 Democratic 2020 presidential candidates who their heroes were. "My wife," said Jay Inslee. "My wife," said John Delaney. "My wife," said Seth Moulton, and Steve Bullock. "My family; my kids; my wife," said Beto O'Rourke.
Suddenly, American voters were facing a surfeit of what Miles Klee at Mel Magazine dubbed the "My Wife Is My Hero Guy."
My Wife Is My Hero Guy is a specific subset of Wife Guys — a new term born from the internet's collective broken brain that refers to men who, as Madison Malone Kircher summed up over at Intelligencer, "make themselves famous for things their wives did, or qualities their wives have or had." The My Wife Is My Hero Guy, specifically, is the type of man who calls his wife his hero as a way of acknowledging the fact that he has forced her to shoulder the responsibilities of their family life alone while he pursues his political dreams, in exchange for which she will face intrusive and overwhelming public scrutiny. (My hero!) It's also an attempt to make liberal voters feel better about voting for yet another old white guy, because he respects women, or at least the ones to whom he's related.
There are manifold other Wife Guy archetypes, all of which have emerged on social media in recent years — the Don't Email My Wife Guy, the Curvy Wife Guy, the I Am My Wife (and Also She's Divorcing Me) Guy, the Gamer Elf Wife Guy, the Cliff Wife Guy — but the apparent diversity of this species belies certain core traits. The Wife Guy references his wife constantly, and yet only talks about himself; he loudly and performatively admires his wife, but is also ready and willing to humiliate her online for his own personal gain; he wants desperately to gain more followers.
Surely then, we must have had a Wife Guy president before? The Cut decided to find out.
1. George Washington (1789–1797)
Wife: Martha
Wife guy? George Washington's brand was George Washington, and Martha Washington's brand was also George Washington. According to her Wikipedia page, people were constantly gifting her paintings of her husband, which is nice, I guess, but if he were a real Wife Guy, George would have painted a large portrait of Martha himself and then made a big deal about it forever.
Conclusion: Not a Wife Guy.
2. John Adams (1797–1801)
Wife: Abigail
Wife guy? Abigail Adams was one of her husband's most trusted advisers, so much so that Adams's political opponents took to calling her "Mrs. President." Adams had tremendous respect for his wife's opinions and intellect — far too much to, say, post a video of her falling down a small cliff on a loop.
Conclusion: Not a Wife Guy.
3. Thomas Jefferson (1801–1809)
Wife: Martha
Wife guy? Martha, known in her family as "Patsy," died four months after the birth of their last child, 19 years before Jefferson was elected president, and there is no record of him uploading a video titled "PATSY DIED … scary moment for our family."
Conclusion: Not a Wife Guy.
4. James Madison (1809–1817)
Wife: Dolley
Wife guy? Dolley Madison was essential to Madison's public identity and success. She was a central figure in the Washington social scene, and even has what Tom Whyman at the Outline called a "Wife Event" — saving the Lansdowne portrait of George Washington during the burning of the White House in 1814. Like many viral moments, is mostly fake (Dolley did not save the portrait herself, she had her slaves save it).
Had this happened today, James Madison would almost certainly have written a lengthy Twitter thread in which he praised his wife for her courage ("Okay tweeps, wanna hear the story about how my wife saved a priceless painting while our house was on fire? 1/32"), and then another one the next day, in which he apologized for misrepresenting the truth ("Hey everyone, about my thread yesterday … ").
Conclusion: Wife Guy.
5. James Monroe (1817–1825)
Wife: Elizabeth
Wife guy? Monroe didn't seem to leverage Elizabeth or their relationship for his own gain. She was often ill, as First Lady, and hosting duties were sometimes assumed by her daughters.
Conclusion: Not a Wife Guy.
6. John Quincy Adams (1825–1829)
Wife: Louisa
Wife guy? According to FirstLadies.org, John Quincy Adams had a "generally dismissive attitude toward women's intelligence," and "few presidential relationships deteriorated as much" as his and Louisa's during his time in office.
While an unhappy relationship certainly does not exclude someone from being a Wife Guy (see: Elf Wife Guy), Wife Guys need to performatively admire their wives. JQA was too openly disdainful of his wife, and of women in general.
Conclusion: Not a Wife Guy.
7. Andrew Jackson (1829–1837)
Wife: Rachel
Wife guy? There was a lot of drama surrounding Andrew and Rachel's relationship leading up to his 1828 election. His opponent, non-Wife Guy John Quincy Adams, played up the fact that Rachel had not been fully divorced from her first husband when she married Jackson, making her briefly a bigamist (cool). Jackson vehemently defended her, but he was purely reactive. Had he been a Wife Guy, he would have very loudly and publicly announced his wife's bigamy before anyone even brought it up, and written an op-ed in the papers called "I Love My Bigamist Wife."
Conclusion: Not a Wife Guy.
8. Martin Van Buren (1837–1841)
Wife: Hannah
Wife guy? Hannah died of tuberculosis 18 years before Martin Van Buren became president, and according to FirstLadies.org Van Buren "chose not to mention her in his nearly 800-page autobiography." Rude!
Conclusion: Not a Wife Guy.
9. William Henry Harrison (1841–1841)
Wife: Anna
Wife guy? Harrison died a month into his tenure, before Anna even left Ohio, and before he was able to spray paint "Don't email my wife!!!!" on any garages.
Conclusion: Not a Wife Guy.
10. John Tyler (1841–1845)
Wi(ves): Letitia, Julia
Wife guy? John Tyler had two wives while in office. The first, Letitia Tyler, died of a stroke, and a couple of years later, he married his second, much younger wife, Julia, while he was in office. She rejected the first several of his proposals, and finally agreed to marry him only after her father died in a naval gun explosion during a presidential excursion on a new steam frigate. Taking selfish advantage of your desired wife's terrible grief — big Wife Guy move.
Were vlogging a thing at the time, John Tyler would have uploaded a video called "WHY I'M MARRYING AGAIN (no disrespect to my first First Lady) (bless)."
Conclusion: Wife Guy
11. James K. Polk (1845–1849)
Wife: Sarah
Wife guy? Sarah Polk shared her husband's political ambition, and their's was, by most accounts, a genuine partnership.
Conclusion: Not a Wife Guy.
12. Zachary Taylor (1849–1850)
Wife: Margaret "Peggy"
Wife guy? Peggy, who had followed her husband around the country on his various military campaigns, desperately did not want him to be president. Zachary Taylor, in true Wife Guy fashion, instead of listening to her concerns, turned them into a bit that became a big part of his public brand. While he campaigned, he told people that his wife was "praying for his opponent to win," a story that established him as Wifed Up, and also helped him appear more self-deprecating and likable on the campaign trail.
Conclusion: Wife Guy.
13. Millard Fillmore (1850–1853)
Wife: Abigail
Wife guy? Millard and Abigail Fillmore met when she was his schoolteacher (Oooh) (Actually, he was 19 and she was 20, it's not as Brigitte/Emmanuel Macron as it sounds). Abigail loved literature; when she became First Lady, was reportedly horrified that the White House had no library and convinced her husband to push through a $2,000 appropriation from Congress to build one.
Conclusion: Shared and supported his wife's interests without making them about him, therefore Not a Wife Guy.
14. Franklin Pierce (1853–1857)
Wife: Jane
Wife guy? Jane Pierce was shy, reclusive, and hated political life. Her and Franklin's three children all died young, including their youngest, Benny, who died in a terrible train accident two months before in father's inauguration. After her husband was sworn in, Jane receded from the public eye, and he did not make a single vlog about her.
Conclusion: Not a Wife Guy.
15. James Buchanan (1857–1861)
Wife: N/A
Wife guy? James Buchanan was a "confirmed bachelor" whose adopted niece, Harriet "Hal" Lane, served as his First Lady.
Conclusion: Not a Wife Guy.
16. Abraham Lincoln (1861–1865)
Wife: Mary
Wife guy? His most viral speech, the Gettysburg Address, is 271 words, none of which are "my wife."
Conclusion: Not a Wife Guy.
17. Andrew Johnson (1865–1869)
Wife: Eliza
Wife guy? Widely considered one of the worst presidents in American history for his horrific Reconstruction policies, Andrew Johnson was ridiculed for delivering a rambling, drunken speech at his vice presidential swearing-in before he ascended to the presidency following Lincoln's assassination. Afterward, he secluded himself for weeks in humiliation. This event has absolutely nothing to do with his wife, Eliza, but it has big Wife Guy energy.
Conclusion: Wife Guy.
18. Ulysses S. Grant (1869–1877)
Wife: Julia
Wife guy? Julia Grant was born with strabismus, the medical term for crossed eyes. She never wanted to undergo the surgery to correct the condition (eye surgery in the 1800s? No thank you!) but briefly reconsidered it when her husband was elected president. In response, Ulysses S. Grant wrote her a letter that said, "Did I not see you and fall in love with you with these same eyes?"
AwwWwwW.
Were he a Wife Guy, he would have talked about his Cross-Eyed Wife loudly and frequently in the lead up to his election.
Conclusion: Not a Wife Guy.
19. Rutherford B. Hayes (1877–1881)
Wife: Lucy
Wife guy? Following her tenure as First Lady, Lucy Hayes became known as "Lemonade Lucy" because of her teetotaling, and the fact that she banned alcoholic beverages from the White House. In fact, it was her husband who decided to ban alcohol in order to get the vote of temperance advocates, and he let the public believe he was the Dry Wife Guy.
Conclusion: Wife Guy.
20. James A. Garfield (1881–1881)
Wife: Lucretia
Wife guy? James Garfield was the first president to include a picture of his wife on a campaign poster, even though Lucretia specifically said that she did not want him to run for president, and that she didn't want to be featured on any promotional materials.
Conclusion: Wife Guy.
21. Chester A. Arthur (1881–1885)
Wife: Nell
Wife guy? Nell Arthur died two years before Chester A. Arthur became president, and he didn't make it his whole brand.
Conclusion: Not a Wife Guy.
22. Grover Cleveland (1885–1889)
Wife: Frances
Wife guy? While he was in office. Cleveland married 21-year-old Frances Folsom, whom he had been tasked with raising after her father died when she was 11. Um!!!
Conclusion: Ugh, I don't know. Maybe. I hate it.
23. Benjamin Harrison (1889–1893)
Wife: Caroline
Wife guy? Caroline Harrison renovated the White House during her tenure, installing electricity, new plumbing and new floors, adding bathrooms, and putting up paint and wallpaper. She wasn't a big part of Benjamin Harrison's public persona, though. She died of tuberculosis while he was in office.
Conclusion: Not a Wife Guy.
24. Grover Cleveland (again) (1893–1897)
Wife: Frances (again)
Wife guy? Again, I hate it!
Conclusion: He raised her! Ah!
25. William McKinley (1897–1901)
Wife: Ida
Wife guy? Ida McKinley struggled with epilepsy, and William McKinley was very protective of her, insisting she sit next to him with state dinners instead of at the other end of the table, as was tradition. When Ida felt a seizure coming on at the table, William would place a napkin over her head so no one would see her face contorting.
A Wife Guy would not cover her face in this situation, and would probably post a video.
Conclusion: Not a Wife Guy.
26. Theodore Roosevelt (1901–1909)
Wi(ves): Alice; Edith
Wife guy? After his first wife, Alice, died, Theodore Roosevelt wrote in his diary, "The light has gone out of my life." Publicly, however, he didn't talk much about either of his wives. He left Alice out of his autobiography, and did not mention Alice or Edith when working with Joseph Bucklin Bishop on a biography.
Conclusion: Not a Wife Guy.
27. William Howard Taft (1909–1913)
Wife: Helen "Nellie"
Wife guy? Nellie Taft was, to use the official term, the hang-ten emoji of First Ladies. She was, per Wikipedia, "the first First Lady to publish her memoirs, the first First Lady to own and drive a car, the first First Lady to support women's suffrage, the first First Lady to smoke cigarettes, and the first First Lady to successfully lobby for safety standards in federal workplaces."
Nellie would never allow herself to marry a Wife Guy.
Conclusion: Not a Wife Guy.
28. Woodrow Wilson (1913–1921)
Wi(ves): Ellen, Edith
Wife guy? Wilson's first wife, Ellen, died of Bright's disease while he was in office. He then fell in love with the widowed Edith Galt, and married her in office. After he suffered a stroke, Edith became the main conduit between the president and his Cabinet.
In other words, "I am my wife (and also she's running the country)."
Conclusion: Big time Wife Guy.
29. Warren G. Harding (1921–1923)
Wife: Florence
Wife guy? He called Florence "The Duchess," which is a worse version of "my wife."
Conclusion: Wife Guy.
30. Calvin Coolidge (1923–1929)
Wife: Grace
Wife guy? Calvin Coolidge had a reputation for being reserved, and saying very little. It is unlikely he would have ever vlogged or Tweeted if the technology existed. For all we know, Grace might have fallen down a cliff one day, we simply have no idea, he never told us.
Conclusion: Not a Wife Guy.
31. Herbert Hoover (1929–1933)
Wife: Lou
Wife guy? Hoover was president during the onset of the Great Depression, and did not attribute any of the crisis to his wife.
Conclusion: Not a Wife Guy.
32. Franklin D. Roosevelt (1933–1945)
Wife: Eleanor
Wife guy? FDR and Eleanor's marriage was more of a political partnership than a romantic one (both of them stepped out on each other frequently). She was one of the most politically and publicly active first ladies, and FDR more or less let her do her own thing while he did his.
Conclusion: Not a Wife Guy.
33. Harry S. Truman (1945–1953)
Wife: Bess
Wife guy? Truman initiated a number of hugely significant policies during his tenure — the implementation of the Marshall Plan, the establishment of the Truman Doctrine, and NATO — and yet, he didn't announce one single Wife Doctrine.
Conclusion: Not a Wife Guy.
34. Dwight D. Eisenhower (1953–1961)
Wife: Mamie
Wife guy? His 1952 campaign slogan was "I Like Ike" and not "I Like Wife."
Conclusion: Not a Wife Guy.
35. John F. Kennedy (1961–1963)
Wife: Jacqueline
Wife guy? Constantly cheating on your wife and starting a speech that's all about you with, "I'm the man who accompanied Jacqueline Kennedy to Paris" is EXTREMELY Wife Guy.
Conclusion: Wife Guy.
36. Lyndon B. Johnson (1963–1969)
Wife: Lady Bird
Wife guy? LBJ was not obsessed with his wife, he was obsessed with his penis.
Conclusion: Not a Wife Guy. (A Penis Guy.)
37. Richard Nixon (1969–1974)
Wife: Pat
Wife guy? During his unsuccessful presidential run against JFK, Nixon's team built an entire advertising campaign built around the slogan "Pat for First Lady." Also, like a true aspiring influencer, he liked recording absolutely everything he said.
Conclusion: Definitely a Wife Guy.
38. Gerald Ford (1974–1977)
Wife: Betty
Wife guy? Betty Ford was chill. She wore mood rings and talked about the importance of psychiatric care, and said that she and the president had sex "as often as possible." Gerald Ford was a human saltine cracker. He was mostly supportive of Betty, and didn't tweet about her once.
Conclusion: Not a Wife Guy.
39. Jimmy Carter (1977–1981)
Wife: Rosalynn
Wife guy? Rosalynn Carter was her husband's closest political adviser. She campaigned on his behalf, sat in on Cabinet meetings, and he called her a "perfect extension of myself." He respected her far too much to humiliate her online.
Conclusion: Not a Wife Guy.
40. Ronald Reagan (1981–1989)
Wife: Nancy
Wife guy? Reagan did not seem like a guy who had the technological savvy necessary to run a moderately successful YouTube page and/Instagram account. Left alone with an iPhone, he would probably accidentally post a blurry selfie he took of his neck.
He also called Nancy "Mommy," but that's neither here nor there.
Conclusion: Not a Wife Guy.
41. George H. W. Bush (1989–1993)
Wife: Barbara
Wife guy? Barbara Bush once described herself as "everybody's grandmother," and her and George H. W. Bush's joint-energy was more "elders who would offer you hard caramels" than "influencer couple about to air their grievances in a lengthy social media post."
Conclusion: Not a Wife Guy (a Grandpa Guy).
42. Bill Clinton (1993–2001)
Wife: Hillary
Wife guy? Loudly admires his wife, but also ready and willing to publicly humiliate her? Desperate for more attention and followers? Hm.
Conclusion: Wife Guy.
43. George W. Bush (2001–2009)
Wife: Laura
Wife guy? George W. Bush was more of a Large Adult Son than Wife Guy.
Conclusion: Not a Wife Guy.
44. Barack Obama (2009–2017)
Wife: Michelle
Wife guy? Though more social media savvy than other presidents, Barack Obama would never, in a million years, disrespect Michelle online.
Conclusion: Not a Wife Guy.
45. Donald Trump (2016 - ?)
Wi(ves): Ivana, Marla, Melania
Wife guy? While he would absolutely tweet humiliating personal details about any and all of them, he is too openly rude about his wives, and women in general. (Of the current First Lady, the president recently said, "It's called Melania.")
Conclusion: Not a Wife Guy.
PRESIDENTIAL WIFE GUY TOTAL: 10 (22.73 percent)
If we elect a Wife Guy in 2020, then, he would be far from our first. Who knows, maybe some day we'll finally elect a Boyfriend Girl.