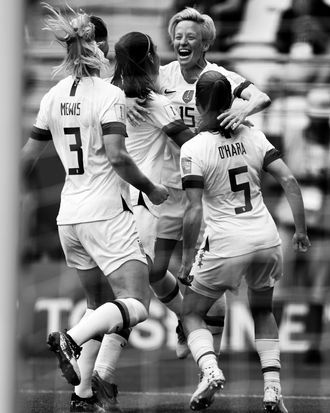 U.S. women's national soccer team.
Photo: Soccrates Images/Getty Images
Earlier this week, U.S. women's national soccer midfielder Megan Rapinoe forcefully declared she had absolutely no desire to ever visit "the fucking White House," adding that she doubted the team would even be invited. (It's an offer that the president typically extends to championship teams.) Donald Trump, predictably, responded on Twitter within a few days, scolding Rapinoe but extending an invitation to her and her teammates, even if they don't win the World Cup. The thing is, they're not interested — at all.
"I am a big fan of the American Team, and Women's Soccer, but Megan should WIN first before she TALKS!" he tweeted on Wednesday. Then he announced that he would welcome the players to his home, "win or lose." Before logging off, though, he threatened Rapinoe to "never disrespect our Country, the White House, or our Flag."
In response, Rapinoe's teammate Ali Krieger came to her defense on Twitter, slamming the president's misogyny. Then she, too, declared that she had no interest in accepting an invitation from the White House. "I know women who you cannot control or grope anger you," she wrote in a post directed at Trump, "but I stand by [Rapinoe] & will sit this one out as well. I don't support this administration nor their fight against LGBTQ+ citizens, immigrants & our most vulnerable."
On Thursday morning, Rapinoe told reporters that she stands by her controversial remark, even though it drew the ire of the president; she did concede that she regrets the expletive, though. ("My mom would be very upset about that," she joked.) She then asked other members of the USWNT to consider joining her in a potential White House boycott: "I would encourage my teammates to think hard about lending that platform or having that co-opted by an administration that doesn't feel the same way and fight for the same things we fight for."
Even before Trump went after Rapinoe, other team members had preemptively announced that, were they to win the World Cup, they wouldn't want to visit the Trump White House. In a Time profile of forward Alex Morgan, published in May, she said she would decline an invite from Trump, as she doesn't "stand for a lot of things the current office stands for." And, per the Guardian, defender Becky Sauerbrunn has vocalized the same intent.
We can assume Ashlyn Harris, too, is a strong "no."