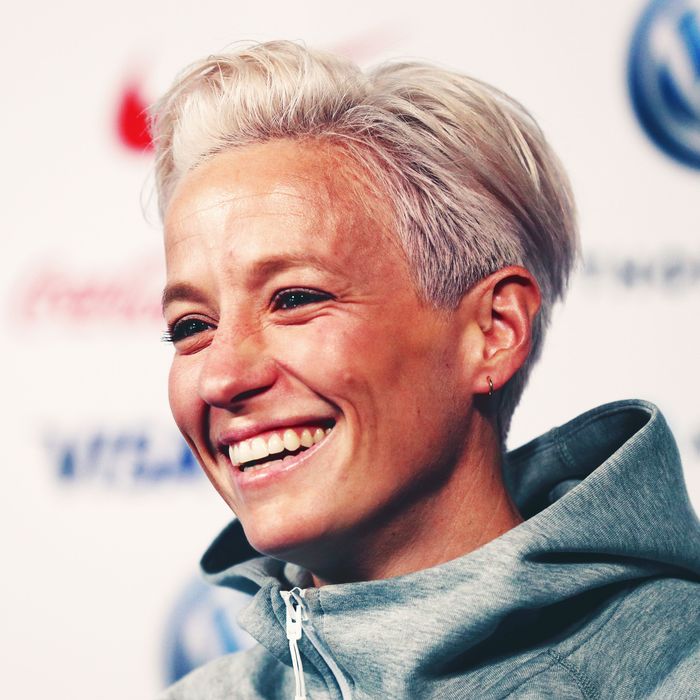 USWNT midfielder and co-caption, and all-around beloved human, Megan Rapinoe.
Photo: Mike Lawrie/Getty Images
The U.S. Women's National soccer team is extraordinary for a whole variety of reasons: They're the reigning world champions, and they're putting up an exemplary fight to defend that title. They're suing the sport's parent federation over wage inequality, demanding that they deserve more than just a fraction of what the far-less-successful men's team earns. And — I say this with the deepest, most sincere respect — they're all ridiculously hot.
But since the 2019 World Cup started earlier this month, one USWNT player in particular has become the subject of disproportionately widespread adulation on social media, and understandably so: co-captain and star midfielder Megan Rapinoe.
To fully understand Megan-mania requires you to look past her skill on the field — which, while exceptional and incredibly entertaining to watch, is not the sole source of the internet's obsession. Predictably, she has a significant following of queer women: Rapinoe, an out lesbian, is an outspoken advocate for LGBTQ rights, and she's married to Women's National Basketball Association star Sue Bird. But it's not just her identity or advocacy that draws people in. She's goofy. She's into fashion, and muses that, when she "grows up," she wants to be a fashion designer. And, in support of Colin Kaepernick's kneeling protest against racist police brutality, Rapinoe has refused to sing the National Anthem, and kneeled during it, for years — an act that recently drew the ire of the president himself.
As recently described in a Washington Post op-ed, Rapinoe is "a defiant woman refusing to play by the antiquated be-cute-and-courteous rules that make many men feel better about female athletes." And, whether her exuberance on the field and her politics get under your skin or inspire you, Rapinoe, the op-ed argues, is simply "too good to be ignored."
Chad M., a fan who recently tweeted that he would like for Megan to "toss [him] out a third story window," is a longtime admirer of the star midfielder. Ever since "she launched that game-tying assist to Abby Wambach against Brazil in that World Cup," he told the Cut, he's been a fan.
"Megan Rapinoe is an incredible badass and plays soccer like it's being judged on style points," he said. "I hope she visits the White House when the US wins the World Cup so she can give Donald Trump a huge wedgie." (Unfortunately, even if USWNT wins, Rapinoe likely will not be pulling the septuagenarian's adult diaper over his head, as she recently told Eight By Eight Magazine that she's "not going to the fucking White House.")
In a similar vein, fan Victoria Giralt told the Cut that what she loves about Rapinoe is how "relentless" she is, whether she's dominating on the field or advocating for her political beliefs. "She's truly inspirational," she said.
Not all of the star's admirers consider themselves dedicated soccer fans. Illustrator Colleen Tighe, who says she looks at photos of Megan to stave off Seasonal Affective Disorder, only discovered Megan this past World Cup — but her dedication runs deep.
"I think, one, Megan Rapinoe has undeniable style, and her pink short hair is incredibly hot, both because it looks great on her and is unabashedly bucking some of the heteronormative beauty pressures we put on female athletes," she told the Cut. "She doesn't seem afraid of her talent or standing out. She has amazing cheek bones. She has a severity and strong moral center that makes you want to be your best for her, but also if you could cut through that and make her laugh, you really deserved that laugh."
Tighe, to conclude, made an understandable please for Megan to "be [her] wife, thanks."
To that, I say: Megan, my queen … please, be mine.