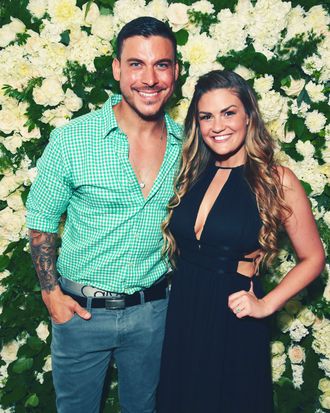 Jax and Brittany.
Photo: Lester Cohen/WireImage
Do you feel it? The frisson in the air? The sound of a taped infidelity being played at a housewarming party? The faint smell of Meemaw's beer cheese on the wind? Yes, it's finally happening … in a matter of hours … Jax and Brittany are getting married tomorrow, Saturday, June 29.
A year after we watched Jax propose to Brittany at Neptune's Net in Malibu, the entire cast and crew of Vanderpump Rules has made their way down to Brittany's home state of Kentucky to celebrate this chaotic union, and also document it all on Instagram.
The soon-to-be Taylors are getting married at the Kentucky Castle, a sprawling, Lego-looking complex near Louisville that was half-built by an eccentric couple in the early 1970s, and then abandoned when they divorced in 1975, and is, in my opinion, probably cursed. It was eventually renovated, resold, re-renovated, and resold again, and now, according to Stassi, it is "some Game of Thrones shit."
The castle does look very fancy, and I can't wait to watch the whole team treat it with utter disrespect when this episode eventually airs.
The whole gang is there, including Stassi's mom, Dayna, who is also celebrating her birthday there, and, I assume, crying a lot.
Thursday night, their first evening in the castle, appears to have been a murder mystery party, with the hashtag #MurderandMerriment. Unrelated, I truly can't believe no one has murdered each other on this show yet.
Everyone seems to have had a great night.
Best wishes to the happy couple. May they have a beautiful time, and not rawt in heyall, and I can't wait to watch this all in a few months.
Oh, also Scheana and Kristen are there.