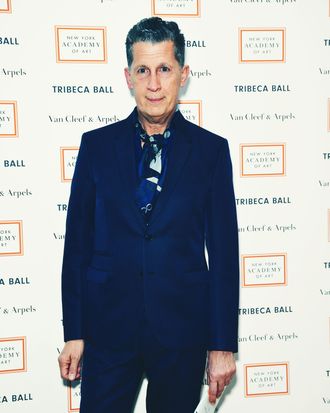 Photo: Jared Siskin/Patrick McMullan via Getty Image
On Tuesday, news broke that W magazine was bought by Future Media Group, which owns Surface magazine. Style director Sara Moonves will be the new editor-in-chief, replacing Stefano Tonchi, who's been with the magazine since 2010. According to a new lawsuit, surfaced Wednesday, his exit was not on good terms. Tonchi is suing Advance Publications, the owner of W's former publisher, Condé Nast, for over $1 million, claiming it violated his contract.
According to the Manhattan Supreme Court suit, Tonchi is claiming his contract included a severance equal to one year's base salary, which for him was "in excess" of $800,000 at the time of his termination. (In excess!) The lawsuit is asking for "not less" than $950,000. He was also allegedly promised a "closing bonus" of at least $130,000 for remaining in his role through the sale. Condé Nast's artistic director, Anna Wintour, is mentioned in the lawsuit for allegedly telling Tonchi to perform his "usual duties" as recently as June 19, which he claims he did.
The only reason Tonchi wouldn't get his severance and closing bonus was if there was "cause" for his termination, or in this case: "conviction of a felony, abuse of office, intentional failure to perform material duties for which [he was] responsible, and/or a violation of any material term of [his] agreement." The lawsuit claims that at approximately 8:05 a.m. on Tuesday — only one hour before W's sale was announced at 9:00 a.m. — Condé Nast terminated Tonchi's employment "for cause," effective immediately. However, Tonchi claims Condé Nast "did not provide any facts that constituted cause."
"Mr. Tonchi's suit is patently false — Condé Nast has a long track record of honoring all our obligations and more. We look forward to defending the case in court," a spokesman for the publisher told the Post.
According to the Post, W magazine itself was bought for an amount ranging from $9 million to $10 million. If Tonchi gets what he's asking for, he'll walk away with about a tenth of that.